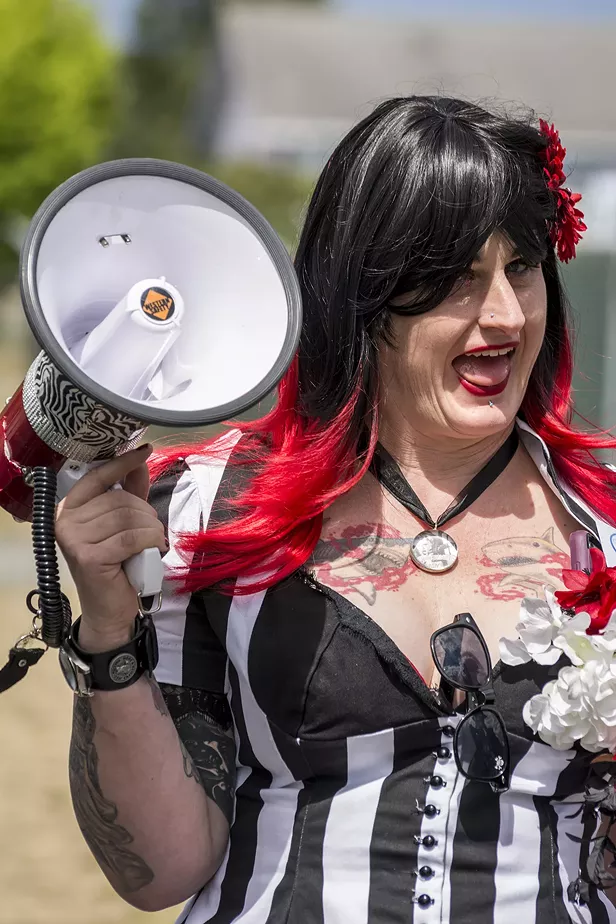 Mark Larson
Every parade needs a coordinator and Gini Noggle filled that role before Sunday's Annie & Mary Day Parade in Blue Lake. She later joined the Rag Doll Revue "painted ladies" in the parade tossing candy to the crowd.
Mark Larson
The noise from firetruck sirens led Marayah Kaiser, 3, to cover her ears and seek out the lap of her mother, Melissa DeMello, of Eureka.
Mark Larson
Christopher Edgar, Blue Lake, got some help from his daughter Lillyen in driving the Blue Lake Fire Department's 1929 Chevy fire truck.
Mark Larson
No Bigfoot was sighted at this year's parade but a Wookiee, an intelligent, hirsute biped from the planet Kashyyyk, made an appearance with a group of other Star Wars characters (thanks to Blue Lake Casino).
Mark Larson
Cindy LeGrande, of Fieldbrook, and her pony carriage represented the Blue Lake Saddle Club.
Mark Larson
Having missed last year's parade, Louis Huntzinger, of Blue Lake, taped signs with his apologies to the sides of his vehicle used to clean up behind the horses.
Mark Larson
The Blue Lake Casino's group of Star Wars characters.
Mark Larson
The Mad River Old Crows and their giant flying puppet made their annual parade appearance.
Mark Larson
Parade Grand Marshal Tom Tellez, owner of the Wallace & Hinz business in Blue Lake, led things off.
Mark Larson
Dottie Reynolds, of Eureka, gets some supervision from her husband Bill as she does some last-minute polishing on her 1955 Chevy. They were entered in the 12th annual Bill Nessler Car Show that followed the parade.
Mark Larson
Allen Mann, of Fieldbrook (second from left), entered his 1960 Chevrolet Impala.
Mark Larson
Marvin Samuels, of Blue Lake, delivered the Bigfoot raffle entry to the Blue Lake Chamber of Commerce's vendor table. It was made by Paradise Cay of Blue Lake.
Mark Larson
Oliver Perkins, of Eureka, makes final adjustment to his 1941 Chevrolet Deluxe Coupe.
Mark Larson
Lin Glen, of Blue Lake, and other volunteers from the Community Emergency Response Team staffed an information table.