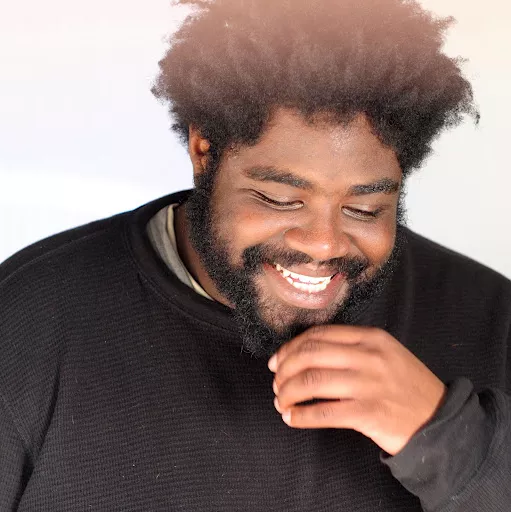 Humboldt's slow, steady ascent toward comedic respectability continues. In the last couple of years, our once "ha"-famished county has seen a dramatic uptick in smaller venue standup comedy events thanks to the efforts of Savage Henry Independent Times magazine and the Ba-Dum-Chh comedy troupe. Both have nurtured their own stables of locally grown yuk-slingers, while coercing out-o'-town talent to take an out-o'-the-way comic safari through the Redwood Curtain.
The latest daring adventurer is Portland-based standup Ron Funches. Let's just get the career stats out of the way: Dude's been on Conan, tried out for the Portland Thinkers pro baseball team on an episode of Portlandia and I saw him at SF Sketchfest. Respect him.
But trivia aside, Funches brings a unique style to the stage. Unlike most successful standups who hustle for club-goers attention, Funches' laid-back, soft-spoken delivery is reminiscent of how you imagine the best fathers go about explaining things to the children they love. Transparent and philosophical, he's testament to the fact that honesty, in this time and space, is funny. YouTube will back me up on this.
What's next for Ron? Thursday, before his upcoming Humboldt show, Funches will perform a farewell show of sorts in PDX before taking his comedic ambitions south to Los Angeles.
"I'm gonna miss my great comedian friends," Funches says. "I'm just moving to a place with more opportunities." Well, that's all very logical.
About that HumCo show: It's at 9:30 p.m. on Monday, July 2, at Jambalaya in Arcata. Savage Henry's Chris Durant emcees the night, which also features local joke slingers Joe Deschaine, Josh Duke, Dutch Savage and Lucy Castle. Laughter on this night will cost you $8.
The trip should be an educational one for Mr. Funches. We asked him via email to list, off the top of his head, five things he knew about Humboldt County. He responded:
"1. marijuana; 2. pot; 3. weed 4. grass; 5. 4052 sq miles."
!!!. Show Ron that Humboldtians are not the stereotypical … meh, whatever. For more info, head over to savagehenrymagazine.com and/or ronfunches.webs.com. Ha.