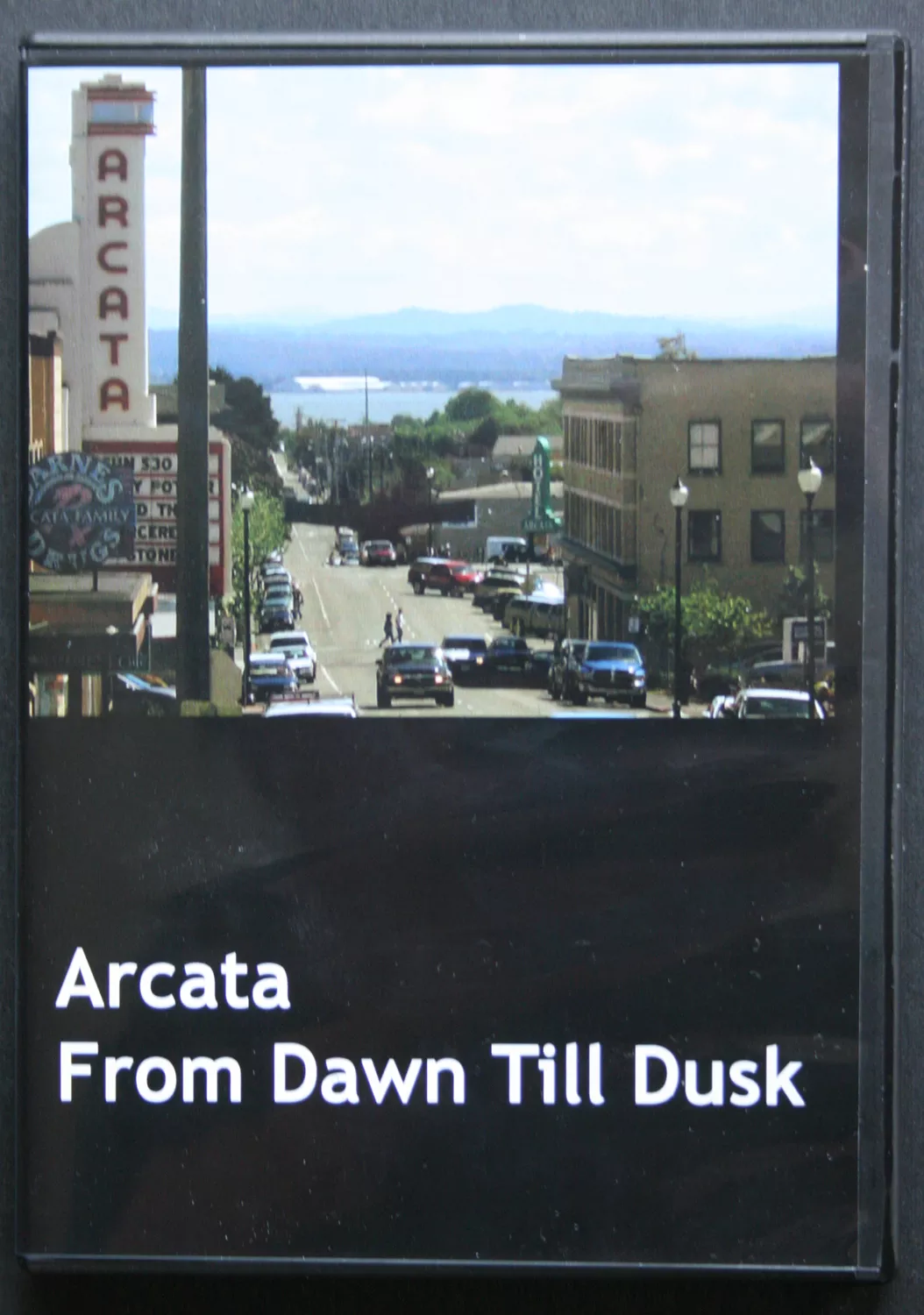 produced by Ann Alter
Arcata: From Dawn Till Dusk
The film Arcata From Dawn Till Dusk begins, as you might guess, with a shot of sunrise over Arcata. The camera then immediately takes you into an industrial kitchen where an early morning baker is at work. If you've lived in Arcata long enough you'll figure out that she's making challah at Los Bagels. Others work on the their locally famous slugs.
Then we're off to another location in town: Guys playing disc golf in the forest. Before we're done we see artists at work at StewART Studios, women working hard and fast behind the scenes at Carmella's Mexican restaurant, another crew prepping buds for marijuana patients at the Humboldt Patient Resource Center, Ya Habibi bellydancers practicing a routine, seniors chatting as they get lunch and so on, as life goes in Arcata as it does anywhere. In between scenes, flocks of bird flash as they swoop and turn at the marsh. The 42-minute-long collage of disparate scenes paints a picture of the town.
There are not titles telling you where you are, no narration explaining what you see, no music to set the mood, just images -- one after another -- sketching out a process or setting the scene, all done with economy. It's a style known as direct cinema or observational documentary. The camera crew serves as a fly on the wall and lets things unfold.
And it works here for the most part. There are fleeting moments when you sense that the subjects are conscious of being filmed, and there's one shot where the fourth wall is broken as someone speaks directly to the camera explaining what's going on. But the rest of the time the student crews adhere to the loose rules -- and in the process we get a feel for the diverse city they live in.
The film, shot last spring by a class at HSU, is part of a larger project set to debut in Poland some time next year that will include segments shot in nine countries -- Albania, Australia, China, Croatia, Iran, Russia, Slovakia and the United States -- all showing day to day life around the world.
HSU film professor Ann Alter, who served as executive producer, heard about the project and contacted organizers at the National Film, Television and Theatre School of Poland and signed on. HSU film student Sarah Lindsey Beck served as producer. The Arcata section is the only one shot in the U.S. It somehow seems kind of cool that our town's workers, Frisbee players, bellydancers, seniors and ganja growers will ultimately represent life in America.
The sneak preview for Arcata From Dawn Till Dusk is presented the HSU Department of Theatre, Film and Dance on Saturday Sept. 11, at 7 p.m. in HSU's Van Duzer Theatre. No charge for admission, children welcome accompanied by adult. For more information including trailers go to hsustage.blogspot.com.