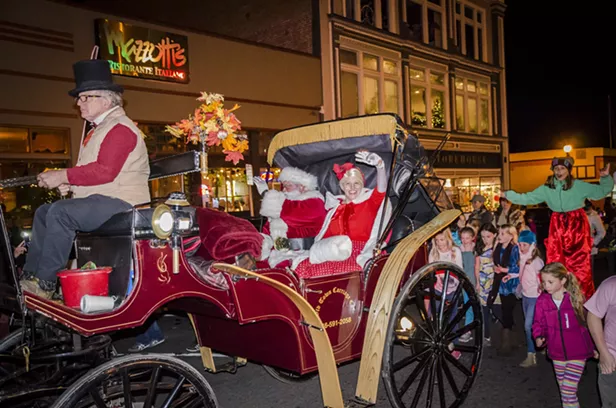 Mark Larson
Santa and Mrs. Claus circled the plaza in their horse-drawn carriage before meeting the waiting crowd of children.
Mark Larson
Julian Gillespie, of Arcata, enjoyed his chance to meet with Santa.
Mark Larson
Arcata Main Street's head elf Talvi Fried introduced participants.
Mark Larson
Arcata Main Street's Events and Marketing Director Nancy Stephenson and head elf Talvi Fried organized the "Wonder and Light" event on the Arcata Plaza, entertaining families, welcoming Santa and helped promoting local businesses.
Mark Larson
Momma Hungry (James Peck) and Jack (Alyssa Hughlett) of the cast of "Jack and the Holiday Beans" stopped by for a little cross-event promotion of the play currently at the Arcata Playhouse.
Mark Larson
"It was a magical night," said Arcata Main Street's Nancy Stephenson