Tucked in the golden rolling hills of the Tomales Bay watershed, a dozen miles north of Mt. Tamalpais, sits the Marin Museum of the American Indian in Miwok Park. Henry Frank, the museum's vice president, sits beneath a canopy of redwoods in late October while scrolling through his phone for photographs he took of hawks in flight and a close-up of a mountain lion. A pair of blue jays fly branch to branch nearby. He closes his eyes and sits silently for a moment to absorb their presence.
The museum, which rests on a historic Miwok village site, hosts lectures, poetry readings and classes that explore the history and culture of Native Americans in California, as well as rotating art exhibits. Frank's artwork currently hangs on five walls on the museum's second floor: Block prints of animals, geometric designs with hidden images and acrylic woodpeckers painted against the backdrop of Frank's native Yurok colors. The vast array of works is special. Frank created most while in prison.
It's difficult to imagine Frank having been incarcerated. His deep appreciation of nature and willingness to cry openly when discussing the trauma in his past belie stereotypes. But in 1993, when Frank was 19 years old, he participated in a drive-by shooting at the Bayshore Mall and was charged with attempted murder and shooting into an inhabited dwelling. Although he wasn't the shooter, he was sentenced to serve 29 years to life in prison. After spending nearly two years in the Humboldt County jail, he hit reception at San Quentin State Prison and bounced from prison to prison for nearly two decades as a lifer.
Frank says he was lost as a teenager and found solace with a gang. It was the first time he fit in, after a childhood spent drawing G.I. Joes and Transformers to replace the friends he didn't have. It wasn't until prison that he found a positive identity in the classroom of a William James Association Arts in Corrections program at San Quentin. Today, he works for the very same organization that gave him the opportunity in prison to earn the title of master artist.
And with California's jail populations changing as a result of prison realignment, Frank can be seen as a kind of poster child for a movement to bring the Arts in Corrections program into county jails, including Humboldt's.
Retired Humboldt County Chief Probation Officer Bill Damiano says these are the types of programs needed for inmates to change their behaviors. Without them, he says, people will just end up back in the system.
"The myth of just locking someone up so the problem goes away is ridiculous because the person won't change," Damiano says. "You can't just punish behavior away. ... You have to actually work with them and provide them opportunity."
The Arts in Corrections program does just that and studies have shown it to improve inmate behaviors, which is needed in county jails as inmate populations change, according to William James Association Executive Director Laurie Brooks, who hired Frank. She says the classes bring an energy that builds self-esteem.
"It helps them feel better about themselves and in virtue feel better about the people around them," Brooks says.
Frank experienced this through block printing, book binding and, perhaps most importantly, the ability to let his guard down, even if for a short while. The classroom was a sanctuary, he says, where people of all races and backgrounds could leave their differences at the door and just focus on art.
And this wasn't unique to Frank, according to Larry Brewster, an author and professor emeritus at the University of San Francisco who has studied how prison art programs improve inmate behavior. The classrooms, Brewster says, offer a place where students can feel safe and welcome, and a chance to be seen as artists rather than gang members.
"That just means so much to them and really brings me often to tears when they talk about being in that space as helping," Brewster says.
Photo by T. William Wallin
Henry Frank's artwork hangs on five walls in Marin's Museum of the American Indian in Miwok Park.
California
has been
at the forefront nationally in establishing art programs inside prisons thanks largely to Arts in Corrections, the product of a 40-year partnership between the California Arts Council and the California Department of Corrections and Rehabilitation. This first-of-its-kind program contracts with organizations like the William James Association to teach art inside prisons and now has classrooms inside all 35 California prisons. A pilot program is currently being implemented in 15 county jails throughout the state, with the Humboldt County jail poised to become the 16th as local artists work to get it up and running.
In 2011, a federal judge ordered California to reduce its prison population, finding overcrowded facilities constituted cruel and unusual punishment, a violation of inmates' rights under the Eighth Amendment. At the time, some prisons were at 300 percent capacity, with mentally ill inmates crammed into small holding cells, gyms overflowing, and dayrooms and hallways used to house prisoners. In 2006 the prison population reached its peak of 165,000 inmates — nearly double the 85,000 it was built to house. In response to the court order, the California Legislature passed Assembly Bill 109, known as "public safety realignment."
This legislation moved lower-level felons from the state's custody to counties', ordering that non-violent, non-serious offenders serve their sentences in county jails instead of state prisons. Before realignment, the maximum sentence someone served in a county jail was one year but sentencing is now indefinite under the new law. In 2013, the California State Sheriff's Association reported that 1,100 inmates in county jails were serving sentences of five to 10 years, with another 44 facing sentences of more than a decade. The longest sentence reported was 43 years.
Although the state's prison population dropped by 20,000 inmates in the year after realignment, county jails saw an increase of 10,000, bringing the state's jail population to 82,000 and pushing many jails past capacity. According to Prison Policy, 13 of California's 35 prisons are still over capacity. In 2014, California voters passed Proposition 47, which was aimed at further reducing the prison population by making a host of felonies misdomeaners. The proposition initially resulted in a reduction in the state's jail and prison populations but that proved short lived for jails, as inmates who previously would have been sent to prison began instead serving local sentences.
Realignment has had a large impact in Humboldt County. Last year, the Humboldt County Civil Grand Jury reported that the jail has seen a surge in violence, gang activity, prison mentality and racial segregation in the wake of realignment. The report states that since 2011, fights between inmates and attacks on staff have surged. In 2015, the jail saw a record high of 39 inmate assaults on staff and the rates of such assaults nearly quadrupled between 2015 and 2017 compared to the prior six years. The grand jury's report also found that the jail was offering inadequate mental health services, including long-term plans for inmates with extended sentences. According to the report, it also lacked rehabilitative services, like program offerings.
"The problems with most jails is they weren't built for all the programming," Damiano says, noting that jails generally weren't constructed to house people for extended sentences. "I think we need more program space, evidence-based programs and cognitive behavior programs. But they have to have actual appropriate space to do that."
If anyone knows the impacts of realignment in Humboldt County, it's Damiano. He worked with the probation department for 30 years and was part of a statewide team that worked with then-Gov. Jerry Brown on implementing A.B. 109.
Humboldt County organized before realignment to prioritize rehabilitative services, according to Damiano. When A.B 109 went into effect, the state distributed $4.4 billion to counties to help fund community-based solutions. Damiano says Humboldt County was spending $1.5 million for drug and alcohol treatment but the number has since decreased to around $400,000 as other costs have gone up and eaten into the budget. This meant sending more people to treatment centers and using evidence-based practices instead of keeping people in jail.
"We pushed hard on our rehabilitative services because A.B. 109 people were mainly drug addicts and committing property crimes. We spent a lot more heavily on human and health services and rehabilitative services than other counties," Damiano says, noting that some counties spent a lot of their realignment funds on sheriff's departments and enforcement. "We have always been more liberal."
Damiano says he thinks conditions in the jail under realignment will improve but it will take some time. The Arts in Corrections program will be a good thing, he says, adding that there was a similar program in the juvenile hall that was successful.

Photo by T. William Wallin
Rob Diggins (right) teaches a yoga class, a favorite of some inmates, inside the Humboldt County jail.
When Frank was in the jail in the 1990s, there was hardly any programming or rehabilitative services. The jail back then was comprised of dimly lit single cells that Damiano likens to "going to the zoo." Now, most of the jail's inmates live in open dormitories designed to foster more interaction and create a milder setting. And programs are more prevalent today than ever before. Jail Administrative Sgt. Delia Garcia says realignment has pushed staff's attention toward rehabilitative services, noting that the program coordinator is a permanent — and much more important — position now.
"[During realignment], you had all the people that came out of prison and back to county but there weren't any programs in place," Garcia says. "What's great now is we are in a spot that we can have these different programs and really push that to the limit as much as we possibly can."
The jail is now offering classes and programs daily, with much of it reliant on community volunteers. College of the Redwoods offers non-credit classes that teach life skills and prepare inmates for the workforce. There are also courses in anger management, computer literacy and a GED equivalent throughout the week, as well as programs focused on resume building, parenting skills, meditation and yoga. Inmates also have support groups, like Narcotics Anonymous and Alcoholics Anonymous. There's even a pilot poetry program offered in every unit.
But the lack of physical space is a limiting factor, according to Damiano and Garcia.
The jail has only two rooms available, with one purposed for yoga and meditation. Garcia says a jail expansion project expected to break ground in March is aimed, in part, at alleviating the constriction.
"A big part of the expansion will be our rehabilitative program section," Garcia says. "Music, theatre and art is absolutely something we would love to see in here. It's a long process but I know that we're getting closer to that."
Julie McNiel, William James Association's liaison to Pelican Bay State Prison, has been communicating with Garcia for the past year about establishing the Arts in Corrections Jails Project. McNiel, a local visual artist who teaches in Pelican Bay and coordinates other artists who work inside the prison, taught an eight-week painting class in the jail a few years ago and has since been wanting to mirror what Pelican Bay offers inside the jail. This would include visual art, music, theatre and writing. An important element to the Arts in Corrections program is that all its teaching artists are compensated and not just volunteering.
"When we went in and did the painting class, it was all enthusiasm and the energy was incredible," McNiel says of her students in the jail. "They got right into it and I could feel the oppression of the environment and then the release through the process of people painting like a light turning on."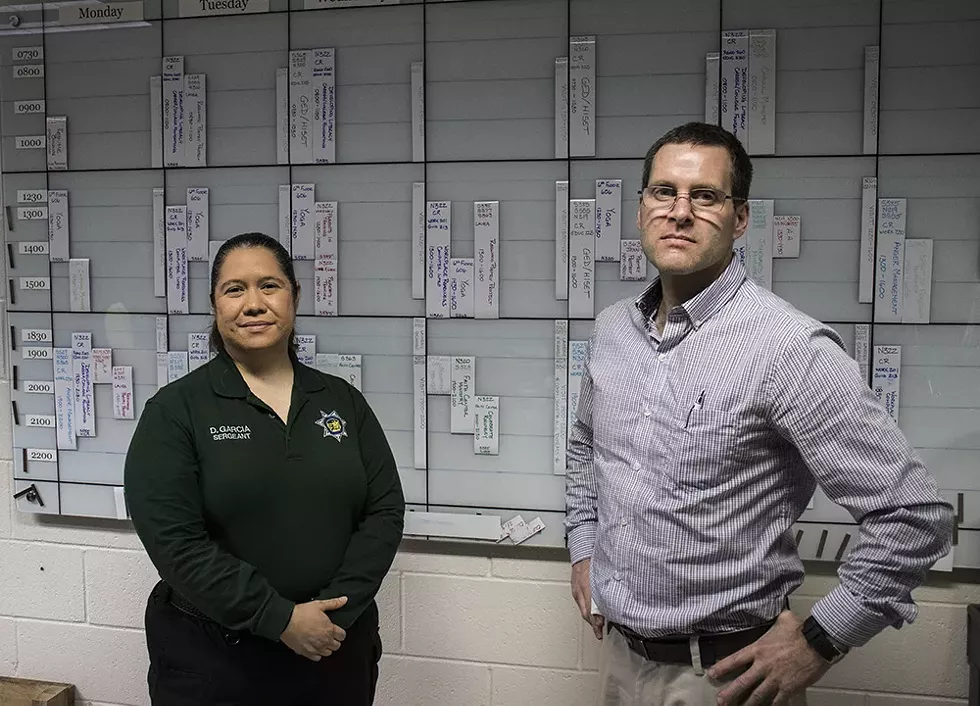 Photo by T. William Wallin
With the Humboldt County jail's population changing under California's prison realignment laws, Administrative Sgt. Delia Garcia (left) and former Programs Coordinator Stefan Logie have been focusing more attention and resources on rehabilitative services.
McNiel is working with other artists to create an MOU needed to get the arts program started. Both Garcia and the Humboldt Arts Council are on board and the next step for this year is finding funding and presenting to the Humboldt County Board of Supervisors.
For McNiel, this program is about empowering students. She would like to see more people like Frank get involved with programs like Arts in Corrections, noting there's no one better to go teach inside a locked facility than someone who served time in one.
"The main point is to give people a voice and pass the baton to people getting out who have gone through trauma," McNiel says. "The art program has been ... very successful in giving people a voice and opportunity for expression. It develops skills and connects people to family and other educational opportunities. There is something about art that is very universal."
Frank was born and raised in Humboldt County, his father of Yurok and Pomo ancestry and his mother Yurok, Karuk, Talowa, Dutch and Spanish. Shortly after birth, his grandmother enrolled him with the Yurok Tribe. Frank's parents split up when he was 5 years old and he and his younger brother went to live with his mother in Hoopa. The move didn't last long because of his mother's heroin addiction.
"I had to learn to cook and take care of my brother because she was always high," Frank says of his early childhood. "I only had three sets of clothes and that's it. For me to make friends, they probably would have made fun of me and I thought I was better off hanging out by myself."
His mother's addiction forced Frank and his brother into the foster care system for a stint before they moved in with their father in Eureka. Frank says he was "pretty much a nerd," collecting insects, drawing and generally keeping to himself. He wasn't allowed to go to other classmates' houses and he was too embarrassed to invite them to his because his family was on welfare. Other than his father, all his family members abused alcohol and drugs in one form or another, he says.
When Frank turned 12, his mother got sober and was able to provide some of the stability Frank was missing in his younger years. He decided to live with her when his father moved to San Francisco. In high school, he had a friend who was in a Mexican gang and because Frank never felt like he belonged anywhere, he says he wanted to join. But the gang turned him down, saying he "wasn't cut out for it." Instead of taking their rejection, Frank started his own gang looking for an identity and a sense of belonging.
"That was one of the things that made it inviting," Frank says. "I was just known as Henry. I wasn't someone's grandson, or Ricky's son, or Tom's brother or so and so's nephew. I was just me. It felt like a respected title."
While Frank's gang life only lasted two years, what it lacked in time it made up for in determinant momentum. He invested all his time to gang activity and was well-known by local police by the time he was arrested for the drive-by shooting and his life came to a crossroads. A cousin who was also in the Humboldt County jail told him he had to choose between staying in his gang and committing to his Native identity. He couldn't do both.
Frank chose to return to his Yurok roots.
In the ensuing years, he took full advantage of the limited opportunities available in prison. He enrolled in college and took every self-help course he could. Because of his crime and gang affiliation, he was sent to Corcoran State Prison, a high-level security prison in Kings County. Then came Arts in Corrections.
"Getting involved with the arts program is what saved my life on the level three yard," Frank says. "Roy Gilstrap was a water colorist and taught me how to watercolor."
Frank was eventually transferred to a lower level yard in San Quentin. It was there that he really blossomed into the artist he is today. He took every art class and became the Arts in Corrections clerk, setting up the classes, making sure art utensils were returned and filing paperwork. His artwork won awards outside the prison and, soon, he was an artist apprentice helping other students.
"What Arts in Corrections did for me, which I didn't know at the time, was give me a space to let my walls down," Frank says. "When I went into this space, race was out the door. Artists were all artists and we helped each other. Outside of that room you couldn't do that because there are laws and rules [in prison]. But inside, you broke all that stuff down and we could collaborate together with everything."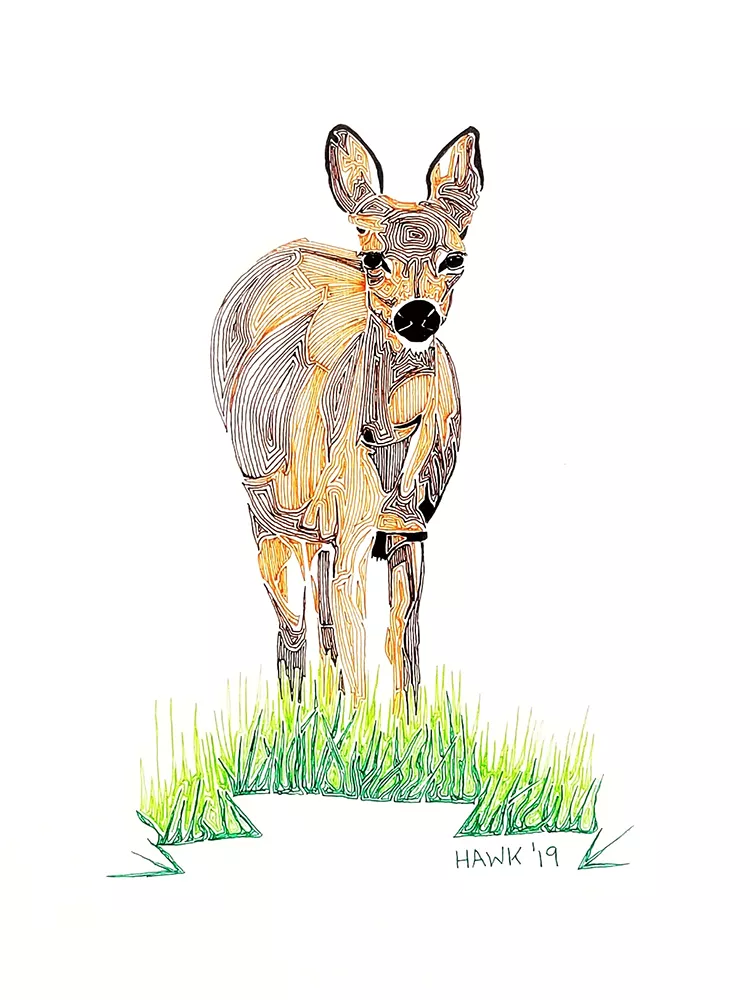 Courtesy of Frank Henry
Artwork by Frank Henry, a Yurok man who became a master artist while serving a prison sentence of 29 years to life and now is the vice president of the Marin Museum of the American Indian.

This breaking down
of segregation is what Brewster, the professor who studied prison art program impacts, observed as one of the program's primary benefits. Brewster conducted a cost-benefit study in 1983 that detailed the merits of these programs. The report, which came to be known simply as "The Brewster Report," was the first to quantify the programs' benefits and helped fuel their growth. Commissioned to provide information to the state Legislature and CDCR that would help them to determine whether the programs justified state funding, the study found a litany of benefits, most notably improved inmate behaviors, which decreased costs in a variety of ways. More than three decades later, CDCR spends $8 million annually on arts programs.
"The best evidence to indicate that the AIC program does improve attitude and behavior of inmates is the reduced number of disciplinary reports among those participating in the program," the report found. "We know that in some cases a better relationship is formed between staff and AIC inmates based on interviews ... any reduction in stress is important because of the costs associated with stress related illness and resignations."
The Brewster Report not only found that Arts in Corrections was indeed cost beneficial but it also improved self-confidence, self-discipline and reduced tension in the institution, all of which Frank says he experienced as an art student in prison. Brewster found reducing tensions in the prison decreases the likelihood of damage to the prison and injuries to prisoners and staff. He also found broader benefits to society as a whole, like inmates earning money for their families by selling their work and finding employment after their release.
"The study was a year long that, unbeknownst to me, had legs of its own," Brewster says. "It not only helped get Arts in Corrections funding but it also helped other fine arts programs in other state prisons get funding."
Brewster has written multiple books on the intersection of policy and social justice, as well as the Arts in Corrections program itself. He has interviewed dozens of returned citizens, like Frank, about the impacts the program had on them. Brewster modestly says the study wasn't such a great report "but it was the only one in the country." Decades later, it has been used by other states, including New York and Florida, to start prison arts programs and is still the go-to study on the subject.
"One of the findings in '83 that is most often cited when asking for money is I discovered a significant reduction of disciplinary action with people in the arts programming versus those who weren't," Brewster says. "My findings have consistently shown in the prisons where people participate in arts programming that it helps with their intellectual flexibility, the ability to think creatively and outside the box."
More recently, Brewster was asked to do a similar study on the Arts in Corrections County Jails Project pilot program started by the California Lawyers for the Arts and the William James Association in 2014.
Brewster's report found the pilot program effective, and includes praise from correctional officers.
"This project brought different groups of inmates together who might previously have had nothing in common with one another; this class left them as friends," said one.
"Jail politics seemed to dissipate whenever they were in class and everyone was viewed as equal," said another. "This is not typical throughout the jail facility or in many other classes."
The report also notes that the Contra Costa County Sheriff's Department viewed the Arts in Corrections as being so successful that when the program's funding ran out two months early, it took money from its own budget to keep it going.
"What I have found overwhelmingly and constantly in the many years evaluating the prison art programs — and what we are finding in the jails program — is the ability of the arts programming to bridge racial divides between inmates of different colors and backgrounds," Brewster says.
In 2012, Frank went to his first parole hearing and was found suitable for release. He's been out for six years and is constantly on the move. Not only does he have a day job in addition to serving as vice president of the museum, but he is also married, part of the emerging Pomo artists exhibit in Santa Rosa and frequently travels to speak at middle schools, high schools, universities and law schools. He's also perpetually creating art for his business, RedTail Art. But he says he still considers his greatest accomplishment to be the title of "master artist" bestowed on him by the teacher he assisted while in prison. He tears up when talking about it, explaining that the title placed him on a level he worked decades to achieve.
And today, through his role with the William James Association, Frank teaches the same teachers who made such a marked impact on his life, showing them how to act appropriately inside a prison to touch lives like his.
"The Arts in Corrections space was so important to everyone because it made us work together and we were no longer imprisoned in our heads," Frank says. "I'm looking forward to [finally teaching a class] and I'm sure it's going to be positive but bittersweet at the same time. Just walking through that gate and knowing they can't will hurt. But being out and then going back in is when you touch lives."
T.William Wallin is a senior at Humboldt State University majoring in journalism and minoring in Eastern religious studies. He is also a poet and freelance reporter.

Editor's note: This story was updated from a previous version to more accurately reflect Henry Frank's role in the 1993 shooting and to correct a misspelling of former Humboldt County jail Programs Coordinator Stefan Logie's name.