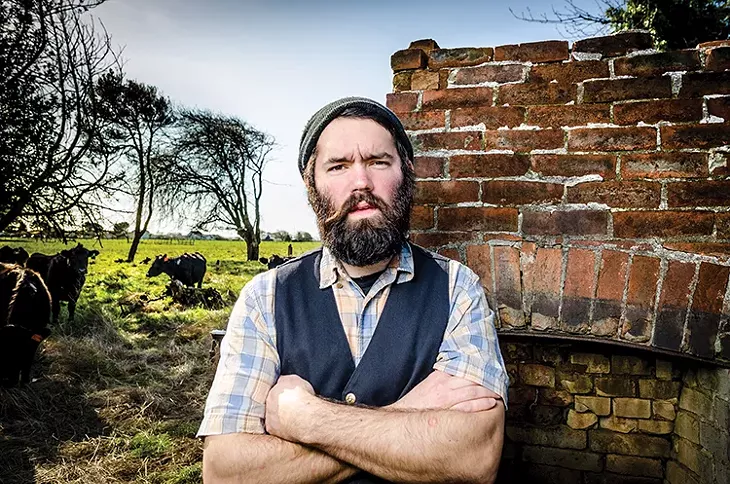 3 slides
First Saturday Night Arts Alive! Opening receptions for artists, exhibits, and/or performances March. 2, 6-9 p.m. Call Eureka Main Street at 707-442-9054, for more information or go to www.eurekamainstreet.org.
1. EUREKA INN 518 Seventh St. Live music.
2. HUMBOLDT ARTS COUNCIL at the Morris Graves Museum of Art 636 F St. Performance Rotunda: Music by Julian Lang; Thonson, Anderson, Knight, Rotunda, Balabanis and Youth galleries: "River As Home" Native American Art. Artists from Wiyot, Yurok, Hupa, Tsenungwe, Karuk and Tolowa cultures including Brian Tripp, George Blake, Deborah McConnell, Karen Noble, Lyn Risling and Bob Benson, curated by Bob Benson of Tsenungwe ancestry. Humboldt Artist Gallery: Artist cooperative featuring local artists working in a variety of media.
3. COTTAGE ANNEX 618 F St. Shabby chic, enamelware, floral china, linens, etc.
3a. EUREKA THEATER 612 F St. Showing a movie.
3b. ANNEX 39 608 F St. Art deco and mid-century modern.
4. REDWOOD ART ASSOCIATION 603 F St. "The Great Outdoors" work by RAA artists and others.
5. BOHEMIAN MERMAID 511 6th St. Amber Jones, copper and fused glass art; Dave J. Struthers, seascape photography.
6. DALIANES TRAVEL 522 F St. Photography by Maureen Fitzgerald Genge.
7. F STREET FOTO GALLERY at Swanlund's Camera, 527 F St. "Just Birds," photographs of birds from around the world by William Wood.
7a. THE LOCAL 517 F St. Artists of The Local, mixed media.
8. SACRED PALACE BOUTIQUE - BIKRAM YOGA 516 Fifth St. Watercolors by Scott Sherman with an emphasis on animals.
8b. EUREKA STUDIO ARTS 526 Fifth St. Classroom exercises, drawings and paintings by students studying with Augustus Clark, Joan Gold, Linda Mitchell and Micki Flatmo.
9. LIVING ROOM GALLERY at MikkiMoves Real Estate 805 Seventh St. Photography and illustations; music by Emily Stoller and Friends.
10. MANHARD CONSULTING 611 I St. Watercolors by Cindy Noble.
11. SEWELL GALLERY FINE ART 423 F St. New paintings by Jim McVicker; music by Tim Randles Trio; beverage sales benefit Access Humboldt.
12. SURFSIDE BURGER SHACK 445 Fifth St. Photography by Robert Walker.
12a. SIDEWALK GALLERY at Ellis Art and Engineering, 401 Fifth St. Work by Brandy Ochs.
13. AMIGAS BURRITOS 317 Fifth St. Photography by Katherine Ziemer; "Wave and Surfing" photography by Vince Cavatio.
14. PRIMATE TATU 139 Fifth St. Michael Arneson.
15. BAR FLY PUB AND GRUB 91 Commercial St. Mixed media by Colleen Hole; Marnie Schneider; works from the private collection of Kathleen Bryson; music by The Last Match.
16. CHERI BLACKERBY GALLERY and THE STUDIO 272 C St. Group show: "Repetitons."
16a. HALL GALLERY 208 C St. Paintings by Richard Case, curated by Regina Case and John King.
17. THE WORKS 210 C St. Paintings by Lisa Green; music TBA.
18. SAILORS' GRAVE TATTOO 138 Second St. Tattoo related art, antiques and memorabilia.
18a. LIVELLA STUDIO 120 Second St. Electronic music by Sets Revenge.
18b. MANTOVA'S TWO STREET MUSIC 124 Second St.
18c. THE BLACK FAUN GALLERY 120 Second St. Paintings ands sculpture by Jeremy Farrel.
18d. SEE NO EVIL PHOTO GALLERY at SUITE C STUDIO 129 Second St. Suite C. Digital photography by Sonny Belk.
19. STEVE AND DAVE'S First and C sts. Photography by Marni Schneider.
19a. REDWOOD CURTAIN 220 First St. (Entrance through Snug Alley) Stone and wire wrap jewelry by Nancy Jioras; performance of the play, The Pitman Painters.
20. CHAPALA CAFE 201 Second St. Traditional Southwest artists' prints.
20a. ACCENT STYLING GALLERY 219 Second St. Work by Mary Martin Harper; music by Main in White.
20b. GOOD RELATIONS 223 Second St. "Positively Pin-Up" photography by Cheri Esparza.
21. HUMBOLDT HERBALS 300 Second St. Acrylic paintings by Michael Roland; music by Todd Krider.
22. THE SIREN'S SONG TAVERN 325 Second St., Ste. 102. Blues and swing music by Shugafoot.
22a. ALTERNATIVE BUILDING CENTER 325 Second St. Ste. 103. Artwork by Julie Johnson and Janarie Ricckio; Girl Scout Troop 10623 selling cookies.
22b. BRENDA TUXFORD GALLERY 325 Second St. Second Floor. Dance Scene Photography Exhibition, local dancers and vistas around Humboldt County. Five artists will be painting and sketching costumed silhouette dance performance.
22c. RUSTIC WEST TRADING CO. 339 Second St. Jewelry by Millie Quam; Jaime Weideman, dream catchers; Jim Cernohlavek, pottery; Cara Rider, mosaics.
23. HUMBOLDT GLASS BLOWERS 214 E St. Paintings by Monica Haff; pinball tournament.
23a. CLARKE HISTORICAL MUSEUM Third and E sts. Music by Soulful Sidekicks.
24. BELLA BASKETS 311 E St. Lightleates Photography: Crystal Johnson.
25. STUDIO 424 424 Third St. Photography by James Reid and Mark McKenna.
25a. SHIPWRECK 430 Third St. "The Intimacy of People and Places" portraits and videos by Chuck Johnson of Freak Photo; music by Caitlin Jemma.
26. CAFÉ NOONER 409 Opera Alley. Photos by Jeff Langdon; music by The Living Rooms.
26a. THE SPEAKEASY BAR 411 Opera Alley. Blues by the Buddy Reed Band.
27. HUMBOLDT BAYKEEPER 211 E St. Sculpture by Scott Hemphill; music by Kenny Ray and the Mighty Rovers.
28. RAMONE'S 209 E St. Art and music by Arcata Arts Institute students.
29. BOOKLEGGER 402 Second St. Art of the written word.
30. TRUCHAS GALLERY/LOS BAGELS 403 Second St. Zimbabwe Artists Project (ZAP), celebrating the artistry and accomplishments of women from rural Weya in eastern Zimbabwe.
31. BELLE STARR 405 Second St. Paintings.
31a. NORTH SOLES 407 Second St. "Portrait in Grayscale" Chris Fracker.
32. SASSAFRASS 417 Second St.
32a. HSU FIRST STREET GALLERY 422 First St. "Golden States of Grace: Prayers of the Disinherited," photo documentary by Rick Nahmias.
33. HEALTHSPORT 411 First St.
33a. BAYFRONT RESTAURANT F St. Plaza. Huichol Indian art from Mexico.
33b. **LIVING THE DREAM ICE CREAM **F St. Plaza.
34. STRICTLY FOR THE BIRDS 123 F St. Photography by Zahra Shine.
34a. HUMBOLDT ACUPUNCTURE 123 F St. Suite F, upstairs. Sacred single-stroke serpent paintings by Dorje Kirsten.
35. EUREKA FABRICS 414 Second St. Quilted silk wall hangings by April Walton.
35a. THE LITTLE SHOP OF HERS 416 Second St. Vector art by Barry Post.
36. YARN 418 Second St.
36a. TREASURE TROVE 420 Second St. Jewelry by Rafael Leon.
37. EUREKA BOOKS 426 Second St. Photo book signings: Logging Railroads of Humboldt and Mendocino Counties by Katie Tahja and Then and Now: Eureka by Scott H. Brown..
38. MANY HANDS GALLERY 438 Second St. "Expression In Portrait" acrylics on canvas by R. Mauch.
39. TALISMAN BEADS 214 F St. YOU are the artist.
40. ALIROSE 229 F St. Jewelry by Justine Levy.
41. THE WINE SPOT 234 F St. Art by Sonny Wong and Matt Beard.
42. OLD TOWN JEWELRY 311 F St. Watercolors by Joyce Jonté.
43. COCO & CUVEE 531 Third St.
43a. DANNILYNN'S SHOE BOUTIQUE 527 Third St.
43b. DISCOVERY MUSEUM Corner of F and Third sts. Kids Alive Program Drop off 5:30-8:00; call for reservations 443-9694.
44. AMERICAN INDIAN ART GALLERY 241 F St. Native American art.
44a. OLD TOWN ART GALLERY 233 F St. Annual invitational art show featuring more than 20 area artists.
44b. HUMBOLDT BAY COFFEE COMPANY 526 Opera Alley. Photography of Humboldt Roller Derby by Amy Kumler; music by the John David Young Trio.
45. BON BONIERE 215 F St. Landscape photography by Gregory Beaumont.
46. OLD TOWN COFFEE & CHOCOLATES 211 F St. Celtic art by Ian Herriott; blues by the Jim Lahman Band.
47. OLD TOWN ANTIQUE LIGHTING Corner of 2nd and F sts. "My Humboldt" photographs by Jon Exley.
48. SISTERFRIENDSJEANS 514 Second St. Jewelry by Jane Copper; refreshments by Spice Catering.
48a. OBERON GRILL 516 Second St. Historic photographs of Old Eureka from Historical Society.
49. LINEN CLOSET 127 F St. Jewelry by Baroni and fused glass by Laura Wellman.
49a. FIVE ELEVEN 511 Second St. Paintings and prints by Shawn Griggs; music by The Delta Nationals.
50. HIMALYAN RUG TRADER 529 Second St. Persian rugs.
50a. HUMBOLDT HARDWARE 531 Second St. TBA.
51. PARASOL ARTS 211 G St. Paintings by Andrew Daniel, paper cut images by Matt Cooper, and mosaics by Robin Friedman.
51a. BUHNE ART STUDIOS 211 G St. Suite 205 (Upstairs) Work by Brent Eviston; Suite 206: Abstract oils by Rob Hampson.
52. ORANGE CUP CORAL SALON 612 Second St. Electic mix by David Steinhardt.
53. PIANTE 620 Second St. New photography by Bill Pierson.
54. DELIGHTFUL EYE PHOTOGRAPHY 622 Second St. Photos; music by Tripwire.
55. SMUG'S PIZZA 626 Second St. Pen and ink Brandon Garland.
56. AVALON Third & G sts.
57. ORIGIN DESIGN LAB 621 Third St. Needle felting sculptures and demonstrations by Monica Shell.
58. BIGFOOT COMPUTERS AND PHOTOGRAPHY TOO 905 Third St. Photos.
59. ADORNI CENTER 1011 Waterfront St. Mixed media by Paula Redtfeldt and Rosalie Thompson; photography by Nikaela Walters.