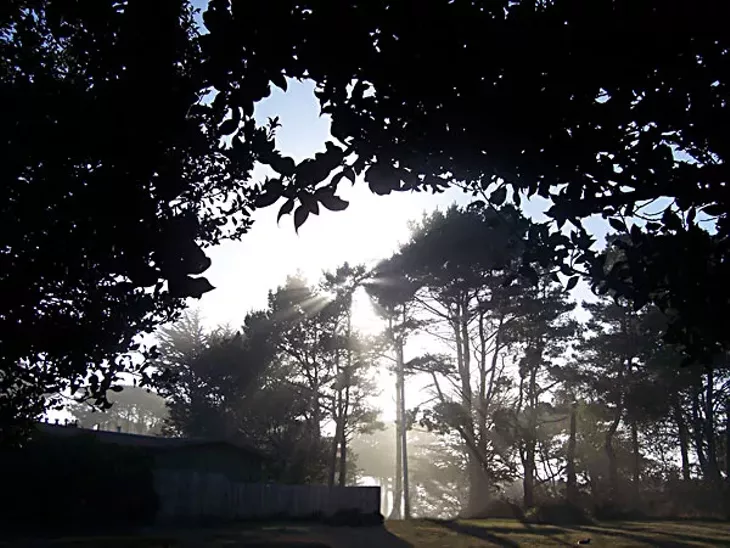 24 slides
1. WORLD CUP 1626 F St. Visually impaired and blind artists, lighthouses of the North Coast by; live music.
1a. F ST. CAFÉ 1630 F St.
2. THE INK PEOPLE CENTER FOR THE ARTS 411 12th St. Kelley Barrett, Stephen Clark, Denise Dodd, Margaret Draper, Korinna Irwin, Jen Prather, Carol Pryor, Michel Sergeant, Erin Slattery, and Francine Sobol, 2nd annual Open Heart Show, mixed media work, film installation, paintings of varied mediums and rotatable drawings; folk/lyrical/fusion music by Josephine Johnson from 6:25-7:00 p.m.; acoustic/electric music by Michael Yousseff from 7:15-7:45 p.m.; folk/funk/punk music by Joel Blume from 8:00-8:45 p.m.; Korinna Irwin, Megan Workman and guests present spoken word pieces between musical acts.
3. HUMBOLDT ARTS COUNCIL at Morris Graves Museum of Art 636 F St. Performance Rotunda: music by The Fabulous Blue JayZ; William Thonson Gallery: 8th annual Northwest Eye Regional Photography Competition and Exhibition; Homer Balabanis Gallery: Morris Graves, Selections from the Humboldt Art Council Permanent Collection; C.T. Wilson Redwood Tree painting; Knight Gallery: Jim McVicker, A Way of Seeing; Anderson Gallery: Robin Robin, Flora Photograhica, images of Humboldt County flora; Mel Schuler Sculpture Garden: Monica Schill, Encased in Concrete 88; Floyd Bettiga Gallery: Jody Dunphy, Inherently Sacred; Youth Gallery Museum: Art School; 2nd Saturday Family Arts Day Gallery: Cubist Instrument Art.
4. EUREKA CONCERT AND FILM CENTER 612 F St.
5. EUREKA OLD GLASS HOUSE AND ANTIQUES 604 F St. Stephanie Bishop, handcrafted jewelry; Susie Sicard, handcrafted beeswax ornaments.
6. PRAXIS 530 F St. Gail Wills, layered paintings in acrylic and oil on canvas.
7. OBENTO 517 F St. Barbara Pulliam's HSU art class, miscellaneous, multi-media presentation.
8. SACRED PALACE BOUTIQUE—BIKRAM YOGA—HUMBOLDT BRANCH 516 5th St. Jennifer Sherman, Layered Identity, tile layered art; improv acting show every hour; Hammer Nutrition, health food for athletes.
8a. OASIS 520 5th St. Behind the Revolution Nepal 2006, photographs; live music.
9. HUMBOLDT TATTOO 710 5th St. Derek Adams, Jackalolpes Running, media, tattooing and fine art.
10. EUREKA SPA 601 5th St.
10a. ARKLEY CENTER FOR THE PERFORMING ARTS 412 G St. North Coast Dance presents series of performances of repertoire and work to a suite of classic songs by Karen Carpenter.
11. PLAZA DESIGN 427 F St. Redwood Empire Quilters; music by Come Gather 'Round Us.
12. INDAH BALI 440 F St. Music by Blue Lotus Jazz; Loryn White, Thomas Fossier, Joyce Jonet, Barbara Wright, Betsy Roberts and Holly Garbutt.
12a. SURFSIDE BURGER BAR 445 5th St. Carl Hanes; Rick Cardenas and John Lopez, tattoos.
12b. SIDEWALK GALLERY at Ellis Art and Engineering, 401 5th St. Rick Cardenas.
13. WACHOVIA SECURITIES 318 5th St. Julieanne Johnson, collages.
14. AMIGAS BURRITOS 317 5th St. Ben Secor, "Local Shore Birds", handheld digital photography.
15. COCHRANE AND ASSOCIATES 402 E St. Alan Sanborn's Art Critique Group II, watercolors.
16a. ALTERNATIVE BUILDING CENTER 4 West 4th St. Russell Bashaw, The Universal Form of Nature; music by UKEsperience and The No Good Redwood Ramblers.
16. EMPIRE SQUARED 47 W. 3rd St. Unconventional and Untraditional.
17. CHERI BLACKERBY GALLERY at the Studio 272 C St. Group exhibit, Go Figure; music by The Studio Community Choir 7 p.m.
17a. ACCIDENT GALLERY 210 C St. Bethany Ayres, Astrid Bowlby, Alexander Cheves, Joshua Churchill, Paul Clipson, Walter Logue, Reuben Lorch-Miller and Chris McCaw, The Beast in Me; Seth M. Smith, IV, A Style of Joining; Liesl Gustafson Smith, mixed media.
18. C ST. HALL GALLERY 208 C St. Rick Gustafson, Seth and Liesl Smith, John Crater, Annie Bush, Ashley Foreman, Shoshana, Kathy O'Leary, Tom Klapproth, Curtis Otto, Eric Furman, Phyllis Barba, Augustus Clark and Allison Baumsteiger.
19. REFLECTIONS 202 C St. Mariana Krattiger, paintings.
19a. LIVELLA STUDIO 120 2nd St. Experimental and ambient music by the Mod Brothers.
20. OLD TOWN ANTIQUE LIGHTING GALLERY 139-B 2nd St. (at the Eagle House). John Palmer, Reconnecting with the Natural World, landscape oil paintings.
21. STEVE AND DAVE'S 1st and C sts. Music by Dr. Squid; John Harland, photographs.
22. THE TREASURE TROVE 220 1st St. Mariana Krattiger, paintings, watercolors, acrylics and pencil works.
23. CHAPALA CAFE 201 2nd St. Southwest artists' prints.
24. HUMBOLDT COUNTY GENERAL STORE 219 2nd St.
25. GOOD RELATIONS 223 2nd St. Michael Lesi, photographs.
26. HUMBOLDT HERBALS 300 2nd St. Imago Dei, acrylic gels; acoustic mbira music by Seth Geddes.; music by Lisa C. Sherry on acoustic guitar.
26a. ART OF WINE 308 2nd St. Artists of Southern Humboldt County: Celia Price, all mediums; John Jameton, watercolors; Margreit Seinen, silk painting; Judy Evanson, watercolors; Alicia Tredway, all mediums; Ralphie Hendrix, oil, pastels.
27. NORTHCOAST KNITTERY 320 2nd St. Nancy Kennedy, fiber art.
28. RUSTIC WEST TRADING CO. 339 2nd St. Wayne Cook, wood works; Millie Quam, beaded jewelry; John Houston, photographs.
29. CIARA'S IRISH SHOP 334 2nd St.
29a. CLARKE HISTORICAL MUSEUM 3rd and E sts. Photographs of shipyards and workers, tools used in ship-building and rare plans for ships built at the Bendixsen ship yard in the 1870s and 1890s.
30. THE BEAD SHOPPE 418 3rd St. Jane Reed, Creature Creations, necklaces, earrings and bracelets.
30a. STUDIO 424 424 3rd St. Grand opening.
31. GAIA IMPORTS 426 3rd St.
32. YARN AND SHIPWRECK 430 3rd St. Ashley Sutherland, Industrial Seascapes Phase 3.
33. THE RITZ TEPANYAKI 3rd and F sts. Suza Lambert.
34. CAFÉ NOONER 409 Opera Alley. Rob Graves, photographs.
35. HUMBOLDT BAY KEEPER 211 E St. Holly Sweet, silk paintings on cotton, pillows and quilts; music Kenny Ray and the Mighty Rovers.
36. RAMONE'S 209 E St. Brandon Garland, acrylic paintings and drawings; blues/rock music by The Quiet Ones.
37. BOOKLEGGER 402 2nd St. Art of the written word.
38. TRUCHAS GALLERY/LOS BAGELS 403 2nd St. Holly Garbutt, fabric works.
39. BELLE STARR 405 2nd St. Steve Doney, surrealist mixed media.
40. MAD RIVER BIOLOGISTS 417 2nd St. (upstairs). Closed in June.
41. NORTH SOLES FOOTWEAR 417 2nd St. Ste. 102. Stephen Infantina, acrylics on canvas.
42. OLD TOWN SQUARE 2nd and F sts. Old Town Carriage is back! Old fashioned carriage rides all day long. North Coast Big Brothers Big Sisters 40th Anniversary, Mentoring in Motion: Celebrating Youth Through Art, mixed media. Humboldt Transit Authority has a bus at 2nd and F sts. to serve as a live gallery to display the various pieces of work. Ribbon cutting ceremony at 7:15 p.m. to commemorate the 40th anniversary.
43. HEALTHSPORT BY THE BAY 423 1st St. Jim Lowry, digital photographs.
44. SEA BREEZE CANDY AND TEE'S F St. Plaza.
45. STRICTLY FOR THE BIRDS 123 F St. Paula Anderson, watercolors.
46. ANDREA RALPH ACCOUNTING SERVICES 123 F St. Ste. A. Carol Lalonde, watercolors and mixed media; Erin Austin, metal jewelry.
46a. HUMBOLDT ACUPUNCTURE 123 F St. Ste. F. Jen Delyth, Celtic Folk Soul – Art, Myth and Symbol, original Celtic art; egg tempera and oil paintings, limited edition Giclee prints and a preview of Celtic Earth Mysteries and the Mythology Animation Beyond the Ninth Wave.
47. BELLA BASKETS 412 2nd St. Food demo with Barry's Theatre Cookies; Tiffany Brogdon, jewelry; The Glass Station, glass works; Glenda Hicks, paintings; Carl Baggett, photographs; Colinda Gutierrez, ceramics.
48. EUREKA BOOKS 426 2nd St. Bill Morrill discusses and signs the DVD of his TV history series, 101 Milestones; OLLI books and photos.
49. SHORELINES GALLERY 434 2nd St. Kronos Clocks.
50. MANY HANDS GALLERY 438 2nd St. Northern Lao handwoven textiles.
51. ALL UNDER HEAVEN 212 F St. Augustus Clark, acrylic paintings.
52. TALISMAN 214 F St.
53. MOON'S 218 F St. Students from Zane Middle School.
54. SASAFRASS 226 F St. Julie Frith, kinetic modern mobiles.
55. ALIROSE BOUTIQUE 228 F St. Amanda Elizabeth Woodward, watercolors.
56. BAA BAA SHEEPSKIN 234 F St.
57. DOT AND DAUGHTER 311 F St.
58. COCO AND CUVEE 531 3rd St. Amber Billings, photographs.
59. DISCOVERY MUSEUM 3rd and F sts. Kids' Alive, Sound and Movement.
60. AMERICAN INDIAN ART AND GIFT SHOP 241 F St. Wes Crawford, jewelry.
61. OLD TOWN ART GALLERY 233 F St. Redwood Camera Club.
62. BON BONIERE 215 F St. David Wilson, digital images; music by Dale Winget, guitar/vocalist.
63. OLD TOWN COFFEE AND CHOCOLATES 211 F St. Music by the John Lehman Band; multiple artists, oils and watercolors.
64. HOLLYGOLIGHTLY 514 2nd St. Multiple artists, At the Beach, paintings.
65. OBERON GRILL 516 2nd St. Photographs of Old Eureka from the Historical Society.
66. LINEN CLOSET 127 F St.
67. HURRICANE KATE'S 511 2nd St. Jamie Pavlich Walker, Fine Art Creation.
68. BLISS 527 2nd St. Bob and Donna Sellers, mixed media.
69. HIMALYAN RUG TRADER 529 2nd St. Music by The Anna Hamilton Trio.
70. SPA AT PERSONAL CHOICE 130 G St.
71. BUHNE ART STUDIOS 207 G St., 2nd Floor. Studio 102: Karen Merry, watercolors and mixed-media paintings and pen-and-ink works; Studio 202: HR LoBue, photographs and Tazam; Michelle Murphy-Ferguson.
72. HUMBOLDT CARPET SHOWROOM 2nd and G sts. Dona Blakely, Gemini Celebrating the Twins, retrospective spanning 30 years.
73. SUKI BOUTIQUE 612 2nd St. Crescent Calimpong, prints.
73a. PIANTE GALLERY 620 2nd St. Joan Gold, Emily Silver and Suzanne Simpson.
74. BODY OF LIGHT 622 2nd St. Hand massage.
75. SMUG'S PIZZA 626 2nd St. Justin Thrap, Living In Humboldt County, pencil and ink drawings.
75a. CLOUD 9 STUDIO 634 2nd St. AnnaLisa McLaughlin, animal celebration features paintings in acrylic.
76. AVALON 3rd and G sts.
77. UPSTAIRS ABOVE THE LOST COAST BREWERY 615 4th St. Ken and June Moxon.
78. STUDIO S 717 3rd St. Open Studios.
79. HAS BEANS 738 2nd St. Norman DuPalntis, landscapes with trains, boats and old buildings.
80. ANTIQUES AND GOODIES 1138 3rd St. Kathleen Bechler; Hats by Dale.
80a. BIGFOOT COMPUTERS AND PHOTOGRAPHY TOO… 905 3rd St. Miscellaneous artists.
81. LOOKING GLASS RESTAURANT 1436 2nd St. Tamra Whitney, pastel drawings.