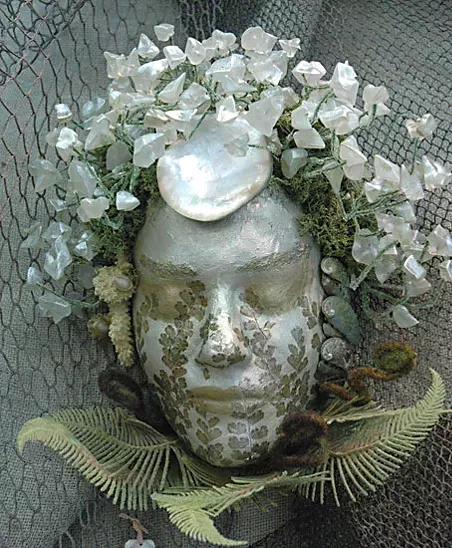 11 slides
1. F ST. CAFÉ 1630 F St. Bill Pierson, Italian Landscape.
1a. WORLD CUP 1626 F St. Berti, black and white photographs; Robert Daugherty, black and white photographs, 1973 NYC Tranny Ball.
1b. ST. INNOCENT ORTHODOX CHURCH 939 F St. Sara Marina.
2. THE INK PEOPLE CENTER FOR THE ARTS 411 12th St. 25th Maskibition. "Art Masks."
3. HUMBOLDT ARTS COUNCIL at the Morris Graves Museum of Art 636 F St. Performance Rotunda: Gamelan, classical Indonesian music; William Thonson Gallery: Junque Arte Competition, made from 100% recycled materials; Homer Balabanis Gallery: Selections from the Humboldt Arts Council Permanent Collection; Knight Gallery: Jack Mays, Ferndale drawings; Anderson Gallery Local mixed media; Mel Schuler Sculpture Garden Monica Schill, Encased in Concrete 88; Youth Gallery Children's Author & Illustrator Festival; Second Saturday Family Arts Day Gallery Children's art, Portraits in the style of Caravaggio.
3a. EUREKA CONCERT AND FILM CENTER 612 F St. Vintage short films.
3b. EUREKA OLD GLASS HOUSE & ANTIQUES/EUREKA SOAP FACTORY 604 F St. Howard Rutherford, drawings, paintings, sculpting, and carving.
4. PRAXIS 530 F St. Francis Boettcher, watercolor, Fruits and Florals
4a. DALIANES TRAVEL 522 F St. Gary Todoroff, photographs.
5. OBENTO 517 F St.
6. SACRED PALACE BOUTIQUE - BIKRAM YOGA – HUMBOLDT BRANCH 516 Fifth St. Ariz, eccentric existentialist; Harvest Moon Libra Party 9-midnight, all ages.
6a. OASIS 520 Fifth St. Thangka Paintings. Live music by Continuing the Revolution; DJ After Party.
7. ARKLEY CENTER FOR THE PERFORMING ARTS 412 G St. "Giants of Their Time" presented by the Eureka Symphony.
8. PLAZA DESIGN 427 F St. Live music by Shinbone; artist Hana Walt.
9. INDAH BALI 440 F St. Thao Le Khac, Loryn White, Joyce Jonté, Barbara Wright, and Thomas Fossier. Bansuri Flute by Seabury Gould.
9a. SURFSIDE BURGER BAR 445 Fifth St. Cindy Nystrom, stained glass art.
9b. SIMPLY STYLISH 425 Fifth St. Steve Coach, photographs; Susan Bloch, glass artwork.
9c. SIDEWALK GALLERY at Ellis Art and Engineering 401 Fifth St. Justin Love.
10. WACHOVIA SECURITIES 318 Fifth St. Patty Holbrook, Carol Lauer, and Jean Hawkins, watercolor.
11. AMIGAS BURRITOS 317 Fifth St. Ben Secor, Local Shore Birds, handheld digital photographs.
12. COCHRANE & ASSOCIATES 402 E St. Bosha Struve & Diane Williams, photographs and photomontages.
13. EMPIRE SQUARED 47 W. Third St. Black and White Invitational.
14. CHERI BLACKERBY GALLERY at the Studio 272 C St. Treasure Trash: A nontraditional materials show. Trash Unzipped, Adult Only Cabaret, 7 p.m.
15. ACCIDENT GALLERY 210 C St. Kristen Hunter, Lens-Free Photographs; Julie Glauert, Lee Hunter, Lorin Murphy, Scott Nadeau, Michal Pastan, Curtis Tamm, and Marty Wood, Entropy: Decay And Re-Generation.
15a. C ST. HALL GALLERY 208 C St. David Pal, Curtis Otto, Susan Dill, Marceau Verdiere, Kathy O'Leary, and Phyllis Barba.
16. LIVELLA STUDIOS (Music Recording Studio/Art Gallery) 120 Second St. Music by the Mod Brothers and The Asteroid Advocates.
17. STEVE AND DAVE'S First and C Sts. John Harland, photographs; Music with Dr. Squid.
17a. REDWOOD ART ASSOCIATION 220 First St. Humboldt Photography Exhibition.
18. CHAPALA CAFE 201 Second St. Traditional Southwest artist prints.
18a. HUMBOLDT COUNTY GENERAL STORE 219 Second St.
18b. GOOD RELATIONS 223 Second St. Elizabeth Berrien, wire sculpture.
19. HUMBOLDT HERBALS 300 Second St. Karen Merry, watercolor/pen/ink; live music by Seth Geddes and Friends.
20. ART OF WINE 308 Second St. Paintings by 10 local artists Lois Andersen, Julia Bednar, Kay Harden, Ralphie Hendrix, Elsie Mendes, Michelle Murphy-Ferguson, Yvonnne Reynolds, Susan Strope, Dolores Terry, & sculpture Jack Sewell.
21. NORTHCOAST KNITTERY 320 Second St. Vida Nueva, woven rugs from Oaxaca.
22. RUSTIC WEST TRADING CO. 339 Second St. Denie Debets, glass fusing; Marjie Grenchfield, glass fusing; Vickie McDonald, bead jewelry.
23. CIARA'S IRISH SHOP 334 Second St. Sara Westfahl.
24. CLARKE HISTORICAL MUSEUM Third and E St. Exhibits on dinnerware and Washday join ongoing exhibits on Humboldt history and Native American culture. Giftshop: special vintage hat sale and autographing of latest novels by Pamela Service, museum director and author of 27 fantasy/science fiction books for young people. Reception.
25. SHIPWRECK AND YARN 430 Third St. Holly Garbutt, Dia de los Muertos
26. CAFÉ NOONERS 409 Opera Alley. Arcata Art Institute students of Arcata High, Summer Works.
27. HUMBOLDT BAY KEEPER 211 E St. Rande Rothman; music by Kenny Ray and the Mighty Rovers.
28. RAMONE'S 209 E St. Tess Keller, paintings; puppet show by Hibbity Skibbitty.
29. BOOKLEGGER 402 Second St.
30. TRUCHAS GALLERY/LOS BAGELS 403 Second St. Connie Gardner, Linnea Tobias, Jan Ramsey, Connie Butler, Susana Oropeza, Denise McKenzie, Sonny Wong, and Susan Cooper, Dia de los Muertos.
30a. BELLE STARR 405 Second St. Preston Drake-Hillyard, world photographs.
30b. NORTH SOLES 417 Second St. Joyce Willis, mixed media.
30c. REFLECTIONS JEWELRY 417 Second St. Yvonne Kearn, paintings.
31. HSU FIRST STREET GALLERY 422 First St. Rebecca Glaspy, Julie McNiel, Jake Mondragon, Alyse Laverne, Kelly Leal, Fernando Ramirez, paintings.
32. GRAYSTONE JEWELERS 411 First St. Annual Alex Sepkus Trunk Show.
33. SEA BREEZE CANDY AND TEE'S F St. Plaza.
34. STRICTLY FOR THE BIRDS 123 F St. Louise Bacon-Ogden.
34. ANDREA RALPH ACCOUNTING 123 F St. (upstairs) Karen and Scott Burgess, Four Season's Greetings.
35. BELLA BASKETS 412 Second St. Carl Baggett, photographs; ceramics by Colinda Gutierrez; jewelry by Tiffany Brogdon. Food demo by Calhouns Original Southside BBQ Sauce.
35a. EUREKA FABRICS 420 Second St. Teresa Hodgson, abstract quilts.
35b. EUREKA BOOKS 426 Second St. Local author Natasha Wing signs An Eye for Color, her new book about the painter Josef Albers.
36. SHORELINES GALLERY 434 Second St. Over 60 local artists.
37. MANY HANDS GALLERY 438 Second St. Greta Turney. Dia de los Muertos-themed paintings.
38. ALL UNDER HEAVEN 212 F St. Augustus Clark, acrylic paintings.
38a. TALISMAN BEADS 214 F St.
39. MOON'S PLAY AND LEARN 218 F St.
39a. SASAFRASS 226 F St. Julie Frith, Kinetic modern mobiles.
40. BAA BAA SHEEPSKIN 234 F St.
40a. THE RITZ TEPANYAKI Corner Third & F St. Suza Lambert.
41. DOT & DAUGHTER 311 F St.
42. COCO & CUVEE 531 Third St. Amber Billings, photographs.
43. DISCOVERY MUSEUM Corner of F and Third St. Kids Alive Program: Drop off 5:30-8:00; call for reservations 443-9694.
43a. AMERICAN INDIAN ART AND GIFT 233 F St. Lawrence Reed.
43b. OLD TOWN ART GALLERY 233 F St. Karen Chase Frazee, paintings.
44. BON BONIERE 215 F St. Abbie Perrott, Discovering Beauty in a Changing World: People, Animals, & Sculptures; Dale Winget, guitarist/vocalist.
45. OLD TOWN COFFEE and CHOCOLATES 211 F St. Alex Hecht, abstract acrylics; live music with SpudGun.
46. OLD TOWN ANTIQUE LIGHTING Corner of 2nd and F Sts. Dan Tubbs Jr., landscape photographs; John Stewart, piano.
47. HOLLYGOLIGHTLY 514 Second St. Local artists, A Colorful Autumn.
48. OBERON GRILL 516 Second St. Photographs of Old Eureka from Historical Society.
49. LINEN CLOSET 127 F St.
50. HURRICANE KATE'S 511 Second St. Linda Sunquist, bold floral expressions in oil.
51. BLISS 527 Second St. Bob and Donna Sellers, mixed media.
51a. HIMALYAN RUG TRADER 529 Second St. Artistic rugs.
52. BUHNE ART STUDIOS 207 G St., Second Floor. Studio 102, Karen Merry, watercolor and mixed-media paintings; Studio 206, Erik Horvath, oil paintings; HR LoBue, photographs & Tazam. Studio 202; Michelle Murphy-Ferguson.
53. HUMBOLDT CARPET SHOWROOM AT THE GALLERY Second and G St. Tony Machado and Junior Deleon; Constance Rose, handcrafted studio quilts.
53a. SUKI BOUTIQUE 221 Second St.
53b. PIANTE 620 Second St. Carol Andersen, Rose Andersen, Augustus Clark, Jim Dodge, Libby George, Anthony Lucero, Jerry Martien, Charlotte Painter, Razvan Pleteriu, Patricia Sennott, Alexander Shahabalov, Evgeniy Shaman, Brian Tripp, Thomas Voorhees, Picture Poems; Installation by Barbara Dolan-Wilkinson.
53c. SMUGS PIZZA 626 Second St. José, art.
54. AVALON Third & G Sts.
55. UPSTAIRS ABOVE THE LOST COAST BREWERY 615 Fourth St. Ken and June Moxon.
56. STUDIO S 717 Third St. Autumn Color by local artists.
57. HAS BEANS 738 Second St. Stevo, a Halloween-themed show.
58. BIGFOOT COMPUTERS AND PHOTOGRAPHY TOO… 905 Third St. Rebecca Reynolds, hand painted whale bone and watercolors.
59. ANTIQUES AND GOODIES 1138 Third St. Kathleen Bechler, fiber arts; Diane Slagle, jeweled art and acrylics.
60. LOOKING GLASS RESTAURANT 1436 Second St. Mark Whitman, metal and vehicle art for Garden and Playa.