Arts! Arcata is Arcata Main Street's monthly celebration of visual and performing arts, held at locations in Arcata. Visit www.arcatamainstreet.com, Arts! Arcata on Facebook, or call 822-4500 for more information.
ANGELICA ATELIER 1101 H St. #2 "Stoned Galaxy - A Creative Force," Marisa Kieselhorst and Abigail Knottingham, mixed media.
ALCHEMY DISTILLERY 330 South G St. Pen and ink art by Pen + Pine.
ARCATA ARTISANS COOPERATIVE GALLERY 883 H St. George Bucquet, glasswork; Jim Lowry, photography; Wine pour by Bayside Community Hall.
ARCATA BRANCH LIBRARY 500 Seventh St. "When There's a Fire...," Stuart Moskowitz, photography; Music by Bandemonium; Wine pour by Friends of Arcata Library.
ARCATA EXCHANGE 813 H St. Jay Brown, mixed media; Music by Viva Dulce; Wine pour by Historical Sites Society.
ASTRONOMERS OF HUMBOLDT (on the Arcata Plaza) Astronomers of Humboldt celebrating spaceflight and space exploration.
BAYSIDE BOOKS 64 Sunny Brae Center Jesse Allen, screen printing.
BUBBLES 1031 H St. Music by Cory Goldman and Lyndsey Battle.
FIRE ARTS CENTER 520 S G St. Elizabeth Johnson, ceramics, and nonprofit wine pour.
THE GARDEN GATE 905 H St. Susanna Gallisdorfer, mixed media, Music by the James Zeller Trio; Wine pour by Healthcare for All.
GLOBAL VILLAGE GALLERY 973 H St. Showing rajasthani textiles.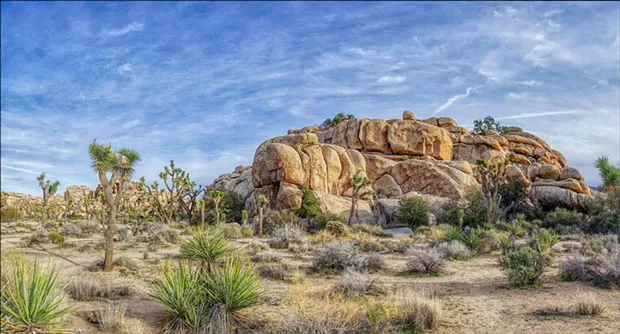 Courtesy of the artist
Jim Lowry's "Joshua Tree," at Arcata Artisans Gallery.
THE HEART OF HUMBOLDT 601 I St. Derby McLaughlin, acrylic paintings.
HSU NATURAL HISTORY MUSEUM 1242 G St. Scale drawing and nature art workshops; Music by Kathe Lyth and the Redwood Coast Children's and Adult's Chorus; Nonprofit wine pour.
JACOBY'S STOREHOUSE 791 Eighth St.
PLAZA GRILL (Third Floor) David Boston, Jeff McCallay and Deborah McCallay, photography.
LIBATION WINE BAR 761 Eighth St. David Howell, photography; Music by The Fusilli Brothers; Wine pour.
MOONRISE HERBS 826 G St. Chaz Arrington and Linda Joanne, acrylic paintings; Music by Howdy Emerson; Wine pour by Arcata Rotary Club.
NORTHTOWN BOOKS 957 H St. National Poetry Month reading by Jerry Martien, Kirk Lumpkin and Vinnie Peloso.
OM SHALA YOGA 858 Tenth St. Maria Bermudez, art.
PACIFIC PARADISE 1087 H St. Ambrz Art, art.
PLAZA SHOE SHOP 699 G St. Midge Catching, mixed media.
THE SANCTUARY 1301 J St. "Wildlife at the Bottom of the Globe," Alan Peterson, photography.
STOKES, HAMER, KIRK & EADS, LLP, 381 Bayside Road. Linda Kosoff, oil paintings; Music by Tyger Byle; Wine Pour by American Cancer Society - Relay for Life Team #32.
TIN CAN MAILMAN 1000 H St. "White Rabbit," Kendall Muell, graphic design.
UMPQUA BANK 1063 G St. "Artistic Investigations and Explorations," mixed media art show featuring eight different artists.