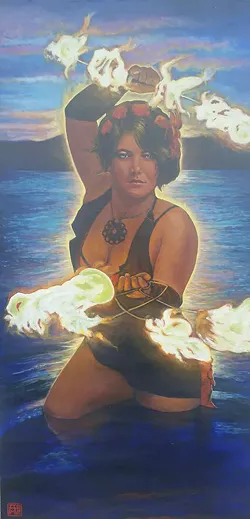 "Fire," oil painting by Toni Magyar at the Umpqua Bank Upstairs Gallery.
Arts! Arcata is Arcata Main Street's monthly celebration of visual and performing arts, held at locations in Arcata. Visit www.arcatamainstreet.com, Arts! Arcata on Facebook, or call 707-822-4500 for more information.
ALCHEMY DISTILLERY 330 South G St. Mister Moonbeam, mixed media.
ARCATA ARTISANS COOPERATIVE GALLERY 883 H St.
Elaine Y. Shore, ceramics and Carolyn Jones, textiles. Wine pour by Bayside Community Hall.
ARCATA EXCHANGE 813 H St. Mixed media art by Hans Speck, mixed media; Breast and GYN Health Project Vacation Raffle; Music By Ebba Fournier; Wine pour by Breast and GYN Health Project."
ARCATA MAIN STREET ARCATA PLAZA Mermaid Treasure Hunt with wine tasting on the Arcata Plaza.
ARISE 627 16th St. Gaelon Davis, acrylic paintings. Refreshments.
CAFE BRIO 791 G St. Joyce Jonte, watercolors. Music by James & Daniel.
BUBBLES 1031 H St. Music by Tidepool High Divers.
THE GARDEN GATE 905 H St. "The Waters Between," Jody Himango, photography; Music by Blake Ritter and Friends; Wine pour by CASA of Humboldt.
GLOBAL VILLAGE GALLERY 973 H St. Huichol yarn paintings.
THE GRIFFIN 937 10th St. "Conversations about Power," Bianca Lago. Music by Goldylocks.
THE HEART OF HUMBOLDT 601 I St. Rebecca Maynard, acrylic paintings.
HOLLY YASHI 1300 Ninth St. Joyce Jonte, paintings.
JACOBY'S STOREHOUSE 791 Eighth St.
PLAZA GRILL (3RD FLOOR) Lisa Landis, pastels.
MOONRISE HERBS 826 G St.
Genise Smith, digitally crafted montages; Music by Lisa Sharry; Nonprofit wine pour.
OM SHALA YOGA 858 10th St.
Noelle Cox, acrylic paintings.
OUTER SPACE 11th and M streets
SPEDR ONE, mixed media.
PLAZA 808 G St. Carol Andersen, mixed media. Wine pour by Main Stage.
PLAZA SHOE SHOP 699 G St.
Tim Weidman, acrylic paintings.
REDWOOD CURTAIN 550 S G St.
Torre Flagor, photography.
THE SANCTUARY 1301 J St. "Signs of Water" and "Site Reading," Jacquelyn Stuber, photography.
THREADBARE DANCEWEAR 668 Eighth St. Sarah Arrigo, acrylic paintings; Music by Icarus and Suns; Wine pour by Threadbare Dancewear.
TIN CAN MAILMAN 1000 H St.
Hanna Meredith, ceramics.
UMPQUA BANK 1063 G St. Mixed media art by Women's Caucus for Art, Humboldt State University.