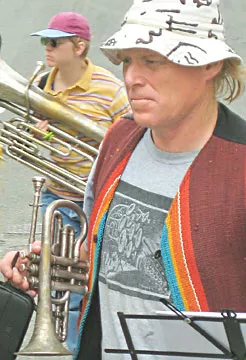 Gregg Moore leads Bandemonium, performing Mardi Gras music Saturday at Arcata Playhouse. Photo by Bob Doran.
We'll start by forgiving the fact that the Mardi Gras/Carnaval Blow-Out and Dance Extravaganza coming up this weekend is on a Saturday, even though Mardi is French for Tuesday. Who wants to (or has time to) party on a Tuesday, what with work and all, even if it is Fat Tuesday? And we'll overlook the fact that the party's a bit late considering that we're already more than a week into Lent, since the Catholic origins of Carnival (or Carnaval if you prefer the Portuguese spelling) are often ignored.
We'll ignore all that because the party Gregg Moore is planning for Saturday, Feb. 16, at the Arcata Playhouse sounds like a helluva good time, and it's a benefit for the activities of Circus Remedy to boot.
The e-mail from Moore, written in bold green and gold letters on a purple background, promises, "five hours (at least!) of whompin' and stompin' dance grooves from two of the world's original pre-Lenten rave cultures," as in New Orleans and Brazil. What does he have in mind?
Before we get to that, we'll offer a reminder of who this Gregg Moore guy is. Gregg is the grown-up son of CR music prof and world music maven Jerry Moore. He's also the older brother of expat jazz saxophonist Michael Moore, last seen here with the wild and crazy (and Dutch) Instant Composer's Pool Orchestra. Like his brother, Gregg spent many years making music in Holland. While he was there he began exploring the music made by brass and wind bands around the world, including those he calls "alternative bands." He then spent 10 years in Portugal learning and playing the local folk music before coming back home to Humboldt in 2004. He brought with him a vast knowledge of crazy-ass music from many cultures and, as he puts it on the website for his music company, Relevant Music, he brought back "a wide variety of arrangements, transcriptions and compositions for large and small groups of wind and percussion," painstakingly and lovingly assembled based on his work of the last few decades.
Since his return he's been making all sorts of music. You may have heard some of the theatrical work he's done with Dell'Arte or heard him play trombone and/or tuba in his Portuguese jazz/folk combo. Or perhaps you've heard one of several versions of Bandemonium, the mutant horn/percussion band that draws musicians young and old from southern and northern Humboldt. I've caught up with them a couple of times, once at the Humboldt Folklife Festival out in Blue Lake, then more recently when they played for a small crowd at the Arcata Playhouse for a Circus Remedy affair. (See "Send Out the Clowns" in the Journal's Jan. 3 edition).
My wife Amy was with me for that show. Like me, she loved the band; her only complaint was that it was a sit-down thing — she wanted to dance. Well, she'll get her chance Saturday: The five-band dance concert will include a set of New Orleans-style music by a 20-strong pan-Humboldt version of Bandemonium.
Also on the bill: The Dixieleptics, with Gregg on tuba, Don Moehnke on trumpet, George Epperson on trombone, Randy Carrico on reeds and Jim Piehl on banjo, offering the Dixieland side of New Orleans music.
Then, to present a taste of Brazilian-style Mardi Gras batucada, there's the hot samba dance and drum troupe Samba Quente(the North Country Fair folks, formerly known as Samba Da Alegria). For those unsure about how to move, there will be a short samba dance workshop. Then, taking things a step further, Bandemonium and Samba Quente will come together, taking things straight down to Rio. And to cap it all off, the party will conclude with a set by my favorite Humboldt Cajun band, The Bayou Swamis, whompin' and stompin' into the wee hours. What else could you ask for? Laissez les bon temps roulez!
While Saturday's party is a faux holiday of sorts, Thursday is a real holiday — Valentine's Day, a day when lovers honor the martyred Saint Valentine, probably only because the bawdy poet Geoffrey Chaucer came up with the idea and greeting card companies and candymakers have encouraged the tradition. The lovesick alt. rockers of Strix Vega are celebrating at the Jambalaya, sharing a double bill with their friends Or, the Whale.
As Andy from Strix explained: "We met these great musicians through Que La Chinga and since then we've been trying to get them up here as much as their new van will make it. Our last show with them (and Side Iron) at The Pearl was nearly sold out, and we're convinced they're starting to pull as big of a crowd as we are.
"So this is our show for the Lonely Hearts Club. We've never been huge Valentine's Day fans, and it looks like there are going to be lots of singles around the Jambalaya who are looking for other singles who like good music. For those who show up alone (and generally in a despondent state), a dollar can be shaved off at the door if they mention their dislike for this holiday. I guess that's our way of helping them out. We'd love to make it a free show, but we've got to get OtW some money for their travels, and we're actually trying to save some money to help finance our trip to Austin this March for SxSW."
My favorite folkyJoanne Randcelebrates the release of her latest album, Broken Open, at the Westhaven Center for the Arts Friday with Robert Franklin accompanying on guitar. Joannedropped off a copy of the CD over the weekend and apologized about the fact that it's a bare- bones affair without the usual full-on production and without her Rhythm of the Open Hearts Band. "I just had to get these songs down," she explained. She didn't need to apologize — the songs are strong enough to stand on their own. Most are hers, but she includes her versions of "Tennessee Waltz" and "Maid of Constant Sorrow" (based on the "Man of..."), plus her brilliant re-imagining of "Shenandoah," which she turns into a cross-cultural eco-anthem. Impressive.
Oregonian ukulele player Brook Adams brings his show Abbey Road*on Ukulele*to Redwood Yogurt Friday, which is just as advertised: the entire Beatles' album, covered in order, with Adams accompanying himself on solo ukulele.
Or you might prefer different covers by other Oregonians at the Red Fox that night, where Lou Dog Trio presents a "tribute to Sublime." While the tribute seems sincere, there's something just a bit creepy about seeing the late Bradley Nowell's tat photo tacked up on telephone poles hyping the show.
I'm not quite sure what to think of theRoy-Oil Rutabaga Rumblehappening Friday at the Arcata Playhouse. The idea is simple. Several Kinetic Rutabaga Queens plan to slather themselves in oil and wrestle to raise funds for the Kinetic Sculpture Race. Sounds like kinky fun, and it'll probably raise some cash, but I can't help thinking it's like something you'd expect at a frat party, and at the risk of sounding prudish, I would suggest it's kinda beneath the dignity of a former mayor, a future candidate for President of the United States and Queens in general.
Saturday at Mosgo's it's a double bill with The Monster Women and Universalia Jane and the Jet Set. A call from U-Jane informed me that the Jet Set, formerly just drummer Jay Forbes, now includes Deric Mendes on guitar and, for this show at least, Peggy Martinez as special guest vocalist. Deric is also playing Friday at the Jambalaya with his shapeshifting band Tanuki, opening for two cool indie rock bands: Rademacher (from Fresno) and Birds & Batteries (from San Francisco).
Olympian neo-psyche rockers Nudity share a bill with Dragged by Horses Saturday night at the Alibi. Our headbanger critic Mike Mannix offers his take on the new Nudity album, The Nightfeeders, in the review section elsewhere in this issue. Check out Mike's new blog (behindtheredwoodcurtain.blogspot.com) and you can listen to a track from the album.
Saturday at Humboldt Brews, you can hear a world-beat band from Reno called Sol'Jibe. Now "world-beat" is a loose term that can mean all sorts of things. In this case it means violinist Tim Snider and guitarist Milton Merlos, friends since high school, spent time in southern Spain listening to music of the Gypsies, which lends a certain Gipsy Kings feel to their sound. When they returned to Reno to study jazz at U. of Nevada, they hooked up with a soprano saxophonist and a percussionist, then with a jazz pianist and a drums/bass rhythm section. Since then they've traveled around the Caribbean — including a few weeks in residency at the National School of Music in Havana — picking up new rhythms and melodies. Add all that together and you get world-beat tending toward the smooth Latin jazz side.
For your weekly dose of reggae head down to the Mateel Sunday, where Bonus Entertainment presents conscious reggae star Luciano in a solo show to celebrate the release of his new VP album, Jah Is My Navigator. Doors at 8. Stevie Cultureopens. As usual the bar upstairs benefits the Mateel Community Center.
After a long hiatus, Muddy's Hot Cup eases back into music Monday, Feb. 18, with the return of the Ladylike Open Mic aka Menstrual Mondays. As noted in a press release, "Women and girls of all ages and orientations are welcome to come express themselves." Considering the complaints that led to the hiatus, one might add that they can express themselves freely — just not too loudly.