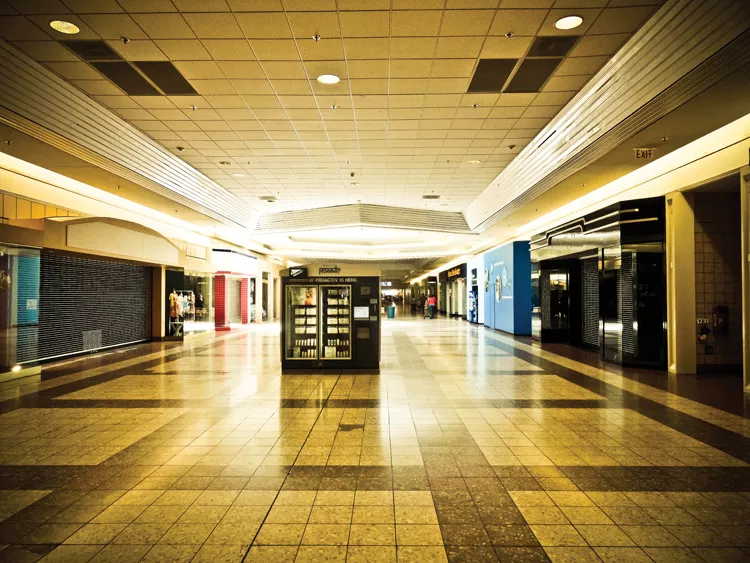 photo by Deric Mendes
Bayshore Mall
This Friday afternoon in early June, Eureka's Bayshore Mall is bathed in a hue of desperation no amount of sunlight pouring through skylights can brighten. Shoppers are scarce. Roof tiles are dangling. Employees are daydreaming. More than half the storefronts are vacant. Several spaces have been taken over by roadside vendors, peddling rugs and tapestries featuring pot leaves, Bob Marley and wolves howling at the moon. Some vendors have vinyl banners to suffice as storefront signs; others don't bother. Once inside you can tell by the layout and color scheme that this used to be The Gap or Wilson's Leather, which lends a post-apocalyptic tinge to the bleakness.
As I approached the entrance on the left side of the food court, I came upon a mouth with more vacancies than teeth gaping from behind a pulsating circle of condensation on the glass door. I hesitated, figuring the pale man fogging up the glass was about to open the door and leave. He didn't. He just stood there with his sunken eyes fixed on the far corner of the parking lot like a hungry fox at a rabbit hole. "Where are they with my shit?" he muttered as I opened the door, prompting me to quickly step aside.
In the food court an employee at the Chinese Gourmet Express was twirling a toothpicked chunk of orange chicken between his fingers. A few Hot Topic shopping preteens on a quest to locate "hip" strolled by on youth's greatest snipe hunt. A woman was eating lunch and reading a copy of Eat, Pray, Love, which she must have brought with her since there's no longer a bookstore in the mall. One table over a father sharing some orange chicken with his son cracked open a fortune cookie and read it out loud, "Life -- it's best not to get too comfortable."
I gravitated toward Nona's Ice Cream for a cup of coffee. Unlike most mall cafeterias, half of Bayshore Mall's six restaurants are locally owned. While making my Americano, owner Wendy Davis told me that she added an espresso machine to her ice cream shop last year, when Borders went bankrupt. "It's not a mall if you can't get coffee," she said, as she handed me my drink. "I don't know about the future of the mall, and I don't know what to think about Wal-Mart opening. All I really want is for more stores to open." I nodded and wished her the best.
Past the food court the mall jots off in two directions like a stubby "T."' In the wing toward Kohl's, the anchor store on the left, there are only four remaining stores: Claire's, Wet Seal, Spencer's Gifts, and RadioShack. As I walked to Kohl's the only signs of life on was the jingle of janitors' keys on hips and a gate being locked at the previous location of Payless Shoes.
To the right, Sears and Bed, Bath, and Beyond are the surviving anchors. Even Just a Buck is empty. Between the defunct Borders and former home of Gottschalk's rests the busiest place in the mall -- the playground. Parents of all dispositions come with the sole purpose of letting their children play on the slide and plastic playground gear. As I walked by, a teenage mother was chasing her 3-year-old around while another half dozen parents hunched across the surrounding benches.
I sat for a bit and wondered if they're feeling the same looming uncertainty, like watching the tide go out after a tsunami warning. This mall was never the kind of place to see people working this season's Chanel pumps while carrying a toy poodle in a Gucci handbag. Nonetheless, it used to be a safe and predictable temple of consumerism.
In 1988, nearly 18 years after Joni Mitchell let us know, "they paved paradise, put up a parking lot," one of the largest mall owners in the United States, General Growth Properties, opened the Bayshore Mall. Many local retailers feared the mall would put them under. Sears and JC Penney relocated to the gleaming new space. The climate-controlled Bayshore Mall boasted 25-foot-wide walkways, a food court bordered by lofty windows, and more than 100 corporate shops. Although there were a few dissenters, many adults hailed it as a hub of commerce, and teenagers hailed it as the hub of cool. Even those who hated malls -- or shopping for that matter -- could find solace at The Sweet River Saloon where they could soothe the frenzy of holiday shopping at the full bar, take mom to Sunday brunches, or attend the often humorless Saturday night standup comedy. Fast-forward 24 years; the mall appears to be in decline.
And the Bayshore Mall isn't an anomaly. According to the International Council of Shopping Centers, only one new enclosed mall has been built in the United States since 2006, while 300 have closed. Many Americans spend differently now; they shop online and at big box stores, or rarely at all because of hard times.
Back at the food court, I spotted a short man, perhaps 40-something, in an oversized shirt plastered with electric blue skulls. A woman roughly three times his mass, pushing a baby in a stroller, walked along side him. Their jerky movements, dilated eyes, concave cheeks, and blank yet hostile expressions all scream to me of meth. As they neared the center of the food court, the man sat down. The woman walked a few tables away and stood with the stroller. A few moments later a guy with a shaved head, baggy jeans and a white hoodie pushed a wad of cash into the man's hand. Giving an upward nod, he then walked toward the woman, who reached behind the baby, pulled something from the stroller, and plunked it into his hand. Though I have no idea how much money was just transferred, it's safe to say it was the largest transaction I've seen all day.
Deric Mendes, who works at Northtown Books when not despairing at the mall, wrote a longer version of this for his blog, boldtypemag.com.