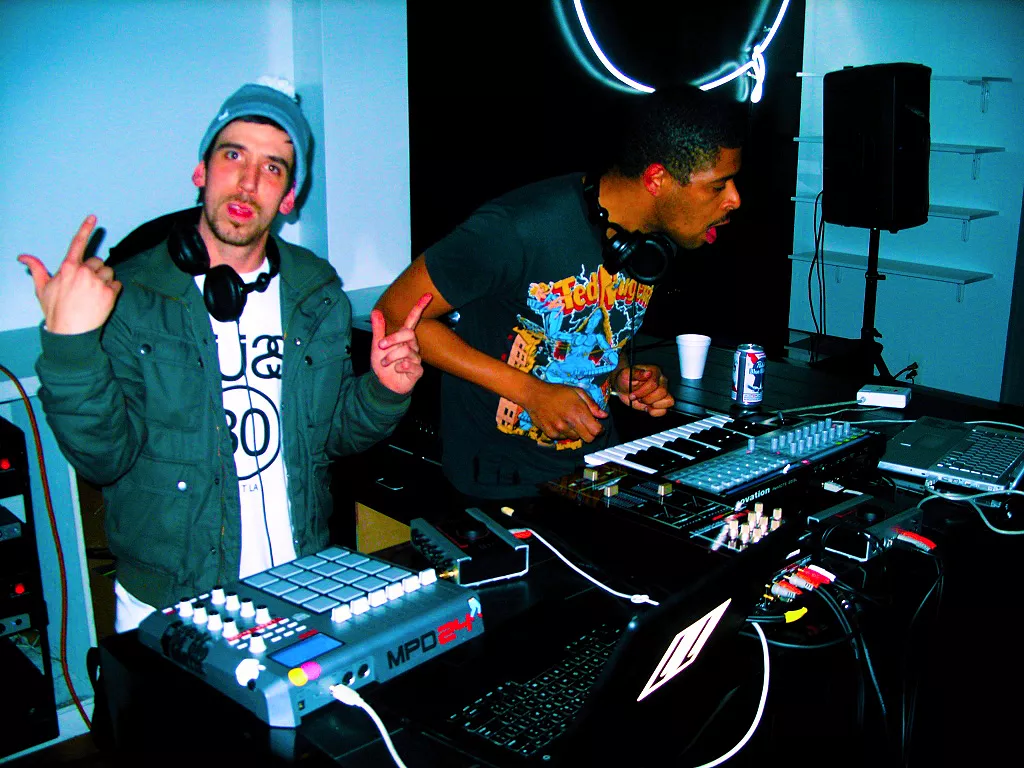 The name Lazer Sword might make you think of Star Wars light sabers, but that's not what the electronica duo Antaeus Roy and Bryant Rutledge had in mind when they formed their musical partnership back in 2006.
"It is a geeky thing, but it has nothing to do with Star Wars," said Roy, skyping in from somewhere on the road. "There's a pre-set on the Kaoss Pad with that name -- it sounded cool and weird and memorable, so we used it."
He admits however, that his parents took his middle name, Lando, from the Star Wars character Lando Calrissian -- his nickname is Lando Kal. He definitely has geek roots. "But I am not a Star Wars geek," he insists. He's more of a beat geek: He and Rutledge became friends while working at XLR8R, a San Francisco-based music mag focused on electronica and underground hip hop.
"We started with a shared love of music. We had a lot of the same kind of interests -- stuff like prog rock and French synthesizer music, and the same ways of making our own music," he said. They both, for example, used a Kaoss Pad -- a keypad sampler/midi controller. "At first most of [our music] came from hip hop, R&B and jazzy stuff, but it morphed into more electronic stuff."
Their way of working together evolved, too. Neither lives in S.F. at this point: Rutledge is based in L.A., Roy in Berlin. Collaboration involves a lot of file sharing via Dropbox, and they spend a lot of time in airports and on airplanes. While their sound has evolved, they still relied on samplers and drum machines to make their latest record, Memory.
"With the album we're trying to stay true to ourselves -- it's as choppy and programmed as our previous efforts," said Roy. "Even though it's an album, we wanted it to flow like a jam session, with beats added in here and there. We wanted to put a bit more soul into it."
It's soulful, yes, but it's still music that fills dance floors, as you'll see Saturday night when World Famous presents Lazer Sword at the Jambalaya with opening sets by Comma, CaCaO and Dojo.
Following up on a tour with Lost in the Trees that brought them here recently, Seattle's Poor Moon returns to Arcata Thursday, this time headlining a show at the Jambalaya. This is the alt. Americana outfit with Fleet Foxes bassist Christian Wargo switching to lead guitar, working with Foxes keyboardist/mandolinist Casey Wescott and brothers Ian and Peter Murray. The project, named for Wargo's favorite Canned Heat song, came together a few years ago via the Internet (more file sharing), while Wargo and Wescott were touring in support of the Fleet Foxes' first record and the Murray brothers were in the Bay Area. Poor Moon is spending the summer touring behind a new album, Illusion, just out on Sub Pop, a record that sounds a lot like that first Foxes album (and that's a good thing).
Bluesy alt. Americana songwriter Crosby Tyler is up from L.A. for a bunch of shows. Tuesday he's at Mad River Brewing. Wednesday he's at Redwood Yogurt first, then at The Local later for a show with Gunsafe. Next Thursday, June 7, he's at Lil' Red Lion (again with Gunsafe). He heads east next Friday for a show in Hawkins Bar at Simon Legree's. Then, next Saturday, he ends his Humboldt sojourn with a gig at Central Station. Yes, he's on the road with a new CD. He waxes poetic about it at CrosbyTyler.com writing, "We are always fighting the hard and difficult obstacles that beleaguer our aspirations and raid it with an easy fix. Do it the fast and cheapest way, or stuff ourselves in some vice and addiction. Let's just live life the hardest. I guess that's the American spirit. ... It's not getting any easier, economy on the skids, dollar slipping in value, inflation, and it's tougher and tougher to make what we used to make, a buck. There's only one reason for my new release Lectric Prayer -- it's to raise spirits. A spirit of belief, a spirit of I can, a spirit of I will, a spirit of I must. I'm a living example of it."
Still more alt. Americana: Seattle's Buffalo Stagecoach makes a stop at Six Rivers Saturday, offering what's described as "charcoal-grilled roots rock covering a sonic landscape that crosses mountains, streams, railroad tracks, and occupies a stool at a tavern or two along the way."
The Redwood Jazz Alliance wrapped up its latest season in April, but the jazz lovers can't resist good music so they're doing a post-season show Wednesday, June 6, at the Graves Museum with the New York-based baritone saxophonist Claire Daly and her quartet. Daly is a critics' favorite, six-time winner in DownBeat's "Talent Deserving Wider Recognition" category and the recipient of the Jazz Journalists Association's "Baritone Sax of the Year" award. She is working on material for a record of Thelonious Monk tunes to be recorded at the end of this West Coast tour. Both the tour and the album are supported by Fort Bragg's North Coast Brewing Company, craft brewers who, among other things, have been underwriting the Thelonious Monk Institute of Jazz, the Monterey and S.F. jazz festivals and RJA, using proceeds from their (dark and excellent) Brother Thelonious Belgian Style Abbey Ale.
Placebo is back in action at the Ink Annex Friday night with an early (7 p.m.) all ages show featuring four touring bands, in this order: Arizona ska-punk by Drinking Water, hardcore punk/ska by Violation from the Bay Area and two Seattle hardcore/stoner rock bands, Grenades and Smooth Sailing. Because of neighbor issues it all has to end by 10, so don't lag.
Arts Alive! caps off an arty Saturday, what with North Coast Open Studios the same day (and Sunday, and next weekend). The Works will have a jazz combo for AA! Stop by and say hello to new owner Bandon Wayne (whose alter Ego DJ Zephyr spins hip hop records with DJ Red later that night at Humboldt Brews). The Works is also unveiling a new mural by one of my favorite Eureka artists, Gus Clark, with (of course) a music theme. It's a lineup of portraits titled "Ten Heavy Dudes," all of them icons: Bob Marley, Jimi Hendrix, Frank Zappa, Charles Mingus, Robert Johnson, Howlin' Wolf, James Brown, Jim Morrison, John Coltrane and, by special request from Bandon, Nikki Sixx from Mötley Crüe.
And don't forget this is the Mateel's big Summer Arts and Music Festival weekend at Benbow with scores of acts playing on four stages. Ska-funk pioneers Fishbone close the show Saturday; Zimbabwean chimurenga master Thomas Mapfumo and his Blacks Unlimited close on Sunday. Others to watch for: French klezmer band Kabbalah, Bay Area genre mashers Diego's Umbrella, ska vets Monkey, the funky Stymie and The Pimp Jones Luv Orchestra, Flying Burritoish rockers I See Hawks in L.A., the new-agey Matt Eakle Band, folk party girls Shook Twins, locals Joanne Rand and Absynth Quintet, and former local Melody Walker, who will be playing with The Bucky Walters. That's a helluva lot of great music and there's plenty more. (Mateel.org has a full list, or try to find that guide that fell out of your Journal last week.) And there are dancers galore, any style you can think of. And art. And fun for the kids. And sunshine, the river and, most important, beautiful people. A very Humboldt affair. Be there.