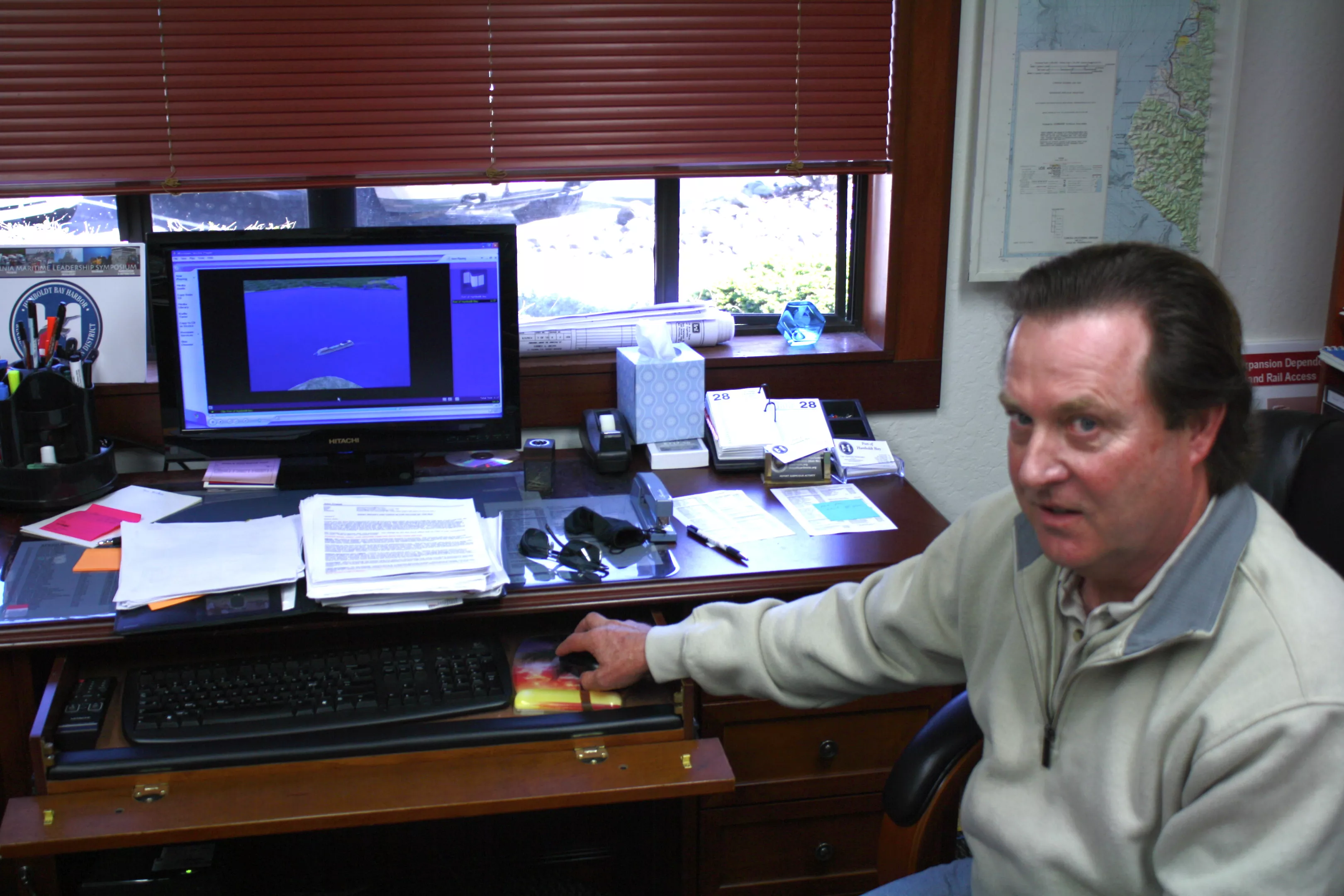 Photo by Zach St. George
Captain John Powell spends more time than he'd like his desk. His computer is running an educational simulation he helped create, of a ship entering Humboldt Bay.
The sun is out. There is a gentle breeze. It would be a fine day to take a ride on the water. Captain Tim Petrusha and Captain John Powell, however, are spending Friday inside, doing paperwork.
They're bar pilots for the Humboldt Bay Harbor, Recreation and Conservation District, a small government agency tasked with keeping the port open, coordinating conservation efforts on the bay, and managing commerce. A ship is coming in on Sunday. Both captains will be on board. If the port were busier, only one of them would go, but as it is, they could both use the practice.
It will be the fifth ship since July. "Thank goodness things are starting to pick up," Petrusha said. Like the other 10 Harbor District employees, Petrusha and Powell have been wearing many hats in the last five years, and often not the ones they expected to. After nearly drowning in the red, the district has a balanced budget for the first time in years.
A big loan payment has been deferred, and business is picking up, bringing fees and rent to the district's coffers. The board of commissioners that runs the district has a wide array of plans to keep the money flowing.
In mid-September, commissioners voted unanimously to fire longtime CEO David Hull without cause, adding to the sense of transition at the agency. Hull had held the post for 15 years and was described by several commissioners as an effective and knowledgeable leader. Many in the community were surprised when he was suddenly canned.
Hull, who was vacationing in Nevada when he got the news, said he has no idea why he was fired. "I'm guessing I probably never will," he said.
Commissioner Pat Higgins, however, said that Hull shouldn't be mystified, since his performance was discussed at two closed meetings.
While the board must keep private the reason Hull was fired, Commissioner Richard Marks said that the unanimous vote to oust him was telling. "It was a 5-0 vote, and we don't have those often on our commission," Marks said.
As the district searches for his replacement, staffers continue to juggle multiple jobs.
Petrusha and Powell are the only people licensed to guide ships through the tricky channels of Humboldt Bay. Without them, ships couldn't get in. The Army Corp of Engineers would quit dredging the channel into the bay. Without them, port traffic, currently slow, would stop completely.
Both men went through years of training, followed by apprenticeships under working bar pilots. The final test, given by the Coast Guard, included drawing a map of the bay from memory, complete with depths and buoy coordinates, and describing in essay form how a captain unfamiliar with Humboldt Bay could navigate the narrow channels, enter the port and tie up at the dock.
Petrusha has been a bar pilot for more than a decade; Powell more than two. For many years they were self-employed, but shipping into Humboldt Bay got so slow by the middle of the 2000s that their incomes dropped substantially. Faced with the prospect of losing the only people able to perform the tricky task, the Harbor District hired them in 2006, at salaries of $140,000 each. As the district's financial woes deepened, however, they agreed to take a pay cut, down to $72,000 each.
It was either that or jump ship. It wasn't an easy choice, they said, but Petrusha grew up in the area, and Powell had been here more than 30 years. Both men had families, and neither one wanted to leave.
Although it kept its bar pilots, the Harbor District was still on course for disaster. The timber companies that leased the docks had all but disappeared, taking with them one of the Harbor District's main sources of revenue. Even after multiple companies attempted to resuscitate it, the Simpson pulp mill shuttered in 2008, taking another chunk. International shipping bombed with the financial meltdown. In those bleak years only a few ships dropped anchor in Humboldt Bay.
The Harbor District's costs, meanwhile, were only going up. Just at the trough of the recession, it hired a new employee, dubbed a director of maritime commerce. Wilson Lacy, the former maritime director at the port of Oakland, was tasked with bringing business to the port, for a $100,000 yearly salary. Unfortunately, he was scrambling for new clients just as those potential clients were pulling away.
The debt from dredging the entrance channel to Humboldt Bay in 2000, combined with the loss of revenue, forced the agency to run a budget deficit. Each year after 2007 the deficit bit into reserve funds by as much as $500,000 a year, pushing it steadily toward the brink. Reserves plummeted from more than $6 million in 2006 to just more than $2 million in 2010.
That year, just when things looked really bad, the first Asian ships seeking raw logs steamed into Humboldt Bay. Plus, a new oyster farming deal came through. Lacy, the maritime commerce director, retired after three years, no new clients, and a reduced salary. Although the agency ran a deficit in the 2010-11 fiscal year, the 2011-12 budget actually shows a small surplus, partly because a loan has been deferred. The cloud has lifted, a little. "It's still a challenging situation," said commissioner Higgins. "But we're not gonna go out of business."
While traffic is increasing steadily, from just one ship during the 2009-10 fiscal year to six ships in the following year, it is still well below levels seen even as recently as 2001, when 33 ships came in. Plus, said Higgins, Asian demand for raw lumber could be fickle. Even though the district gets about $800,000 annually from Humboldt County property taxes -- lately about 40 percent of revenues -- the reality is the district needs to diversify, he said.
One alternative is short-sea shipping, or shipping that would go only from port to port along the West Coast. The U.S. Maritime Administration recently designated multiple shipping routes, and the Harbor District just finished a grant application for equipment, including a crane, a forklift, and a barge, that would allow it to take part in short-sea shipping. The district hopes timber companies would lease the equipment and then ship products to Oakland, at a cost below trucking them through Richardson Grove.
The Harbor District is also looking at expanding shellfish farming in Humboldt Bay. Commissioner-elect and shellfish farmer Greg Dale said the agency is looking for areas in the bay that it could permit for shellfish farming and then put out for bid among potential famers.
Humboldt Bay has a lot of potential, Dale said, but it will be a matter of finding the right businesses for the area. "We've been pursuing a lot of new opportunities," he said. "Not a whole lot of them have stuck, but we gotta keep looking, gotta keep seeing what works."
For now, Captains Powell and Petrusha do whatever they can to pitch in around the district. Sometimes that means helping out on environmental surveys or piloting boats for construction crews rebuilding a pier. Sometimes the bar pilots help write grant proposals, or plan and test security procedures. And when they can, they actually guide in a boat.