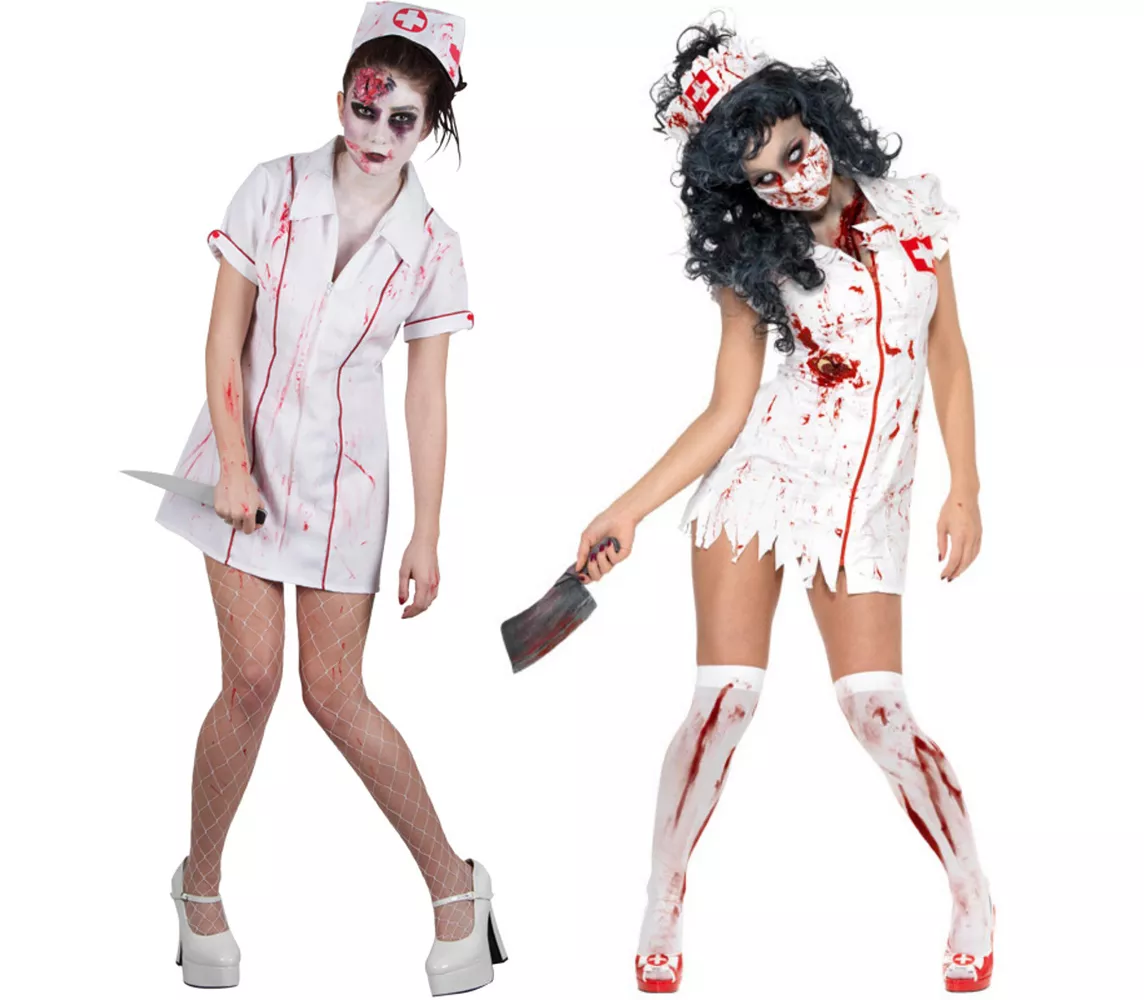 So, this coming Tuesday is All Saints' Day, a religious holiday also known as All Hallows Day. Most have forgotten All Hallows, but we all know about the night before, All Hallows Eve, or Halloween. While jack-o-lanterns and trick or treating apparently have loose ties to the ancient roots of the now-mostly-secular holiday, you'd be hard-pressed to explain how adults dressed as zombies and/or sexy nurses relate to saints. Whatever. According to a survey on Halloween spending by the National Retail Federation (reported in Small Biz Daily), Americans plan on spending $6.86 billion on Halloween this year, with more money spent on costumes for "grown-ups" than on those for kids.
With Halloween falling on Monday you have a long weekend to wear those sexy zombie nurse costumes. Among the parties: Hobart's Historic Halloween Happening Friday night at Redwood Acres. The late Hobart Brown, Glorious Founder of the Kinetic Sculpture Race, held infamous Halloween parties in Ferndale back in the day. His son, Justin Hobart Brown, and the resurrected Humboldt Kinetic Association aim to revive the tradition with an HKA benefit featuring music by Mostly Harmless, Stonehenge and that chameleon band St. John and The Sinners along with the requisite costume contest.
With all the Hallows-holidaze costumed alter egos, it seems a logical time for tribute bands. The annual KMUD Halloween Boogie Friday at the Mateel has three: two from Arcata, Full Moon Fever (T-Petty) and Naive Melodies (T-Heads), and The Unauthorized Rolling Stones from S.F. (with Jagger impersonator) plus a rock star costume contest.
More coverage Saturday at the Arcata Theatre Lounge as the Passion peeps present the hot female Zep tribute Zepparella. Meanwhile at the Jambalaya, it's Silver Hammer with Beatles covers.
The "Evil" Dr. Squid (mostly a cover band) parties Friday and Saturday nights at Cher Ae Heights. I must say, the Squid folks are so nice it's hard to imagine anything evil from them.
Despite the nod to Stax/Volt, The Staxx Brothers is not a cover band by any means. The "bros" from Seattle bring their hard soul mixed with Southern rock to Humboldt Brews Saturday night for a "Zombie Prom," which I suppose suggests a certain wardrobe.
You have dueling hip hop shows Friday night in Eureka. Red Fox has Bay Area underground vet Gift of Gab from Blackalicious along with Radioactive (from Spearhead), Headnotic (from Crown City Rockers) and Lucky Otis (Dubstep Kings).
At the same time, over at Nocturnum, DJ MuziqLement's Accurate Productions presents "This Is Why I'm Hot Halloween" featuring MIMS. You could see the party title as an invite for those sexy nurse costumes (yes, there's a contest), but it actually comes from rapper MIMS' big hit song, "This Is Why I'm Hot." Accurate promises go-go dancers and music on both stages by DJs Traac Staar, KooBreez, Beechnut and, of course, MuziqLement.
The warm-up for Friday's rap battle comes Thursday night as politi-rappers stic.man and M-1, aka Dead Prez, occupy the Jambalaya. Same time, Big Daddy's Nor Cal United Hip Hop Showcase Vol. 2 at the Red Fox has Freejack, Thic Man, Dot Smith, Doe The Unknown, Infamous Kaboo and Napa Flatz Connected.
Also on Thursday, The Graveyard Tour featuring Zeds Dead, an up-and-coming electro duo from Toronto with DC and Hooks laying down beats to fill the dancefloor at Nocturnum.
Saturday it's the battle of the bustiers in Arcata with two simultaneous burlesque shows. While Jambalaya features the Blue Angel Burlesque Show, Humboldt Brews pairs another local troupe, Va Va Voom Burlesque, with Lynx, an electro-folk singer/songwriter out of Colorado via S.F. with a banjo and an array of FX and looping devices. (The Va Va Voom ladies are also at Blondie's on Monday, Halloween, apparently also Quiz Night. Questions?)
Eureka's Christ Episcopal Church gets in the Halloween mood Saturday afternoon with "scary" music on the big pipe organ for a Monster Mash Concert. Wear your costume. (No, not the bustier).
Later that night at the Arcata Veterans Hall the Arcata Arts Institute music combos and the ArMack Jazz Band become Monsters of Motown playing Detroit soul hits for an all ages costume ball.
The "Halloween Harvest Celebration" Sunday at Humboldt Brews has guitar wiz Steve Kimock "and friends," specifically Bobby Vega on bass, Eric Levy, formerly of Garaj Mahal, on keys, and David Lindley associate Wally Ingram on drums.
DJ Anya spins for the "Hella Gay Halloween" Sunday at the Alibi.
And how can you miss with a Portland glam/punk band called Toxic Zombie playing the night before Halloween? That's who they have Sunday at the Lil' Red Lion.
Booking a twisted country band called Coffin Hunter for the night before Halloween also seems appropriate. The Red Fox will have the band with Jack Gibson, bassist for thrash metal band Exodus, fronting on banjo and Tom Hunting (also ex-Exodus) on drums. C.H. is on tour with The Cheatin' Hearts, an alt. honky tonk outfit from Chico. Gunsafe opens.
Speaking of honky tonk, Rooster McClintock returns to the Ocean Grove Saturday night with No Good Redwood Ramblers for a Halloween bash that's sure to be a rager.
Saturday night at the Alibi, Strix Vega reunites with Humboldt ex-pats, The Ian Fays. The last time Strix Vega and The Ian Fays played together at the Alibi? "Probably the CD release show for Drunken Sky," sez Andy. That would be five long years ago. "And we're still at it," he adds.
Monday, All Hallows Eve proper, E&O Bowl celebrates a "Halloween Metal Mass" with music by Unholy Crucifix, Miasmic and Locust Furnace. They suggest "evil costumes."
World Famous brings a huge Halloween dubstep show to Arcata Theatre Lounge with VibeSquaD, Kraddy, Love & Light and Stephan Jacobs. Another guaranteed rager.
The Red Fox goes Dead Monday with The Miracle Show, and we're talking Grateful, not walking.
Loreen at the Riverwood Inn has been celebrating "the real Halloween" on the actual day for 17 years and she'll do so Monday with dancing, a costume contest and midnight treats. She's also offering advance tickets (at The Works and Wildhorse) for the next show at the Inn, Saturday, Nov. 5, a sure-to-sell-out night with David LaFlamme's psychedelic '60s outfit It's A Beautiful Day. (Remember "White Bird"?)
Of course there's music with no connection to hallows at all, for example Thursday's show at the Van Duzer by Grupo Vocal Desandann, aka The Creole Choir of Cuba. The Choir/Grupo sings a cappella songs telling the history of ancestors brought over from Africa to Haiti. (There might be saints involved.)
On the classical front: The Eureka Chamber Music Series has the Daedalus Quartet performing music from three centuries: Mozart (18th), Dvorak (19th) and Alban Berg (20th) on Friday evening at Calvary Lutheran Church. Sunday afternoon's "Opera a la Carte" hosted by Northcoast Prep has members of the San Francisco Opera Guild performing a free mini-opera, Donizetti's The Elixir of Love (L'elisir d'amore), at the Arkley Center. Later Sunday, in HSU's Fulkerson Recital Hall, Chinese-born pianist Yuja Wang plays pieces by Beethoven, Prokofiev and Liszt.
Meanwhile Sunday, over in the Kate Buchanan Room, Redwood Jazz Alliance presents drummer Allison Miller's Boom Tic Boom with Myra Melford on piano, Todd Sickafoose on bass and former local Jenny Scheinman on fiddle. (More on that in the Calendar section.)
And yes, there's life after Halloween. Tuesday HumBrews hosts the return of Rubblebucket, a genre hopping funk/pop/etc. outfit from Brooklyn with a tight horn section.
Last but not least, Wednesday at the Red Fox, another returning favorite: Wayne "The Train" Hancock playing juke joint swing with a touch of twang, his personal retro attack on modern plastic country. "Man, I'm like a stab wound in the fabric of country music in Nashville," he says. "See that bloodstain slowly spreading? That's me." Call a zombie nurse.