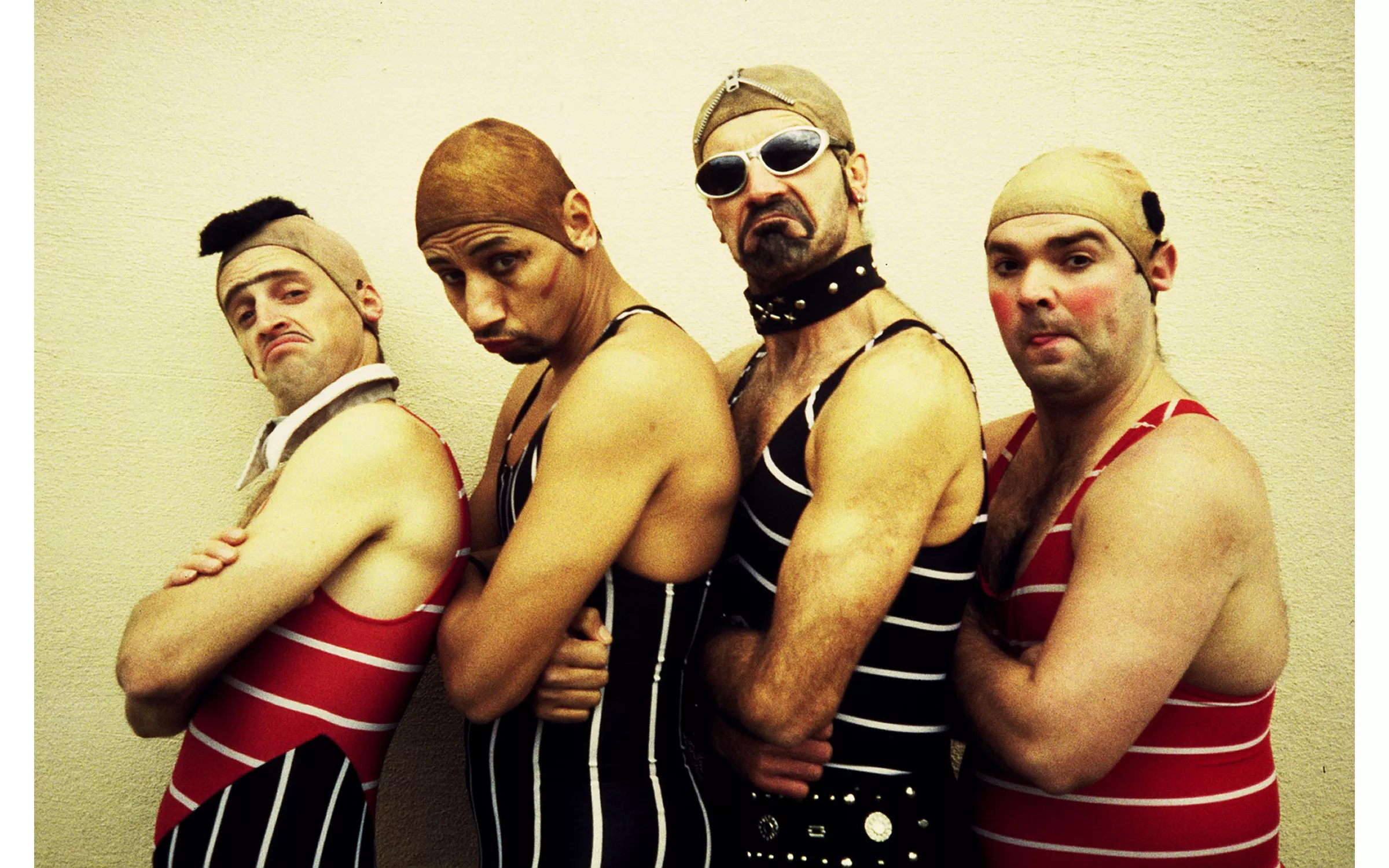 courtesy of Los Payasos
Joe Dieffenbacher, Rudi Galindo, Cosmo Kuzmick and David Ferney as Los Payasos Mendigos
They're back. Los Payasos Mendigos, the quasi-Spaniard beggar clowns in striped spandex, return to Blue Lake this weekend for a resurrection of sorts as Los Payasos Mendigos Rise Again. Listo!
Formed seemingly eons ago, the troupe of death-defying acrobats parted ways some time back (for reasons shrouded in mystery) and have literally gone international: Yahoo, the Flame Retardant One (aka Joe Dieffenbacher) has been living in England (Oxford), working in Europe as a solo performer and with his wife Minna as company nakupelle. El Excremente (aka Cosmo Kuzmick) went Hollywood, finding work in the film industry. Lupita, la Feminita (aka Rudi Galindo) is currently headquartered in Brussels, Belgium. He's been all over the globe doing work with his company Teatro Pachuco and in remote villages and refugee camps for Clowns Without Borders.
Guapo, the Handsome One (aka David Ferney) stayed closer to home. He and his wife Jacqueline Dandeneau are raising a family in Blue Lake and run the Arcata Playhouse (Playhouse Arts is co-producer of the Rise Again show). David and Jackie produce, write, act and sing in numerous shows and maintain the Dell'Arte connection (Jackie and daughter Amelia were both in Blue Lake: The Opera).
Now lo all these years later, it's time for Los Payasos Mendigos to rise again. But first a quick look back. The troupe initially came together in 1992, as Yahoo recalled: "David and Rudi asked me to put together a show for the Oregon Country Fair. Cosmo (Excremente) tagged along. We never thought it would go beyond that one gig. The main reason we continued was because of Madonna (the singer not the mother of Jesus). The spandex we wore was rumored to be leftovers from one of her shows. We felt so honored to wear the Material Girl's material that we had to continue."
They took the show back to Blue Lake. "We became regulars at [Dell'Arte's] Mad River Festival performing on the amphitheater stage," said Guapo. "We also started heading up to Canada for the Fringe Festival circuit. That's where we became a street act, figuring out what that meant. From there we broke into European touring -- we had agents in England, Holland and New York."
Over several summers, they toured the world playing in a dozen different countries. Then it all ended -- until now. "The Mad River Festival is where it all started," said Yahoo, "and it's a huge thrill to be back there creating new material, working with Dell'Arte and continuing our love affair with the audience here in Humboldt County and beyond."
This time out the show has a live soundtrack provided by The Awesome Trio -- Tim Gray, Marla Joy and Tim Randles -- who serve as semi-official house band at the Arcata Playhouse and provide music for many Dell'Arte productions. Special guests include Jacqueline Dandeneau among others.
But, what does it all mean? "It means Mexican wrestlers and dancing with chorizo," said Yahoo. "Whipping tostadas out of mid-air and singing a sea shanty rap while falling in love with mermaids. It means high dives into the ocean and catching a salad on your face."
"It means when you live in a community of crazy artists, anything is possible, even making a living doing crazy things like jumping head first into a bucket of Pepsi," said Lupita. "I don't think we knew what we were doing -- it was just big kids getting together to put on a show. It made a lot of people happy."
"In a way we celebrate our youthful, childlike innocence -- we throw caution to the wind -- and that rings a bell with the audience," said Guapo. "I think that's one of the reasons kids and families remember us. Los Payasos touched them. It's a way of reliving your childhood, seeing something silly and fun and joyous -- and celebrating that part of ourselves in these complex times."
"We are really enjoying working together again, laughing a lot and loving the fact that we can still do this after so many years," Yahoo concluded. "It's about creating memorable images and good belly laughs. That's what happens when Los Payasos rise again. Believe it."
Los Payasos Mendigos Rise Again plays nightly at 8 p.m. Thursday, July 15 through Sunday, July 18, on the stage of Dell'Arte's Rooney Amphitheater in Blue Lake. Tickets are $15, $10 for children under 12, and are available online at www.dellarte.com or by calling Dell'Arte at 668-5663. There's also a special short Los Payasos matinee on Sunday, July 18, at 4 p.m. for Annie & Mary Day. Admission only $10.