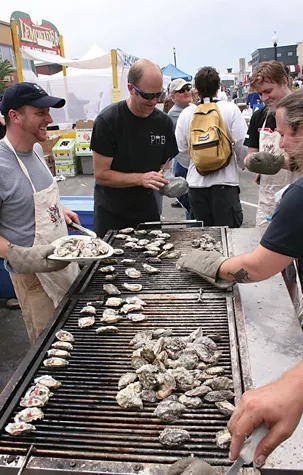 Photo by Bob Doran
Arcata Oyster Festival
The mollusks take it, as the Arcata Oyster Festival beats out the Kinetic Sculpture Race, last weekend's North Country Fair and the beer fest Hops in Humboldt as Best Annual Event. The celebration of our local aquaculture (70 percent of all fresh oysters consumed in California are grown in our bay) features dozen of local chefs and once-a-year shellfish cooks on the Arcata Plaza serving up bivalves raw, fried and grilled with an amazing array of sweet, sour, hot, smoky and savory sauces and other enhancements vying for best of show. Throw in an oyster shucking/eating contest, oyster calling, a few live bands and a whole lot of people, slosh copious amount of beer over all and you've got yourself a festival.
-- Bob Doran
The Breakdown: Oyster Fest 23.8%, Kinetic Sculpture Race 19.8%, North Country Fair 9.1%, Hops in Humboldt 4.0%, Folklife Festival 2.6%, Voter Turnout: Eighth.