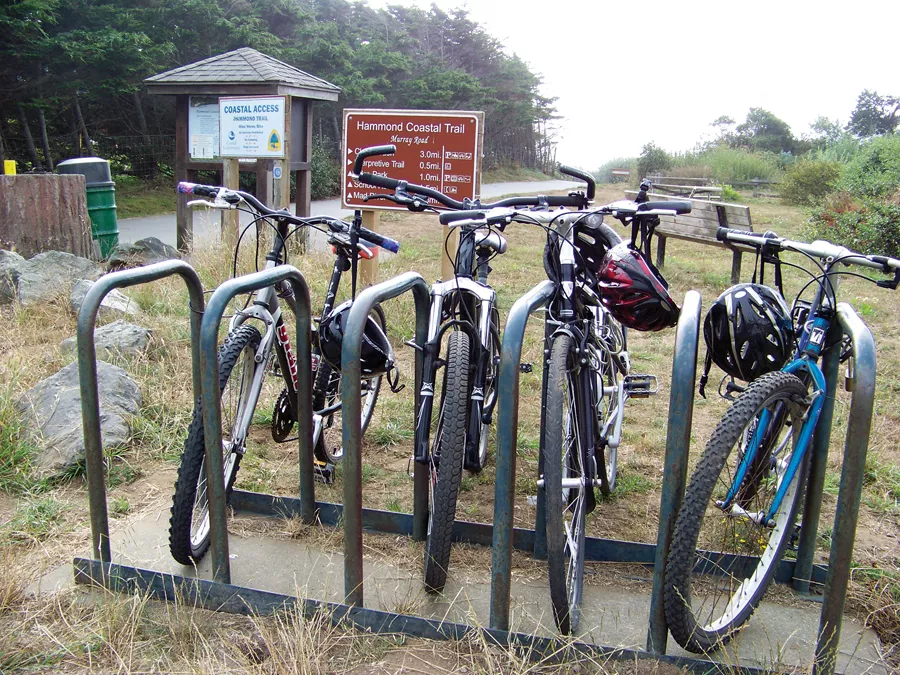 photo by Heidi Walters
Hammond Trail
When it comes to mounting the steel pony and then choosing where to propel it -- right, left, right, left, o' pretty arc of blur-foot -- some folks like to specialize. They don't just ride their bike to school or work or for fun. They require specific scenery with that jaunt: "cow fields," insists one reader. Or they seek a feature offering short bursts of purposeful effort: "Hill on H street to Wildberries," writes another reader. Grunt before groceries; we get it.
But most of you, when you think of your favorite ride, align your preference with a specific route or location: The Couch Trail singletrack in the Jacoby Creek forest; the Arcata Bottom, Avenue of the Giants, Lost Coast, Blue Lake via West End Road, Mad River Beach, Arcata Community Forest. And the overall favorite? The Hammond Trail.
It's the neatest choice, really, because it encompasses so many needs (although, not the wild fix you get from Paradise Royale in the King Range). It's a scenic route to work for Arcatans and McKinleyvillians. It has ocean vistas and cool dips into forests. And, if you're like many riders, you can get in some cow views south of the trail proper by taking back roads through the Arcata Bottom. There, you'll even find a heart-pumping hill just before little Roger's Market.
Grunt and groceries! Good one, readers.
Most responsible answer: "From home to get my car that I left at Lost Coast"
Best tip: Eureka Gulches Loop
-- Heidi Walters
The Breakdown: Hammond Trail 34.3%, Arcata Bottoms 5.9%, Avenue of the Giants 2.6%, Arcata Community Forest 2.6%, Headwaters 2.3%, Lost Coast 2.3%, Voter Turnout: 31st.