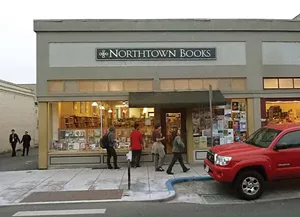 I have this theory that bookstores make excellent barometers of a community's livability, and by that measure, if you'll pardon the mixed metaphor, Humboldt County is the tits. Here's an anecdote: While visiting family in Santa Rosa recently, my wife went on a quest for Lionel Shriver books. She visited three different bookstores. Nada. When she got back to Humboldt County, which has less than a third of Sonoma County's population, she headed straight to Arcata's Northtown Books where -- wouldn't you know it? -- she found three Shriver novels she'd not yet read. Check and mate, Sonoma County.
As the publishing world moves toward Kindles, Nooks and iPads, Northtown's unassumingly erudite staff handwrites thoughtful reviews on Post-It notes and sticks 'em on the "staff picks" shelf. Which is not to say they're luddites. Last year these esteemed local booksellers launched a revamped website where you can browse new and noteworthy books, search by title, author or keyword, order and purchase books online and even, if you must, download e-books.
We still prefer the brick-and-mortar experience so we can check out the color-coordinated window displays, browse the eclectically curated magazine racks, pet Dante's poodle, Max, and attend the occasional in-store author reading. Hooray for books. Hooray for Northtown.
The Breakdown: Northtown Books 32.2%, Tin Can Mailman 26%, Booklegger 21.3%, Eureka Books 3.8%, Blake's Books 3.3%. Category popularity: 14th.