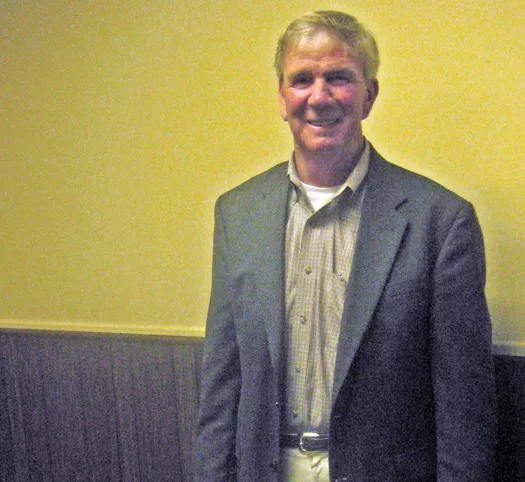 File Photo
Jimmy Smith
This popularity cage-match brought a wide variety of public-servant contenders into the ring, all hungry for the coveted title. And ladies and gentlemen, boys and girls ... when you step inside the NCJ battle dome, your jurisdictional boundaries don't mean shit. Nowhere but here can District Attorney Paul "Lego" Gallegos go head-to-head with Sheriff Mike "Bring the Hammer" Downey. Nowhere but here can Arcata Councilman Michael "The Sprinkler" Winkler face County Supervisor Virginia "Hooked On" Bass. And nowhere but here will you see this year's Rutabaga Queen, G-Ma, go toe-to-toe with the one and only President Barack Obama.
All of the above officials received votes, along with roughly two dozen others. But when the dust settled, two men stood alone -- two men, separated by a single vote. And sadly, it looks like neither man will be representing us for long. After 13 years fronting for the North Coast, U.S. Congressman Mike Thompson, our second-place finisher, saw his political landscape completely reshaped by the state's Citizens Redistricting Commission. In redrawing California's electoral maps, the commission severed Thompson's hometown of St. Helena from the coast. Next year he'll seek reelection in the new, landlocked Fifth District.
And our winner? Humboldt County Supervisor Jimmy Smith, whose Jimmy Stewart-like everyman appeal ("Mr. Smith goes to Eureka"?) and no-nonsense work ethic have made him perhaps the most respected and well-liked politician in the county. Despite this political capital (he earned 71 percent of the vote last time he ran), Smith has announced that he won't seek reelection next year.
The die-hard: Larry Glass, who despite being voted off the Eureka City Council last year managed to earn more votes than the city's three new councilmembers combined.
-- Ryan Burns
The Breakdown:* Jimmy Smith 11.1%, Mike Thompson 10.8%, Mark Lovelace 9.4%, Paul Gallegos 8.7%, Linda Atkins 4.9%, Wes Chesbro 4.5%, Shane Brinton 4.5%, *