Best Craft Artist:
Cate Be
Serious question: Can a mug make you feel seen? The rounded heft of one handmade Cate Be mug features a woman weeping Saturn-like rings into the starry background and reads, "Cries a lot and gets shit done." One states, "Access to my energy is a privilege," while another shows a figure hugging themselves in the mirror. "I like to say it's an amalgamation of everything I've opened my heart to," says Be, whose work reflects her personal journey, uses warm, natural palettes and hand-drawn designs that make the affirmations that resonate with her customers feel personal. Some address equality, sexuality and identity — issues the self-described Asian and Indigenous artist wants "to see out in the world expressed in an artistic form." Her degree in ecological restoration with a minor in botany has inspired a crop of mycological pieces, including beautiful mushroom-festooned vessels, elegant bowls and cannabis pipes and ashtrays she describes as ritual pieces. Sometimes that's what we need: little rituals, simple as a cup of tea.
Jennifer Fumiko Cahill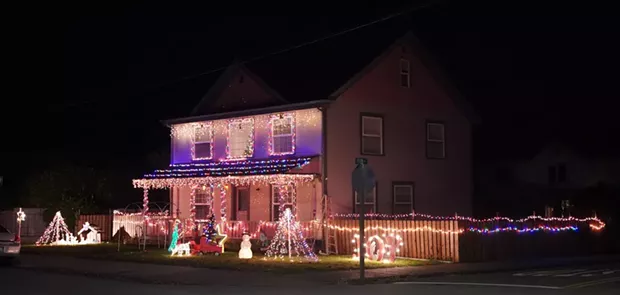 Submitted
A Little Bit of Everything at 806 Main Street.
Best Holiday Light Display:
Ferndale
The Victorian Village of Ferndale is a thing to behold at Christmastime. Indeed, there's something transcendent about a small town decked out in its holiday best, with carolers a-wassailing and brass bands root-a-toot-tooting on street corners as smiling folks window shop and sip hot cocoa. Bedford Falls, meet Ferndale. The town's 100-year-old farmhouses festooned with strings of lights are postcard perfect. Not to mention the rows of Victorian storefronts and houses draped in their holiday dressings. And let's face it, nothing beats that tree. You know the one — the towering Sitka spruce sentry, lit from trunk to tip, that watches over the town at the end of Main Street, casting its lovely glow over everything come December. It's no surprise you've voted the Cream City the Best Holiday Light Display for 2022.
Kali Cozyris
Arts, Entertainment & Recreation
Art Exhibit
Eureka Street Art Festival
Art Gallery
Morris Graves Museum of Art
636 F St., Eureka
(707) 442-0278 humboldtarts.org
Artworks Mural
Blake Reagan's "Diva's Grace"
The Speakeasy, 411 Opera Alley, Eureka
(707) 444-2244
Band: Cover Band
The Undercovers
Band: Original Band
Object Heavy
Beer Festival
Hops in Humboldt
Bowling Alley
Harbor Lanes
2136 Broadway, Eureka
(707) 443-4533 harborlanes.net
Casino
Bear River Casino
11 Bear Paws Way, Loleta
(707) 733-9644 bearrivercasino.com
Club DJ
DJ Pressure
Craft Artist
Cate Be
Cultural Event
California Indian Days
visitredwoods.com/event/california-indian-days/7817
Dance Crew
VA VA VOOM Burlesque
vavavoomvixensblog.wordpress.com
Drag Artist
Tucker Noir
Filmmaker
Oryan Peterson-Jones
oryanpetersonjones@gmail.com oryanpetersonjones.com
Fundraising Event
Pastels on the Plaza
1266 Ninth St., Arcata
(707) 822-7206 ncsheadstart.org/events/227-2
Golf Course
Lighthouse Market & Miniature Golf Course
180 Lupin Drive, Arcata (707) 630-5105 lighthouseplazacenter.com/mini-golf.html
Holiday Light Display
City of Ferndale
Humboldt Clothing Line
Humboldt Republic
535 Fourth St., Eureka
(707) 497-6270
Karaoke
Richards' Goat Tavern
401 I St., Arcata
(707) 630-5000 richardsgoat.com
Live Music Venue
Arcata Theatre Lounge
1036 G St., Arcata
(707) 613-3030 arcatatheatre.com
Local Actor
Caroline McFarland
Local Artist
Blake Reagan
Local Celebrity
Sara Bareilles
Local Sports Program
Humboldt Crabs Baseball
Local Tour
Kayak Trinidad
1 Bay St., Trinidad
(707) 329-0085 kayaktrinidad.com
Movie Theater
The Minor Theater
1001 H St., Arcata
(707) 822-3456 minortheatre.com
Museum
Clarke Historical Museum
240 E St., Eureka
(707) 443-1947 clarkemuseum.org
Music Festival
Summer Arts and Music Festival
59 Rusk Lane, Redway
(707) 923-3368 mateel.org
Musician
Brian Swislow
Place to Shake Your Booty
Arcata Theatre Lounge
1036 G St., Arcata
(707) 613-3030 arcatatheatre.com
Place to Shoot Pool
707 Bar
200 First St., Eureka
(707) 443-8887 707-bar.edan.io
Place to Play Games
Hatchet House Throwing Club
737 G St., Arcata
(707) 630-5203 hatchethousethrowing.com
Pumpkin Patch/Farm
Organic Matters Ranch
6821 Myrtle Ave., Eureka
instagram.com/organicmattersranch
Stand-Up Comedian
Jessica Grant
Tattoo Artist
Daniel Dozier, Primal Decor
1908 Myrtle Ave., Eureka, (707) 445-2609 Instagram.com/danieldoziertattooer
Theater Company
North Coast Repertory Theatre
300 Fifth St., Eureka
(707) 442-6278 ncrt.net
Trivia Night
Reel Genius Trivia Nights
(707) 601-1606 reelgeniustrivia.com
Vocalist
Ossa
Weekend Getaway within 150 miles
Benbow Historic Inn
445 Lake Benbow Drive, Garberville
(707) 923-2124 benbowinn.com
Wine Festival
Fieldbrook Art and Wine
4241 Fieldbrook Road, McKinleyville
(707) 839-4140 fieldbrookwinery.com