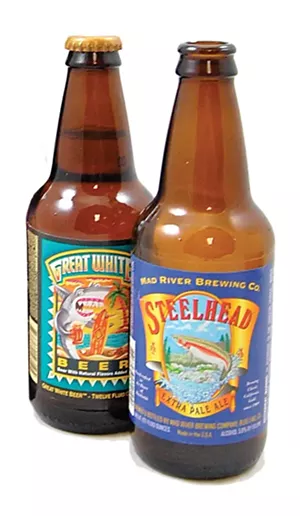 "What are ya havin'?"
On the whole, it seems as if HumCo will take a Steelhead Extra Pale Ale, please. High on drinkability, Mad River Brewery's most popular ale is one of the most stocked beers in bars countywide. As one reader put it, "Steelhead is THE Humboldt beer." Make it official.
Now, Humboldt loves its brews. So it's worth noting a change at the top as our top beers, according to our readers anyway, have flip flopped. After receiving some passionate response from readers over last year's winner -- Lost Coast Brewery's Great White -- we devoted an entire (in retrospect, too testosterone-filled) issue to blind beer tasting (see "Beer in the Headlights"). Granted the picky palates of our beer snobs for hire were drawn most to the stouts, but they too chose Steelhead over Great White.
Is there any connection there? Did we sway your vote? Maybe we're drunk. Eh. Pour us another Steelhead. Hey, we'll take a Great White to wash it down with too.
The Breakdown: Mad River Brewery Extra Pale Ale 13.4%, Lost Coast Brewery Great White 11.1%, Lost Coast Brewery Tangerine Wheat 9.9%, Redwood Curtain Brewery Imperial Golden Ale 5.5%, Mad River Brewery Double IPA 4.3%. Category popularity: Seventh.