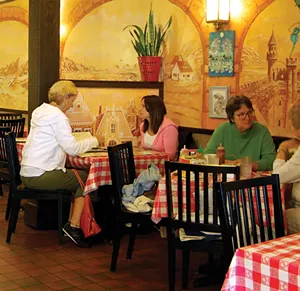 Sometimes it pays to specialize.
When you're only open from 11 a.m. to 4 p.m., when your very name conjures up the midday meal -- you're clearly made a commitment to lunch and nothing but the lunch. So help you nom.
That commitment, plus great food, locally sourced, helped send Café Nooner into first place for the best lunch in Humboldt. It's got cozy seating inside, a couple of tables outside that catch what sun Old Town Eureka has to offer, and an eclectic menu that borrows from the Middle East and Middle America. Don't miss the fries, in a portion big enough for two. Or the flatbreads. Or those homemade dressings that snuggle into the salads. Or just about anything on the specials board.
And when you go, don't forget that little ginger candy.
The Breakdown: Cafe Nooner 10.8%, Japhy's 6.7%, Renata's 3.1%, Luke's Joint 2.9%, Rita's 2.7%. Category popularity: First.