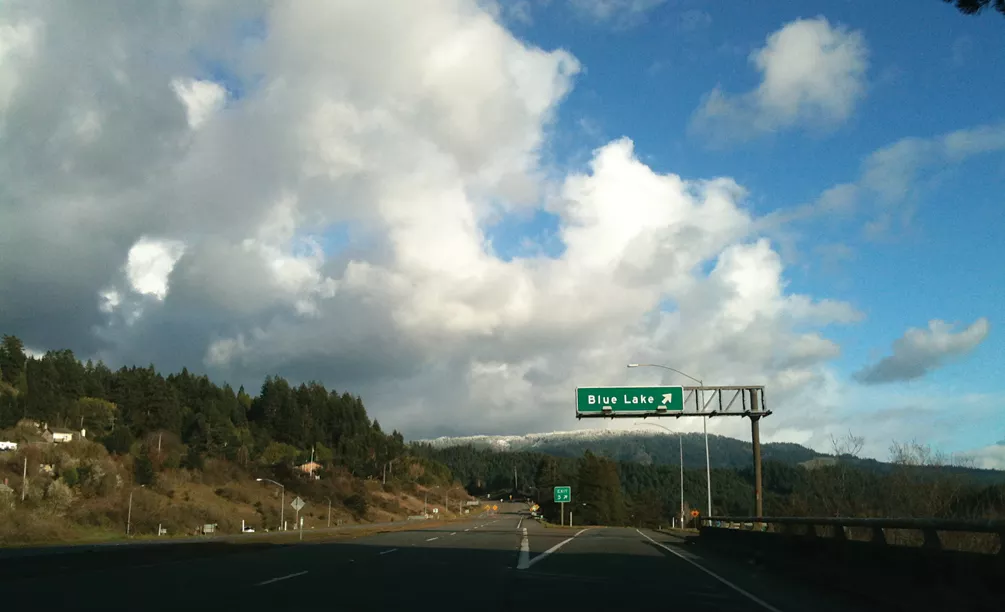 Photo By Lynn Jones
Photogenic Blue Lake
Head east on Highway 299 on most any summer day, when afternoon is sliding down toward evening, and something splendid happens. Maybe it begins at the Essex exit, or maybe farther along at Glendale, where views open to pastureland and the graveled bed of the Mad River.
Sun! Not a pallid ghost behind the fog, but the full-throated blare of sunshine, making the sky bluer and the river glitterier than anyone remembered they could be.
And really, given a choice between the spectacularly rocky coast of Trinidad, glamorous cover city in a zillion travel photos, is it any surprise that sunshine squeaked past scenery?
Blue Lake's got flair: a brewery, a casino, and an internationally known theatre school. It's got homey: neighborhood chickens pecking from yard to yard and a post office where everybody has to go to pick up their mail. It's got oddly, sweetly gorgeous: fog seen from afar, nuzzling and curling its way around the hilltops most evenings. It's got free: a little piddle of a riverbank, good for lazy dabbling of toes amid the gravel.
And it's got sun!
Visitors to Blue Lake can pretend they were really after a great breakfast at Stardough's, then sit outside and soak up the sun. Or they can pretend a tap-fresh Double IPA from Mad River Brewery was calling to them ... while they sit and sip and soak up the sun.
Sure they can.
-- Carrie Peyton Dahlberg
The Breakdown: Blue Lake 18.3%, Trinidad 15.3%, Ferndale 13.1%, Arcata 9.8%, Loleta 3.5%, Voter Turnout: 16th.