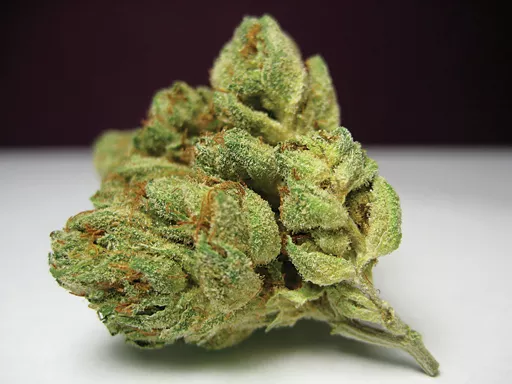 Photo courtesy of Nickel Bag of Funk
OG Kush
Obviously, social acceptance of marijuana is tenuous, even in our dank corner of the Emerald Triangle. While the Best Beer and Best Bar categories earned mostly sincere and respectful nominations, the notion of rating Humboldt County's No. 1 cash crop led many voters to chastise us for our immaturity, stupidity and/or hippie sympathies. A couple of people even invited us to perform sexual intercourse with ourselves. Sheesh.
We considered separating this category into two parts -- medicinal and recreational. But lawmakers have seen fit to keep that boundary hazy, so who are we to make the distinction? Dozens of varieties made the list, revealing the impressive genetic manipulations and savvy black market branding that have transformed the cannabis plant in recent decades.
Our poll came down to a two-way tie between OG Kush and Headband. According to an online strain library, the former -- a Cannabis indica-dominant strain crossed with the less intense Cannabis sativa -- was created in the San Fernando Valley and has such a high concentration of THC (Tetrahydrocannabinol, the psychoactive chemical in marijuana) that "when properly grown ... [it] is sometimes so strong it makes your teeth hurt." Alrighty then. Legend has it that OG (reputedly the "celebrities' choice") was the first strain developed in SoCal that could compete with the buds grown up here. Evidently it passes muster with our readers, too.
Headband (another indica-heavy strain) has a number of sub-varieties (or different names, at least), including "Humboldt Headband," "707 Headband" and "West Coast Headband." Smoking aficionados say it can cause full-body euphoria and stimulate awareness, and it supposedly makes your brain feel pleasantly squeezed (hence the name). Medical marijuana websites claim it relieves headaches and anxiety while stimulating appetite.
According to our voters, a blueberry variety is also available. You know, for kids!
Most motivated answer: "I'm not in Jr. High and I have shit to do."
Best misspelled words: nutricious, wack, dandilion, assinine
-- Ryan Burns
The Breakdown: OG Kush 6.0%, Headband 6.0%, Trainwreck 4.7%, Purple Kush 4.0%, Dandelion 4.0%, Voter Turnout: 24th.