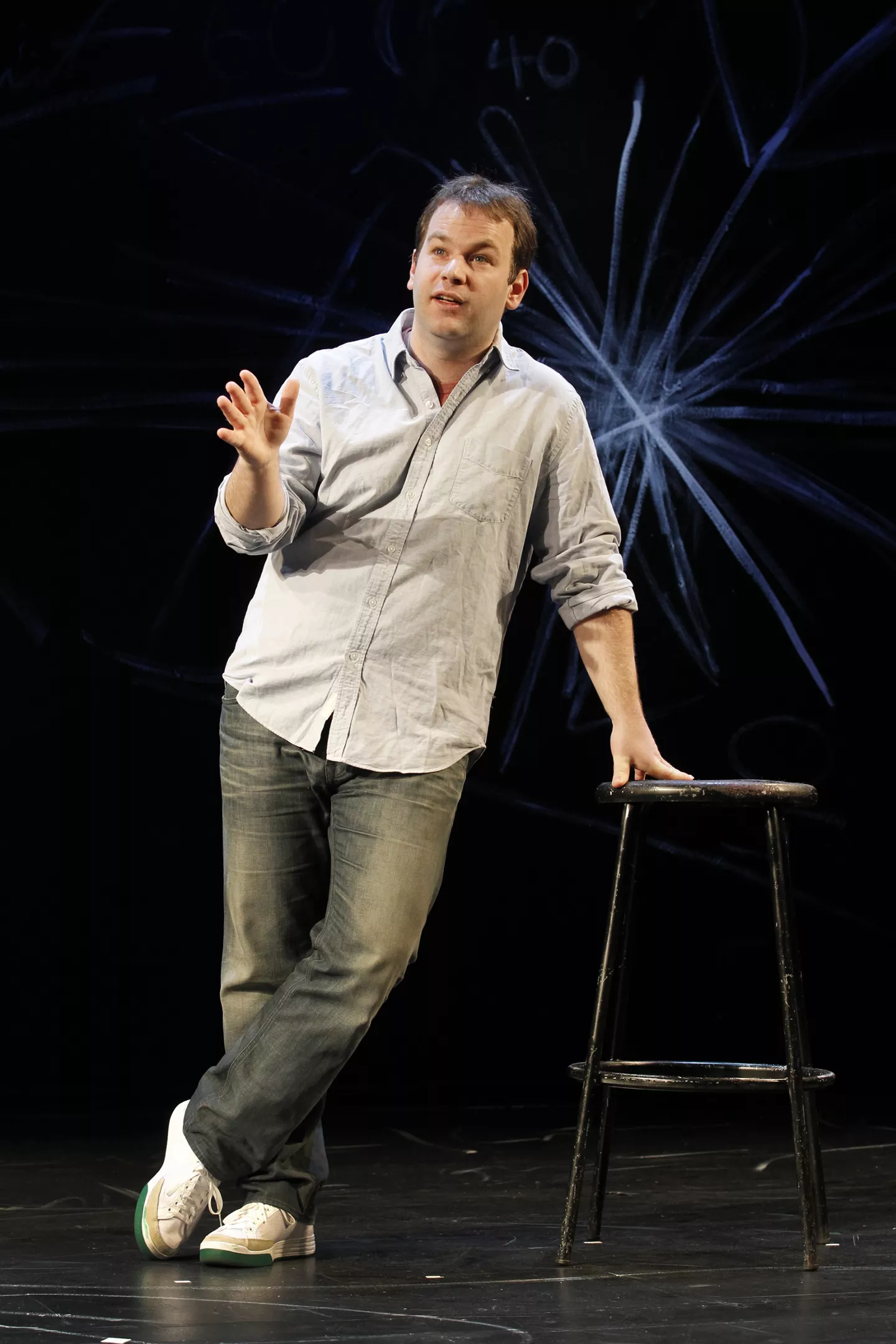 Mike Birbiglia, or "Birbigs" if you want to forgo the embarrassment of not knowing how to pronounce his last name, can tell a better story than you. Case in point: "What I Should Have Said Was Nothing (2008)", "Sleepwalk with Me (2011)", and "My "Girlfriend's Boyfriend (2012)." His story-themed stand-up, hilariously awkward and generally pretty embarrassing, is derived from cringe-worthy personal experience. This is what sets him apart from other stand-up comedians; his sets have a solid theme, a genuinely great story running through the heart of them. Birbiglia's ability to carry his vulnerability with charisma and charm is essential to his being able to pull off his this sort of style. His stage presence puts his audience at ease, letting them know it's absolutely ok for them to laugh at his terrifyingly embarrassing stories.
His most recent show, By Girlfriends Boyfriend, is just at the beginning of a rigorous, year long, tour. To add to the success (and exhausting workload), the show has recently been made into a feature film currently making it's way through the festival circuit with a nationwide theatrical release due this fall. You could wait until then to check out the hilarious brilliance of Mike Birbiglia, OR you can view his upcoming performance at the Van Duzer Theater, Sunday, April 22, at 8 p. m. In the meantime, here's an interview we did via email:
What made you decide to change the format of your comedy? That is, what spurred the change from standard sets to longer, story driven sets?
When I was in high school, I saw Steven Wright, a brilliant one-liner comedian, and I thought, that's what I should do. I should write one-liners. And I did. My first album, Two Drink Mike, is mostly one-liners. But then in 2003, I was at HBO's US Comedy Arts Festival in Aspen, Colorado and I was asked to perform this at this show that The Moth -- which is this great storytelling show in New York City and now a public radio show -- was presenting. And I ended up telling this embarrassing story about my first girlfriend in high school having me as her kind of backup boyfriend and that story ended up being the title story of My Girlfriend's Boyfriend. Anyway, I was completely terrified. It was one of the most exposed feelings I've ever had in my life, but after it was done it was wildly invigorating. And I thought, "I enjoy this so much more" and I think the audience does as well. My shows now have as many jokes as my regular standup shows did, but the jokes add up to something that's more emotional and hopefully more impactful.
Your audience is very eclectic, ranging from teens to middle-aged NPR listeners. Has this altered the type of stories/jokes you incorporate into your performance?
It doesn't really change much for me. One thing I noticed recently in my show is that there was one curse in the show and then when I went to a town that was very conservative and they asked if I would not curse, and I was like, "Sure, yeah I don't mind changing that out for another word." And then when I did that, I was like, oh, well I can just take that out for good because it wasn't even really a good word choice. Some people curse really well, but in that case it was kind of mediocre cursing. Taking out curses opens up the audience gap more -- which I like. I like that 13 year olds and 100 year olds can come to my show. I like there to be an 87-year age gap between the oldest and youngest person at my show.
Did you always know you were hilarious, or did it take convincing? That is, has comedy/performing always been your ambition? Who were your influences when you were younger?
I wasn't class clown or anything growing up. But when I was a kid like most comics I watched Saturday Night Live and David Letterman. Then when I was 16, like I mentioned earlier, my brother Joe took me to my first live comedy show, which was Steven Wright at the Cape Cod Melody Tent and from the moment I saw him I decided that's exactly what I wanted to do. Some of my other favorite comedians growing up were Mitch Hedberg and Bill Cosby, and then the more I got into comedy the more I started getting into comedians like Richard Pryor and Woody Allen.
How has the stand up/comedy scene changed since you started?
Well, I think that when I started it was very much a lot of comedians doing observational comedy - things that were kind of watered down version of what Seinfeld perfected in the '80s and '90s. And in a way it was a little bit boring. I remember going to open mics and thinking, "This is not that interesting." And then the people who were perceived as edgy were the people who would just say crude things, which I never perceived as that edgy because it's not that difficult really. I feel like what has emerged in the last four or five years is that there are more comedians telling personal stories and revealing more about themselves, people like Louis CK, Marc Maron and Doug Stanhope. And I personally just like that better.
Is this your first performance in Humboldt County? What is your knowledge of the county?
I think it is, though I'm open for correction if someone thinks that I have been there before. But I know that this is Sara Bareilles' hometown and I'm a big fan so I'm looking forward to performing in Sara Bareilles-ville!
Can you describe the experience of having your work turned into a feature film? Or, at least, what was the best part of that experience?
It was the hardest thing I've ever done in my life, hands down, which is to say that it as harder than being beat up by bullies in middle school. But it was much more educational than being beat up by bullies. Directing a film is such an involved art form because it's a combination of about seven different art forms - photography, storytelling, acting, music, etc.- so in that way there was a very steep learning curve, but I'm elated that the film is done and that people really like it! It won the NEXT Audience Award at Sundance, we just screened it at South By Southwest Film Festival in Austin last month, and it's the opening night film at the Boston Independent Film Festival later this month, and all of that is amazing and more than I could have ever asked for. AND it will be in theaters this fall with IFC Films- hopefully in Humboldt County, where the "d" is silent and the "hum" is loud. I have no idea what that means.