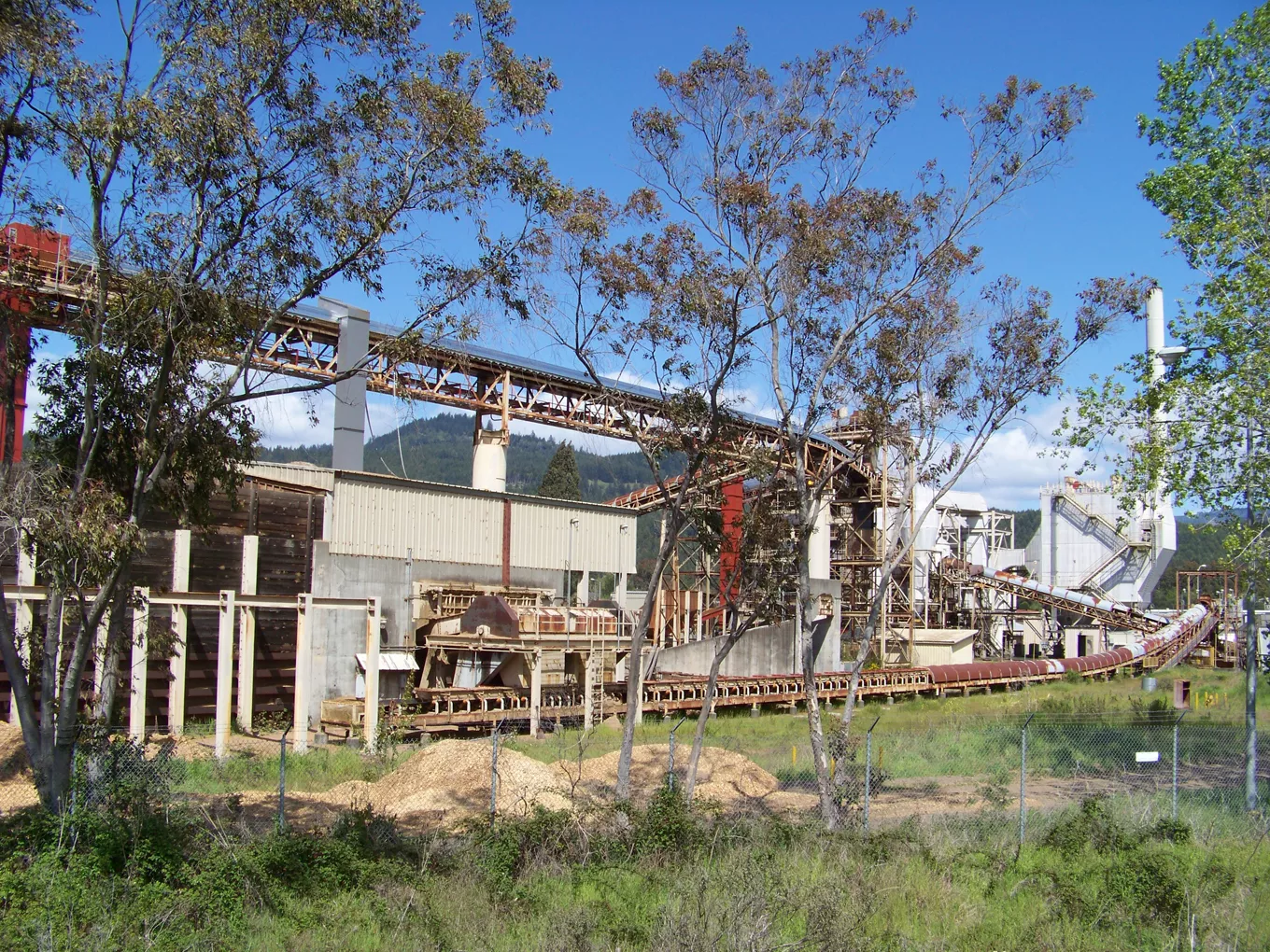 photo by Heidi Walters
Blue Lake Power biomass plant
A couple of weeks ago in Blue Lake, the atmosphere around town was rather steamed -- well, actually, smoked. It looked, recalled resident Scott Bradshaw last week, as if everyone in Blue Lake had fired up their wood stoves all at once. It sounded like revving jet engines, whining high. Agh, the burning throats and smarting eyes. Oof, the insult to rural, peace-loving ears.
And then, pretty soon, it looked like protest theater. Homemade signs popped up around town, said the genial Bradshaw (who didn't partake in the protest). One sign said, "It's just steam." Another one, shaped like an aerometer (which measures the density of a gas), said something like "Tickled pink. Danger. Cancer."
And another, which was still hanging high from the wall of the Logger Bar last week -- above a big pile of horse apples on the sidewalk -- was shaped like an arrow and said, "Burning Eyes."
Blue Lake Power had fired up its biomass energy plant -- dormant some 10 years now after closing under former ownership -- for a test run, and things hadn't gone well. Some residents not only acted out in colorful signs, they complained loudly -- to the City of Blue Lake, to Blue Lake Power, to the county health department and to the North Coast Air Quality Management District. One guy told the Times-Standard that he'd had to grab his baby and get out of town one day, it was so bad.
Finally, early last week after issuing multiple violations notices and working daily with the power plant, the air district told BLP to shut the plant down until all of its problems were fixed, said the district's air pollution control officer, Rick Martin, in an interview with the Journal last week. (The air quality district alone has received 34 complaints about the noise and emissions since April 22, he said). Sure enough, mid-week, nothing was coming from the plant's stack and the exterior of the plant was quiet except for a bulldozer moving among the variegated wood piles. By Friday, reported some residents, white steam started coming out of the stacks. It looked as if the power plant's travails might be nearing the end.
But Blue Lake Power, other than an initial interview with the T-S, isn't saying much about what went wrong or how they're doing. Last week, when the Journal called BLP, an employee who answered the phone said everyone there was too busy to talk and probably would be too busy for quite some time. Subsequent phone calls have yielded no response.
Martin said the plant apparently ran fine during a test run in February using propane. But when they fired it up this time, valves stuck, creating the noise; the feed hopper malfunctioned; and the electrostatic precipitator, which uses oppositely charged plates to nab particles and prevent them from leaving the plant, didn't work -- thus, the smoke.
"It's called opacity," said Martin. "They can't have a certain density, or certain darkness, of smoke that's coming out. The denseness of the smoke was too high."
Martin added that BLP has been cooperative, and is steadily fixing the problems. The noise problem's been dealt with, for one. "They're working with other plants, like Fairhaven Power on Samoa, to find out more [about] what they can do," Martin said. "It's not like they're ignoring the problems."
Meanwhile, last week the district installed a monitor downwind of the power plant, to augment one that BLP already has in place elsewhere.
The district hasn't fined the company yet, but it will, said Martin. It has offered BLP a "settlement option" -- wherein the company agrees to let the district figure out the extent of the violations and the overall impacts to the community, and then determine a fine.
"We'll have to take a lot of things into consideration," Martin said. "The monetary health of the company -- if it can't pay all at once, maybe we can spread it out. Or maybe they can do something for the community in addition to a fine. There could be various scenarios."
The maximum fine the district could levy is $34,200 a day per violation. With several different violations over eight days, that would be a huge fine, one that could shut BLP down, Martin said. But he said the district doesn't want to do that. Unless, that is, BLP refuses to settle. In that case, said Martin, they'll go to court and the district will go for the maximum fine.
Meanwhile, for those unsettled residents, the City of Blue Lake has set up a town meeting for next Tuesday, May 18, at 7 p.m. at the Blue Lake Grange. Karen Suiker, Blue Lake's interim city manager, said BLP will give a presentation, and someone from the air quality control district will also be there.