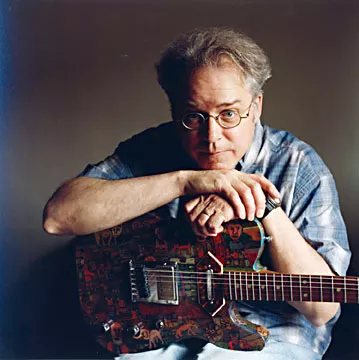 Bill Frisell. Submitted photo.
Live performance
Jan. 20 at Yoshi's

San Francisco
Seattle-based jazz guitarist Bill Frisell claims two very different guitar players as main influences: Jim Hall and Jimi Hendrix. He was a student of Hall, whose cool harmonic style was Frisell's primary jazz influence, and like most electric guitarists who came of age in the '60s he couldn't escape the pull of Hendrix's raging sonic experimentation and soundscaping. His early records for ECM favored that label's trademark pastel impressionism, but later in the '80s he fell in with the downtown avant scene in New York revolving around composer/saxophonist John Zorn. In Zorn's cut-and-paste punk/surf/jazz group Naked City, Frisell showed himself equally adept at playing scorching speed metal riffs and achingly beautiful ballads. Open minded, and far from a jazz purist, he's appeared on records by Elvis Costello and Lucinda Williams, collaborated with gothic Southern singer/songwriter Vic Chesnutt, and even accompanied work by cartoonists Gary Larson and Jim Woodring.
In recent years he's made three appearances at the Morris Graves Museum of Art: a duet with pedal steel player Greg Leisz, a trio with Viktor Krauss and Kenny Wolleson and another with a chamber group featuring Petrolia's own Jenny Scheinman on violin.
It was worth a trip down to the Bay area to see Frisell reunite with drummer Joey Baron, the drummer in his classic quartet and trio of the '80s and '90s. (Baron also drummed in Naked City). I had hoped that playing with Baron, a fiery drummer, might stoke the intensity level up a few notches — the Humboldt shows I'd seen were tasteful and fine, but I missed the edgy go-for-broke quality of some of Frisell's earlier work.
I wasn't disappointed. The last set of a four-day residency at Yoshi's found three musicians in top form. Along with Tony Scherr on bass, Joey Baron seemed to light a fire in Frisell's playing. They started out with a Middle Eastern-inflected blues that displayed Frisell's talent for looping and his subtle use of digital delay. The tune morphed and expanded until it suddenly turned into a full-throated noisy version of Dylan's "Masters of War." Frisell has covered Dylan often, and has a real sympathy and understanding of his songs.
Too many concerts find one mood and stay there, but this trio took care to vary the dynamics. The tunes ranged from whispering and pretty to heavy metal loud, and the group never repeated itself. Baron alternately stroked the cymbals with brushes, bashed out a backbeat or dropped complex accents, always playing in the service of the song. Frisell played with his back to the audience, not out of a Miles Davis-like arrogance but as a way to mind-meld more effectively with Scherr and Baron. The enthusiasm, ease and seemingly telepathic rapport between the players was apparent, even to the point where the usually laconic Frisell told an extended joke about a talking frog and tried to get Baron to perform some magic tricks for the crowd. As they ended with an encore of Frisell's spooky "Strange Meeting," one got the sense that they were as sorry to end the show as the audience was.