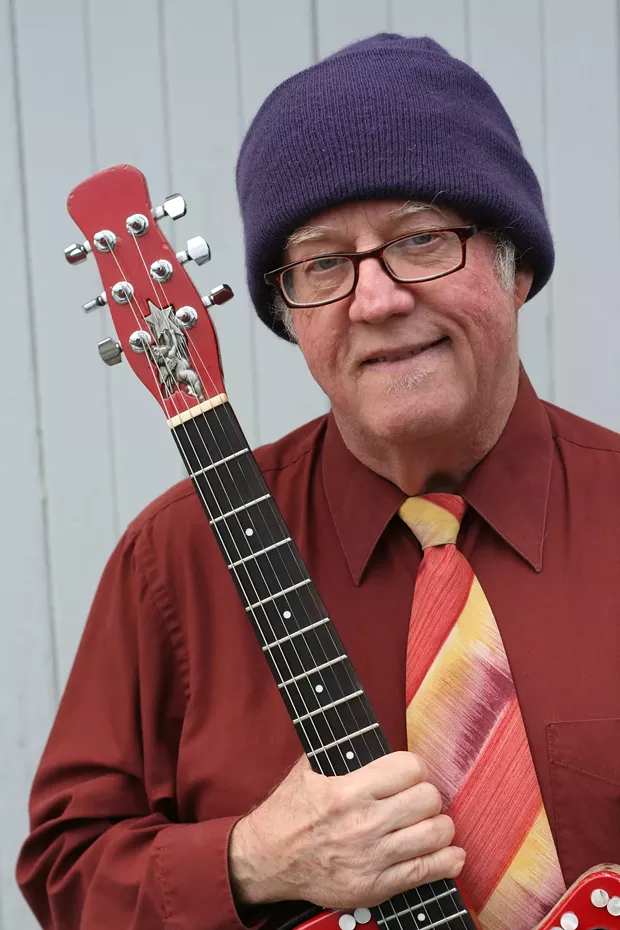 photo by Bob Doran
Buddy Reed
It's time for the local blues scene to shine. Saturday's 12th annual Buddy Brown Blues Festival in sunny Blue Lake honors the late Blue Lake bluesman Richard "Buddy Brown" Duggins with a ful day of the blues.
The Buddy Fest headliner is once again the other Buddy, guitarist Ivan Elmo "Buddy" Reed and The Rip It Ups. Reed got his start playing the blues in San Bernardino in the '60s. He made a few albums with a band called Bacon Fat with harpist Rod Piazza and worked backing blues/rock legends including Big Mama Thornton and Little Richard (which is why he calls his back-up band The Rip It Ups). Reed's recording with the late great harmonca player George "Harmonica" Smith, Teardrops Are Falling: Live in 1983, was nominated as "Historical Album of the Year" in this years Blues Foundation awards. Reed has been gigging a lot lately, "I've been working a few nights a week for the last few months," he reported, with regular slots Saturdays at the Speakeasy, Mondays at Redwood Curtain Brewery and at Old Town Coffee, mostly playing solo. "I do the same stuff I do with my band, but just on my own: Jimmy Reed, Muddy's shit, my stuff, the usual blues."
The show opens early (11 a.m.) with new-in-town guitarist Gregg Willis, who will be attending HSU in the fall, joined by harpist Johnny Walker. Next up (12:15 p.m.) is Trifecta, a trio with Damon Brooks on guitar, Rick DeVol on bass and Bill Moehnke on drums, with special guest BBQ Al on harp.
The Jim Lahman Band (1:30 p.m.) is the first of two bands formed at local blues jams. Guitarist Lahman is joined by bassman Dale Cash from Buddy Brown's Hound Dogs, with Ron Perry on harp and Jim Bent on drums. The Uptown Kings (2:45 p.m.) have moved beyond their roots at the Jamabalaya blues jam. This veteran crew includes guitarist Andy Widman, Trifecta drummer Bill Moehnke, and again, Cash on bass and Perry on harp.
Reed and the latest incarnation of The Rip-it Ups play at 4 p.m. The show closes with rockin' blues by Spring Canyon Band (starting at 5:30 p.m.) with Tom Lasbury on guitar, Brad Jenkins on sax, Richard Barnick on bass and Steve Johnson drums. All in all, a mess of good blues played by good buddies.
The Humboldt Folklife Society presents the 12th Annual Buddy Brown Blues Festival at Perigot Park in Blue Lake on Saturday, Aug. 4. Gates open at 10:30 a.m. Admission is $10, $8 in advance or for HFS members. Kids under 12 free. Barbecue and local brews available. Proceeds support Humboldt Folklife's Folk School. More details at bluelakeblues.com or humboldtfolklife.org.