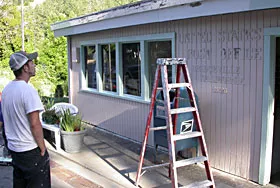 Adam Wade's family owns Bridgeville. Photo by Heidi Walters.
Air pushing upcanyon ruffles the bright leaves of dainty poison oak twining up tree trunks as you exit the green tunnel of foliage that is Hwy 36 onto a dubious spur promising to take you to Kneeland. Suddenly, you're in a movie-set clearing flooded by evening sunlight. You stop the car to get out and wander onto the picturesque 1920s-era bridge arcing over the Van Duzen River and casting an ornately slatted shadow on the green water.
And then you turn and walk back into the town. Town-speck. On one leg of the road bend, next to the post office, the muted strains of Tom Petty wail long-ago-summer-like from the open windows of a shiny black Kia parked at the curb, and two guys chip away at the P.O.'s old crust of paint and slick new wet skin onto its tired boards.
On the other leg of the road bend, you can see where a road leads down to a school. On the main drag, several tiny houses, one painted bright pink, languish in tree shade and time eddy. A door opens in the pink house, and a man walks onto the porch to peer into the road. On the other side of the street sit four cute but gutted cabins. An occasional car roars around the bend, headed for further backwater by way of more tree tunnels, spates of golden hills and miles of washboard. Then the quiet, except for tinny Tom Petty, settles back in.
It's Sunday evening, June 24, in Bridgeville. You've heard the story: It's the 82-acre town of fewer than 30 residents that was made famous for being put on eBay in 2002 and, after a bidding frenzy, "sold" for $1.78 million. The buyer backed out and a new buyer conventionally bought the town for $700,000. Then it was for sale again, and last August young Daniel La Paille, of Los Angeles, bought it for $1.25 million. He gutted the cabins with plans to renovate them. He was going to build a cafe, a store, a park, barbecue pits and apartments, and entice young couples and nice, trouble-free families to come live in his nice, clean, progressive town. La Paille dreamed big and warm: He wanted his entire family, aunt and grandma and eight cousins and everyone else, to relocate to Bridgeville. But by November, La Paille, a 25-year-old student and entertainment manager with celebrity connections, was dead. Suicide, said reports.
Empty, empty, empty seems the town. Limboville. But there is that strain of hope over at the P.O., where Adam Wade — La Paille's 24-year-old cousin — is flipping his paint brush up and down against the trim of the post office door, laying on "marsh green" to accent the "sandy brown" that he and his helper, resident Butch Bottom, are covering the walls with. The building was an obnoxious bright blue, says Wade, pointing at a remnant streak. "We want to make it blend in with the natural surroundings," he says.
Wade and his wife were the first of La Paille's family members to be finally lured up from Southern California to the dream of Bridgeville. They arrived in October. A month later his cousin was dead. Now, says Wade — who looks a bit like his cousin, trim and clean cut — he and his grandmother are trying to continue sprucing up the place as best they can. But they can't, in fact, afford to keep the town, which aside from general renovations also needs a new well.
"Right now we're pulling water off the river with a pump," Wade says. "But the county doesn't want us doing that anymore. It'll cost 50 grand for the well — money my aunt and grandma don't have."
So Bridgeville is on the market again. But Wade comes with the deal, as the maintenance man and property manager. He and his wife — who travels out of the mountains each day to work at College of the Redwoods as a cook — are deliriously happy to be out of the SoCal madness. "It was a helluva a change from the traffic and the people, the overcrowding and the violence," Wade says. "Right before I moved up here, my car was broken into. That was the last straw. Here, people are so slowed down. And I dig the hippy feel. This is a place I've always dreamed about being in — trees everywhere, animals, water, trails. A place we can have our own space, and have a dog if we want to."
The family hopes they can find a buyer with similar dreams. "We want to sell to somebody who wants the same things my cousin wanted," says Wade. "Someone who wants it to be an eco-friendly town, instead of tearing it down and making a resort."