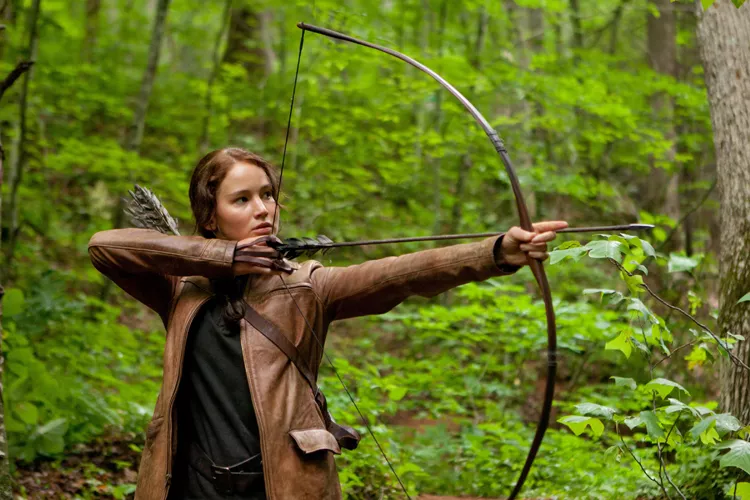 "I'm hungry, but this is ridiculous."
THE HUNGER GAMES. The juggernaut is upon us! Based on its gargantuan opening-weekend box office, The Hunger Games seems poised to knock the Twilight "saga" off the top of the money mountain. I'm glad because The Hunger Games is actually a good movie. Not great, but very good.
The titular games serve as a kind of comeuppance to the rebellious districts of a dystopian future state. Having quelled their uprising, the fascist central government demands a "tribute" from each district. Two adolescents, a boy and a girl, volunteer or are selected by lottery to enter into televised blood-sport from which a single champion will emerge. From the Matewan-esque 12th district comes our heroine, Katniss Everdeen (Jennifer Lawrence), who volunteers to save her young sister from certain death in the games. I won't spoil it beyond saying the ending is something of a foregone conclusion (there are several more installments in the works), but the movie still manages to be tense and enjoyable all the way through.
Lawrence has garnered a lot of praise in her brief career, and rightfully so. She's called on here to provide an emotional center for a story that could easily lose itself in combat sequences and visual design. And she does it: There is a quiet intensity to her performance that grounds the story's fantastical universe. As in Winter's Bone, she plays it subtle and naturalistic, completely without histrionics or actorly indulgence. It doesn't hurt that she's surrounded by a pretty stellar supporting cast. Woody Harrelson plays a boozy, long-haired former winner, and does it with a winning combination of humor and pain. Wes Bentley, who seems to have been lost in the wilderness in recent years, does a convincing turn as the designer/director of the games, complete with wildly stylized facial hair. Donald Sutherland does his usual Donald Sutherland thing, but with the addition of a huge Santa Claus beard. Stanley Tucci is a standout as always, playing the blue-haired and awesomely named Caesar Flickerman, the games' emcee and main color commentator. Even Lenny Kravitz is warm and genuine as Katniss' aesthetician.
Visually stylish without being distracting, Games draws us in with a combination of handheld camerawork and thoughtfully composed stationary shots. The set design, costuming and hair dressing are over-the-top impressive, but director Gary Ross' technique is nuanced in such a way that they don't distract from the storytelling. As I haven't read the books, I can't speak to whether or not the movie is faithful to them. (Author Suzanne Collins co-wrote the screenplay.) Regardless, the film has a life all its own, avoiding the stilted, page-by-page feeling of so many adaptations.
One of the most impressive aspects of The Hunger Games is that the onscreen violence has emotional gravity without being gratuitous. There is more than a little blood, but the horror of the scenario is more often conveyed through compelling performances and smart film-craft. (Film-nerd fun fact: Steven Soderbergh is listed as a second unit director). PG13. 142m.
WE NEED TO TALK ABOUT KEVIN shares a few superficial attributes with The Hunger Games: archery, teen violence, and Soderbergh in the credits (as an executive producer). It's also a model of cinematic restraint wherein director Lynne Ramsay evokes horror and dread as much with what she doesn't show us as what she does.
Ramsay trained as a camera operator, and that influence is clear in the movie's visual construction. From the opening frames, the color palette is dominated by ominous crimson. Whether in violent slashes or diffuse glowing, this thing is all red and all dread.
The story starts after a school spree-killing committed by 15-year-old Kevin Khatchadourian, chillingly played by Ezra Miller. His mother, Eva (Tilda Swinton), is trying to survive the aftermath, self-medicating with red wine and pills and enduring the hatred of her community. The narrative then begins shifting back and forth between her present-day reality and the events that led up to it. We see the early days of her courtship by Franklin (John C. Reilly), then watch as her dream-life turns nightmarish with the birth of her son. From infancy it's clear that there's something wrong with Kevin, but Franklin refuses to believe it. Eva is trapped in her own house with a tiny sociopath, and it gradually grinds her down to nothing.
At first I was frustrated at the simplicity of the premise. We know from the beginning that Kevin is capable of terrible things, and there isn't any explanation or greater context given: We only see his behavior in the vacuum of his family life. There are hardly any outside characters or interactions with the larger world. Instead we get painful, methodically constructed vignettes of mother and child, constantly escalating to the awful catharsis of the climax.
Some will criticize this movie for not assigning blame or examining contemporary culture. But hopefully they'll realize, as I did, that's not the point. Rather than an indictment, this is an impeccably acted, painstakingly crafted domestic drama that happens to be about a killer and his mom. R. 112m.
Previews
WRATH OF THE TITANS. Two years after clashing, the titans of ancient Greece are ready to get their wrath on. Demigod Perseus (Sam Worthington) has to rescue his full-god dad, Zeus (Liam Neeson), from angry CGI beasties. PG13. 99m.
MIRROR, MIRROR. The first of two Snow White reboots this year (Snow White and the Hunter arrives in June), this version is a family-friendly comedy from visual showman director Tarsem Singh (The Cell), starring Julia Roberts as the evil queen. PG. 106m.
JEFF, WHO LIVES AT HOME. From the wonderfully oddball writer/director Duplass brothers (Cyrus) comes the story of a 30-year-old adolescent (Jason Segal in the title role) who emerges from his mom's basement to help his brother (Ed Helms) spy on his possibly adulterous wife. Comedically. R. 83m.
FRIENDS WITH KIDS. After seeing how kids can douse the spark in relationships, the last two singles in a group of friends decide to have a baby together without getting romantically involved. The ensemble comedy stars Adam Scott, Jon Hamm and Bridesmaids stars Kristen Wiig and Maya Rudolph. R. 107m.
That beloved mouth-breathing high schooler Napoleon Dynamite (2004) dances into the Arcata Theatre Lounge Friday at 8 p.m. PG. 82m. On Sunday, The Brave Little Toaster (1987) leads a gang of household appliances from their owner's summer cabin back home. Based on a true story. Not rated, but it's Disney. 90m. Next week's Sci-Fi Pint and Pizza Night is something of a special event: the Druid Underground Film Festival, described as "a traveling clearinghouse for the most bizarre and provocative short films on earth." The theatre's website says, "Strong Parental Guidance Suggested." 6-10 p.m.
On Tuesday, April 3, the Eureka main branch of the Humboldt County Library will screen the Marx Brothers' Monkey Business at 6:30 p.m. See Calendar for details.
Continuing
21 JUMP STREET. Jonah Hill and Channing Tatum star as cops who go deep undercover, inside the plot of a 1980s sitcom starring Johnny Depp. R. 109m.
ACT OF VALOR. Active-duty Navy SEALs star as active-duty Navy SEALs in this fictionalized account of Navy SEALs on active duty. Paid for with your tax dollars. R. 101m.
CHRONICLE. Three high school guys develop superpowers after touching an underground glowing thing in this smart and thrilling sci-fi adventure. PG13. 83m.
JOHN CARTER. A hunky Civil War vet gets transported to Mars, where, with the help of some four-armed green dudes, he must save a princess. PG13. 132m.
THE LORAX. The tree-hugging Dr. Seuss character now shills for SUVs and flapjacks. What a sellout! Also, this movie is not good. PG. 86m.
PROJECT X. You know the party is off the hook when the angry dwarf gets stuffed in the oven and the drug dealer grabs a flamethrower. Sigh. R. 88m.
SILENT HOUSE. A young woman becomes trapped inside her family's lakeside house, which is, like, totally giving her the silent treatment. Cuh-reepy! R. 85m.
THE VOW. After a car accident, a woman loses all memory of her husband, so he has to woo her anew. PG13. 104m.
WANDERLUST. Paul Rudd and Jennifer Aniston play a Manhattan couple who join a free-love commune in this comedy from director David Wain (Wet Hot American Summer). R. 98m.