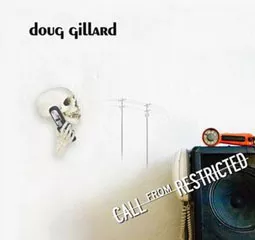 The music community from the Midwest have a deep affection for classic pop: a combination of influences that range from the initial British Invasion of the '60s, to bubblegum pop (like Edison Lighthouse and 1910 Fruitgum Company), to Memphis' Big Star. The Midwest cultivated a wide community of pop bands, including The Raspberries, Dwight Twilley, The Shoes, Cheap Trick, The Mice (led by reclusive pop genius Bill Fox), The Replacements and Guided By Voices, to name a few. Former GBV guitarist and songwriter Doug Gillard displays his talent of guitar pop hooks, from an array of styles -- crunching power pop to delicate acoustic strumming -- in his second solo release, Call From Restricted.
As the founding member of Cobra Verde, guitarist Gillard has appeared on a staggering amount of material, mostly with GBV or its prolific leader Robert Pollard. On Call From Restricted, however, Gillard takes the term "solo" literally by playing all the instruments (aside from a few minor contributions by GBV drummer Kevin March and co-producer Stewart Pack) and taking the lead vocal chores. And even though Gillard might not match Jeff Tweedy or Elvis Costello as a lyricist, he has a deep understanding of pop melodies and harmonies. From the opening track, "Time Is Nigh," a Mercey Beat-influenced number with a flock of strumming acoustic guitars propelling the song (which wouldn't be out-of-place on a Wilco record), to the delicate "Gibraltar," an Eels-esque ballad, to the power pop rocker "From What I've Done," Gillard delivers sweet, understated pop melody lines.
Make no mistake, Gillard's strength lies in his guitar playing. From the chiming guitar blast of "From What I've Done," which crescendos to its Tom Verlaine-like solo, to rapid acoustic strumming of "Gogol Was Rollo," to the fuzz-distorted solo in "No One Above You," you always take notice of a brilliant guitar break, solo or segment. That is Gillard's gift, one that he often displayed while performing with Guided By Voices.
Gillard also veers from the traditional pop formats with two oddities: "Contractors," a successful gleaning of Serge Gainsbourg's "Bonnie and Clyde," and "Without This Light," a moody, atmospheric piece reminiscent of TV on the Radio that feels like an exercise rather than a completed piece.
Aside from minor criticisms, Call From Restricted is simply a fun, head-bopping, pop-laden record that serves as an excellent compliment to the end of summer. Gillard is a magician of riffs, and, as this new release proudly reveals, he has plenty up his sleeves.