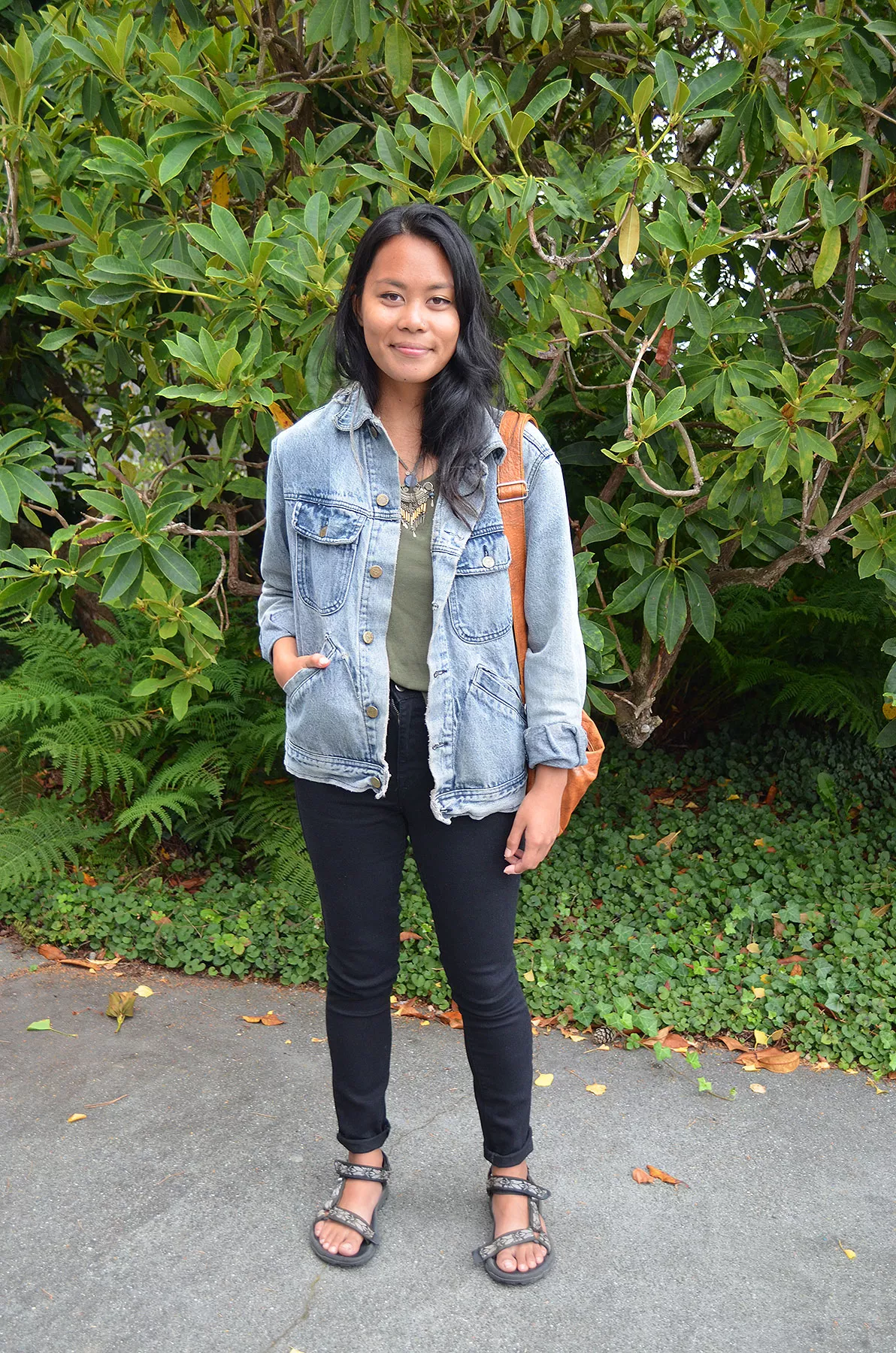 Photo by Sharon Ruchte
Art student and Palmdale native Christine is taking Native American studies and thrifting hard — her shirt and bag are thrift and free-pile finds, but the denim jacket is her boyfriend's.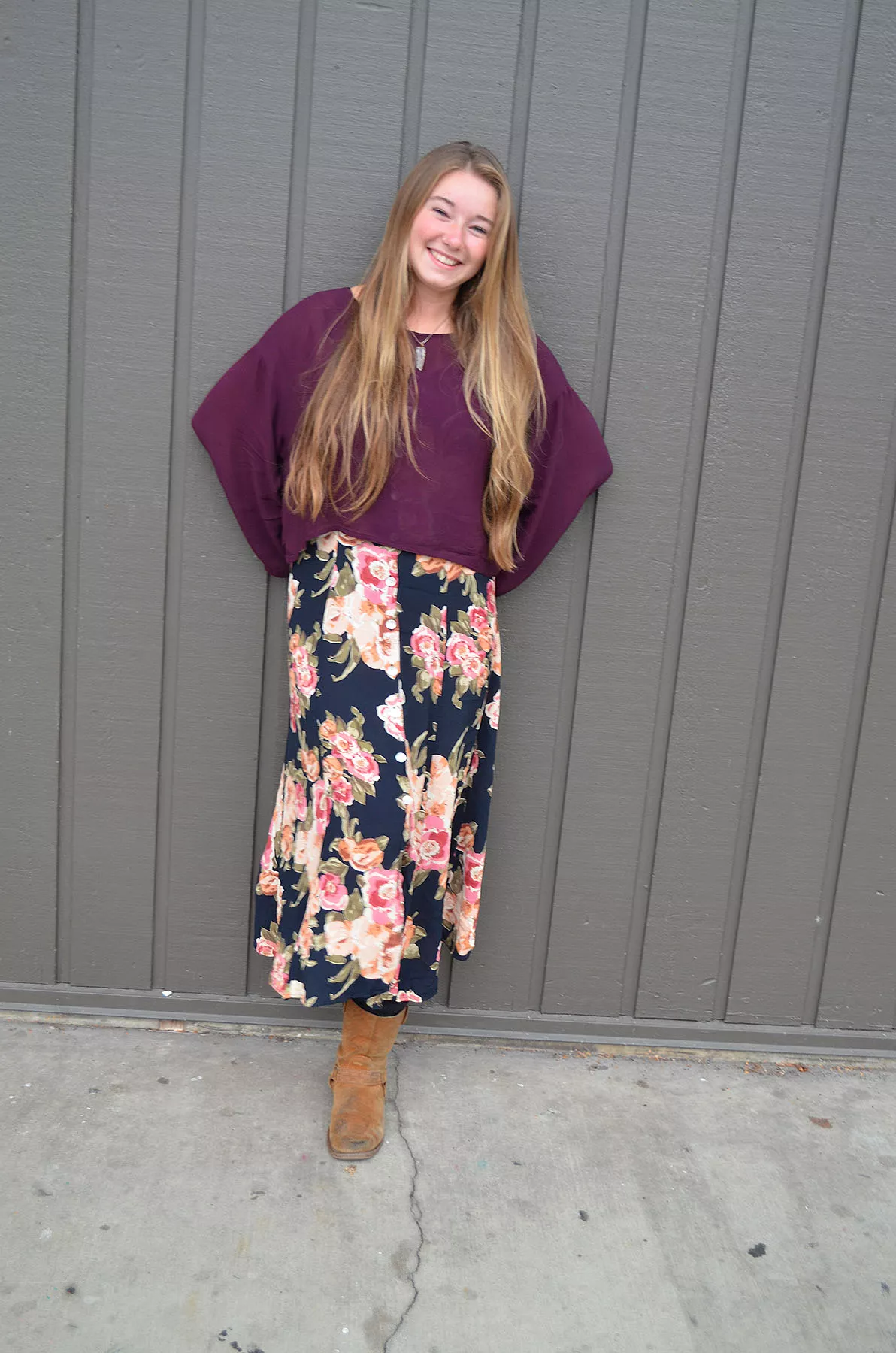 Photo by Sharon Ruchte
Cara Cannon, a senior from Chico who's studying child development, is wearing her mom's dress, a homemade necklace and a blouse from the thrift shop.
Photo by Sharon Ruchte
This SoCal junior goes by A.Z., but is otherwise undeclared. The tie-dye shirt from a friend must mean Humboldt is rubbing off, and she pairs them with her "trusty boots."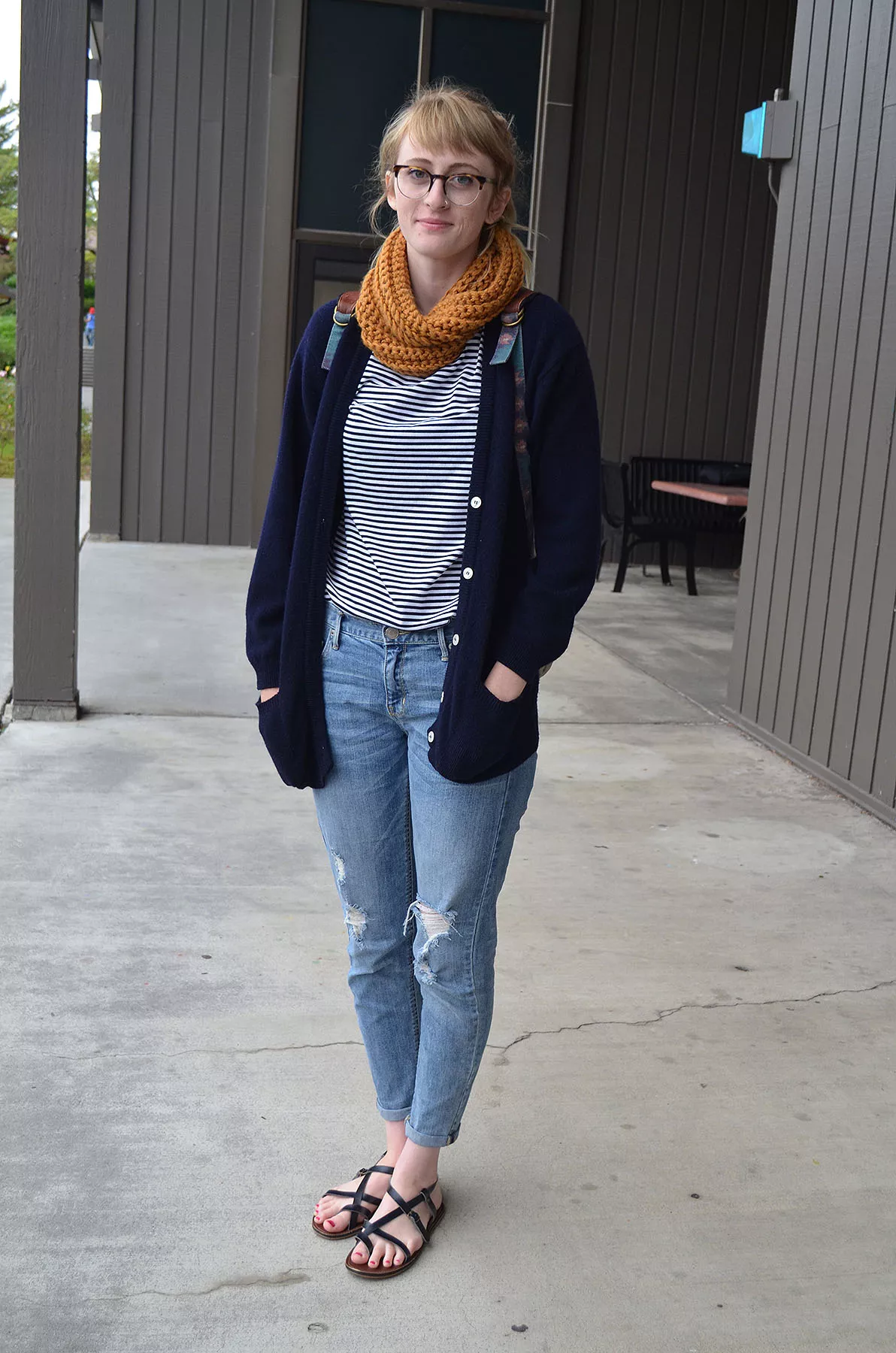 Photo by Sharon Ruchte
Billie, a senior art student from Salinas, says Humboldt's weather is "amazing." She's ready for it in a Paris-meets-redwoods, thrifted, handmade scarf, sandals and jeans from a free pile.
Photo by Sharon Ruchte
Junior Ian Fitzgerald is studying business administration and wearing the classics: Levi's, Clarks and a Gap sweater.
Photo by Sharon Ruchte
Moussa Sy, a freshman environmental engineering student is enjoying the cool climate here, a change from his home country of Mali. He's old-school in a velour tracksuit and Adidas.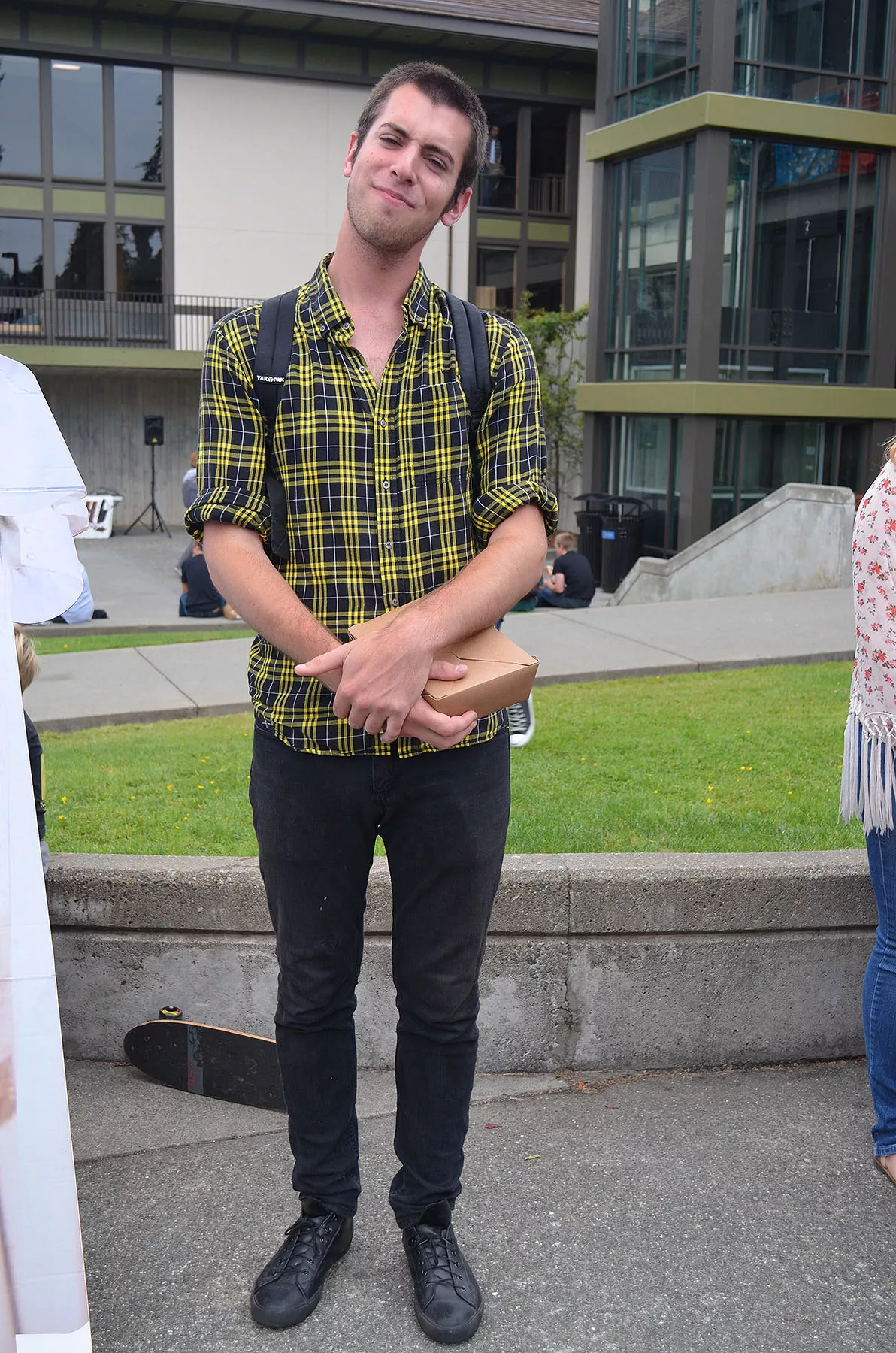 Photo by Sharon Ruchte
Mark, a senior from Pasadena studying music composition, orchestrated this look with a thrifted shirt, Levi's and shoes from Payless.
Photo by Sharon Ruchte
Los Angeles native and business student Daniel finds the people in Humboldt "really chill." Also chill are his Vans, Tilly's shirt and khakis.
Photo by Sharon Ruchte
Zendrea, a freshman in zoology, hails from Santa Cruz and loves the open spaces and redwood trees up here. She's pairing her bright sweater from the Bargain Barn with a quartz necklace she got as a gift.
Photo by Sharon Ruchte
Ingrid is a senior from Alameda who is studying wildlife and dance and is made instantly happy just looking at her cupcake dress. Well, sure.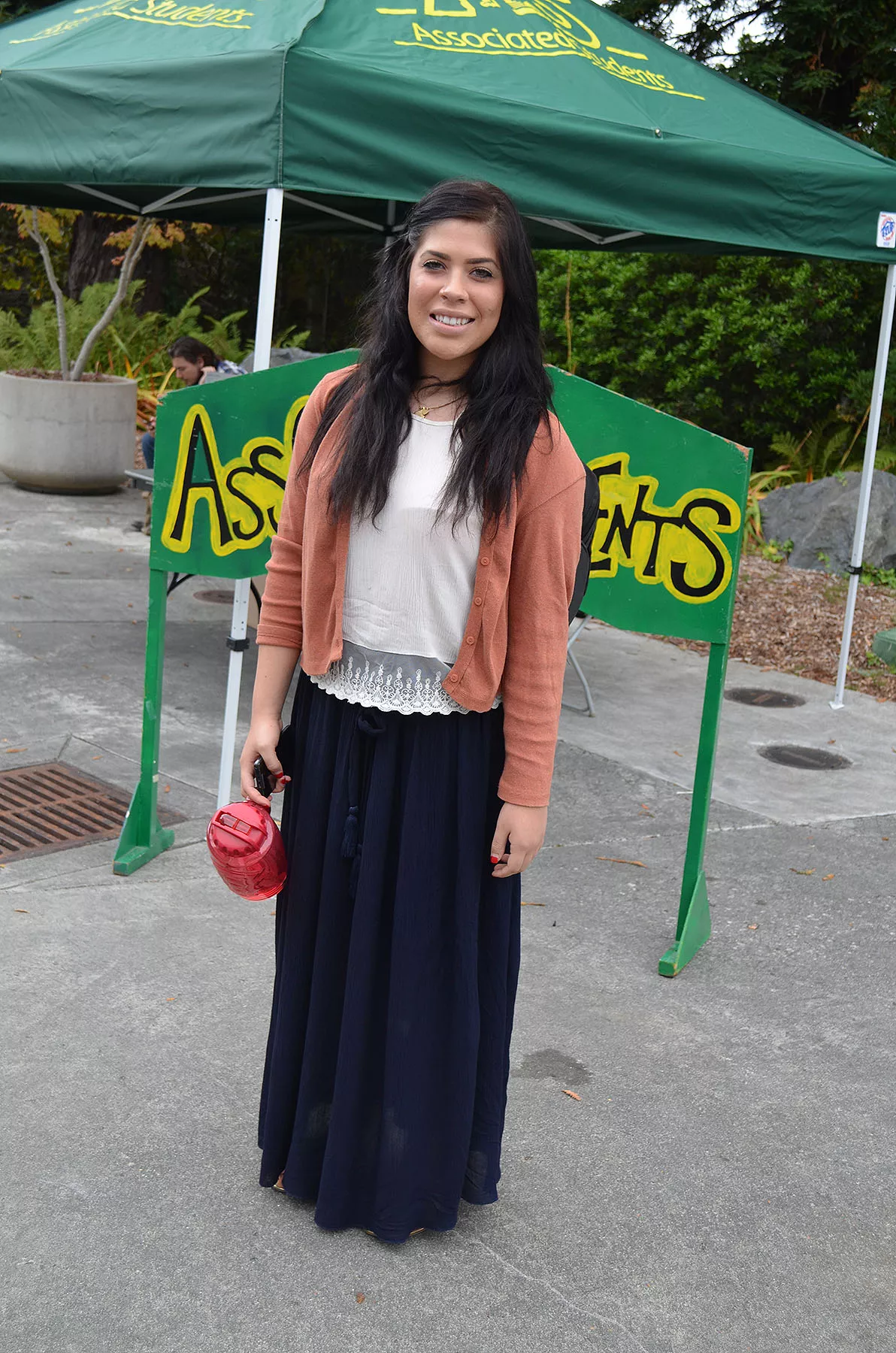 Photo by Sharon Ruchte
Senior business management student Michelle is originally from San Jose. She thinks Humboldt is a "cool place," and we think her long skirt is pretty cool, too.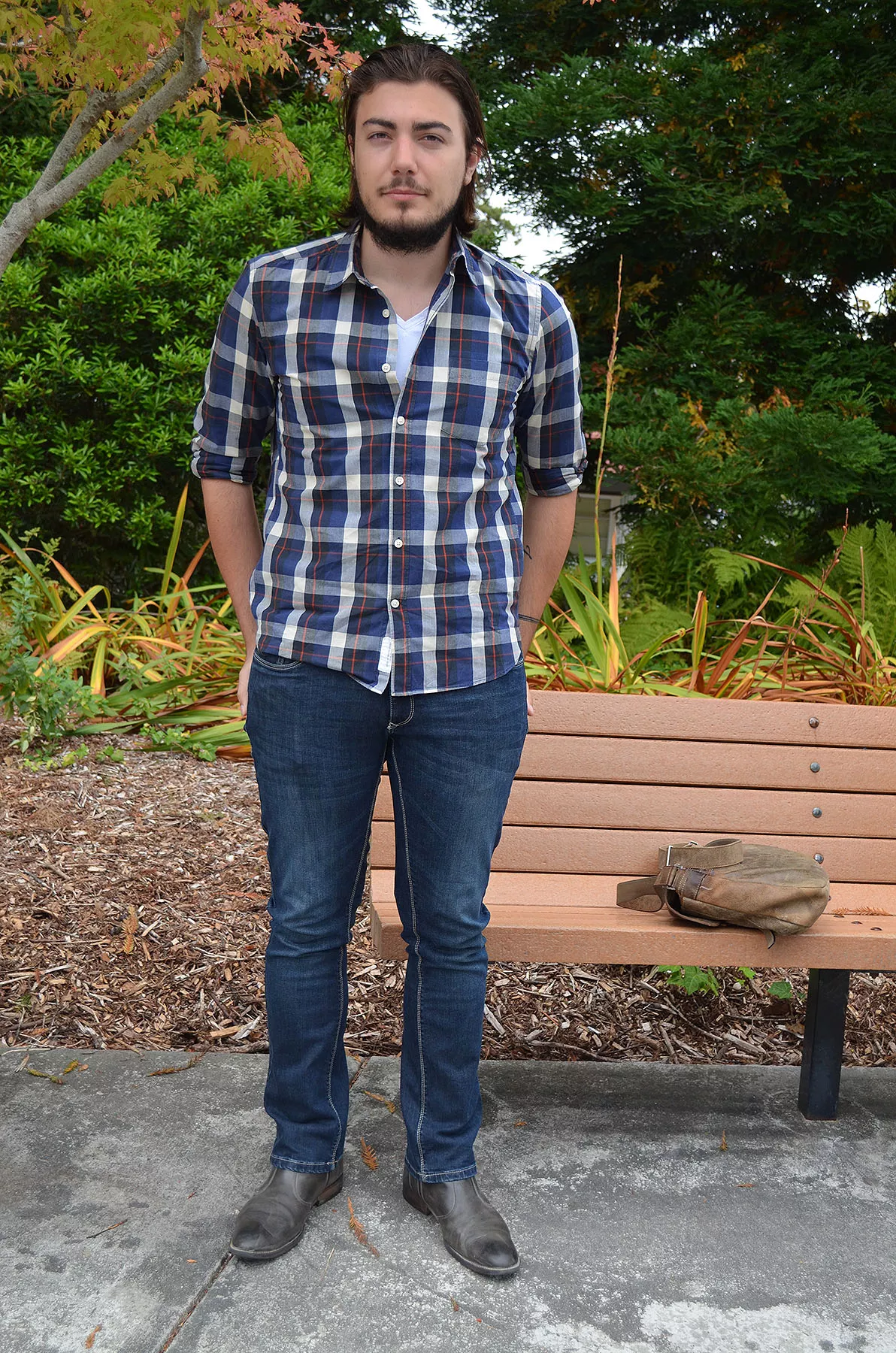 Photo by Sharon Ruchte
Frenchman Thomas is taking African studies and blending into his new environment with a plaid shirt, jeans and classic black boots.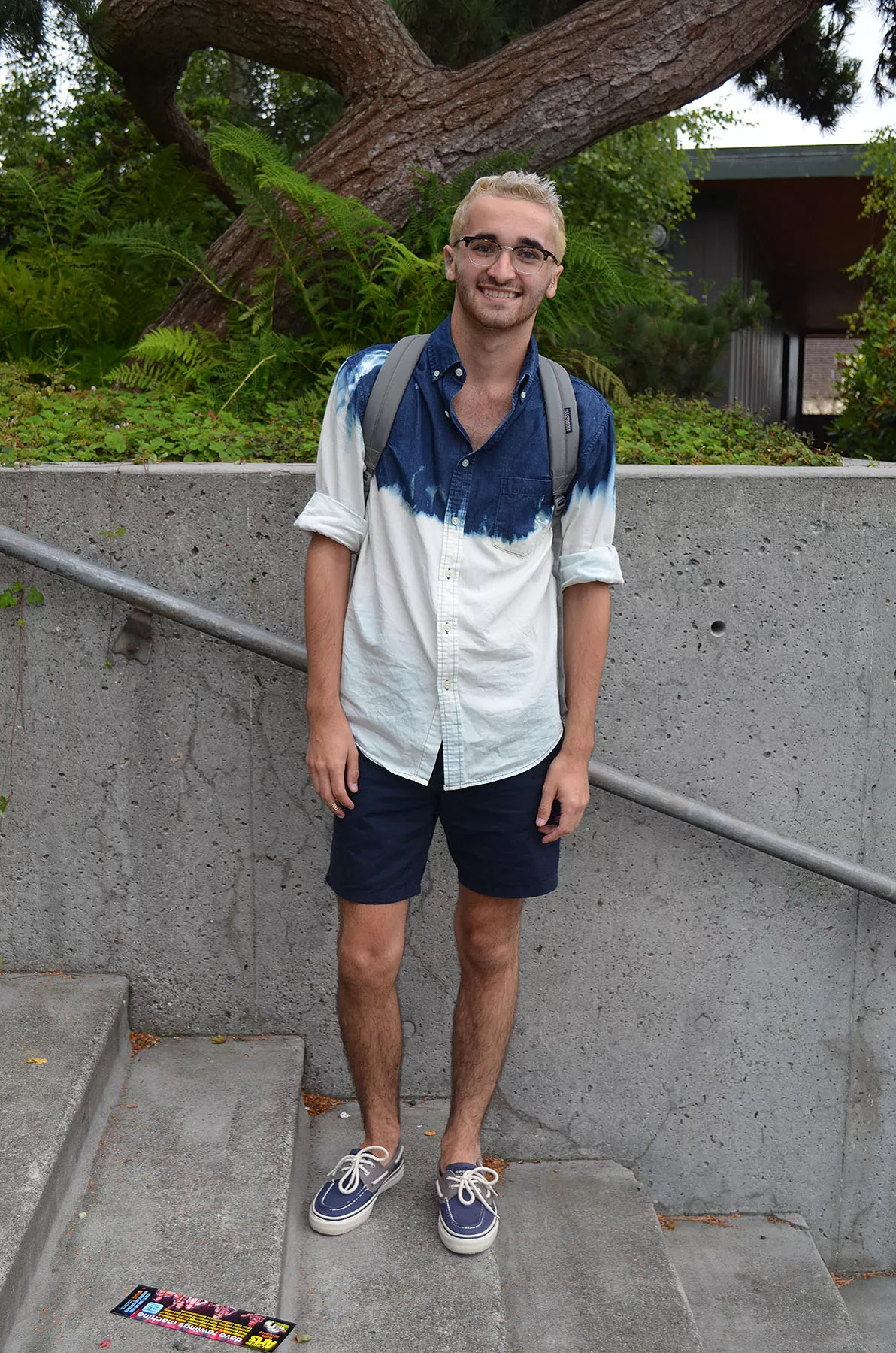 Photo by Sharon Ruchte
A.J., a junior math education student from Roseville is not afraid of a little bleach — he dip-bleached this shirt himself.
Photo by Sharon Ruchte
Junior child development major Brittany is from Victorville, but loves Humboldt and the Angels of Hope thrift shop. The shorts and tights she scored at Target.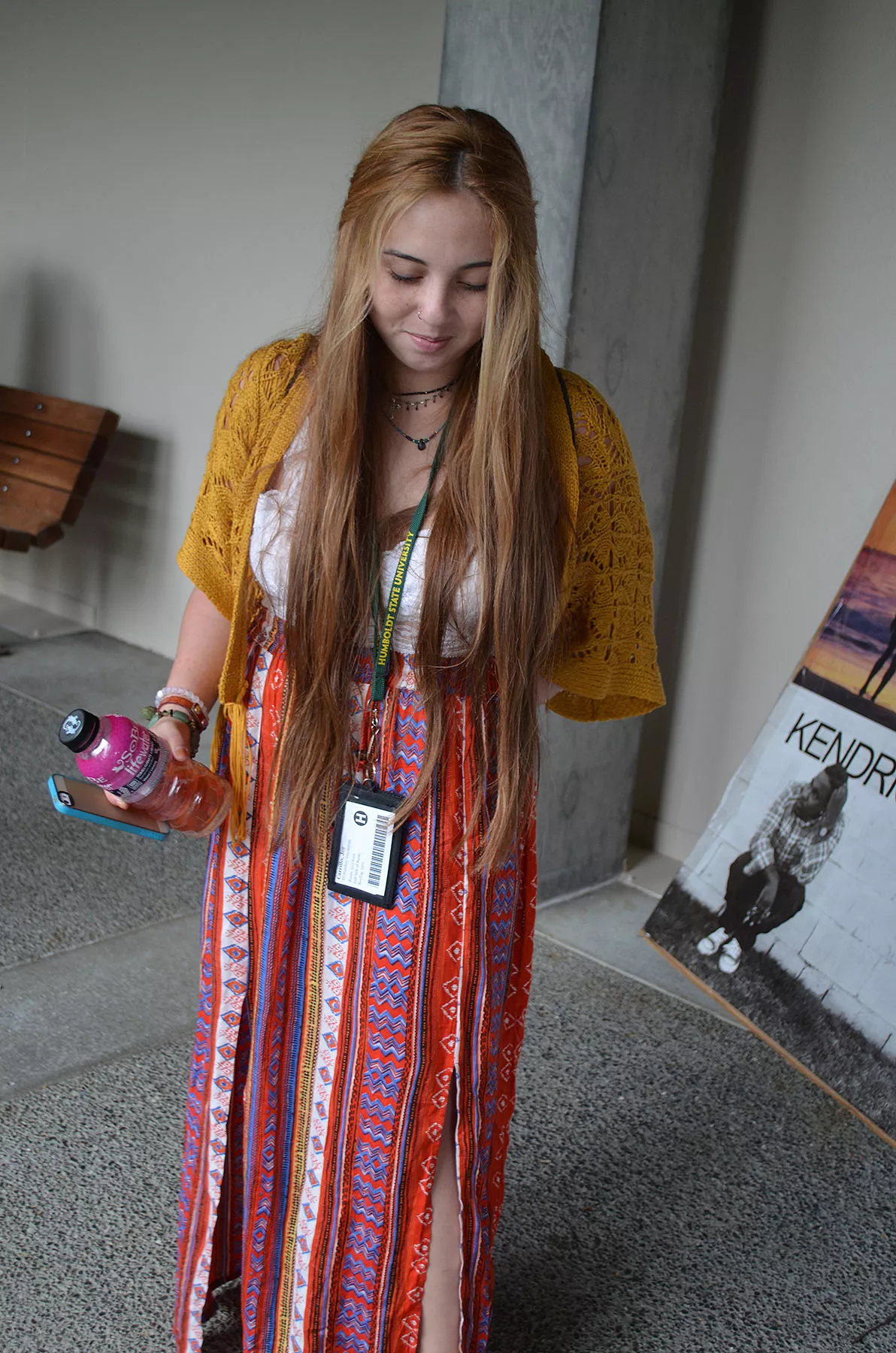 Photo by Sharon Ruchte
Joy Carrillo is from San Pedro and just starting liberal studies for elementary education. She's taking a liberal approach to Bohemian style in a yellow top and a brightly woven skirt.
Photo by Sharon Ruchte
Gabrielle Castro from San Rafael spent three years trying to move to Humboldt. "It's everything I had hoped for," she says. The freshman English major doesn't shop — her Bordeaux and faux-leather ensemble is 100 percent hand-me-down.
Photo by Sharon Ruchte
This junior forestry student from Sonoma, who goes by Tree Light, loves everything about Humboldt. He makes most of the clothes he needs, like all this happening here.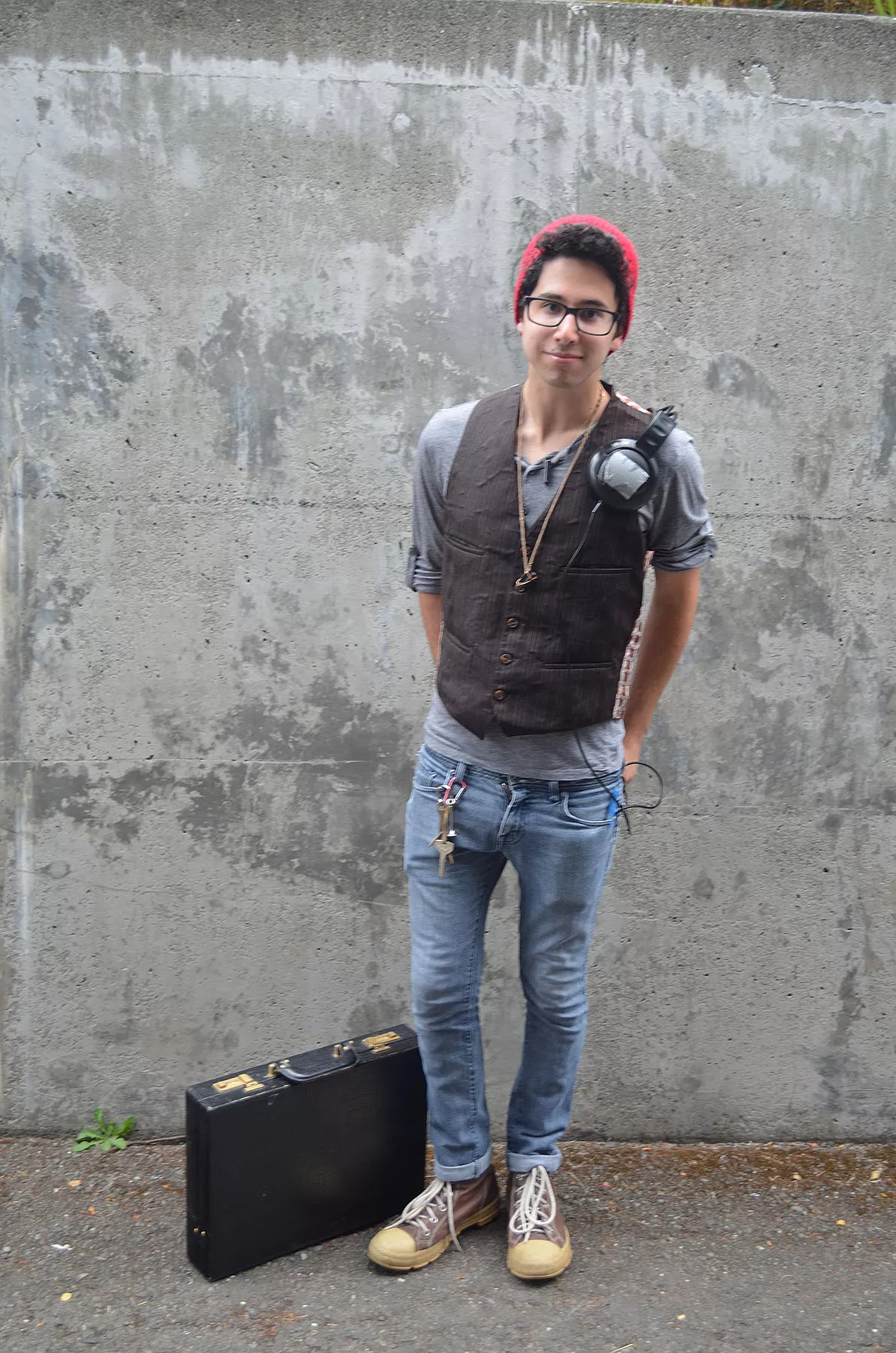 Photo by Sharon Ruchte
Jonathan Arevalo, a history student from Southern California, likes the forest landscape here. Not a lot of shopping for a student on a budget, but the briefcase, vest and headphones thing is working.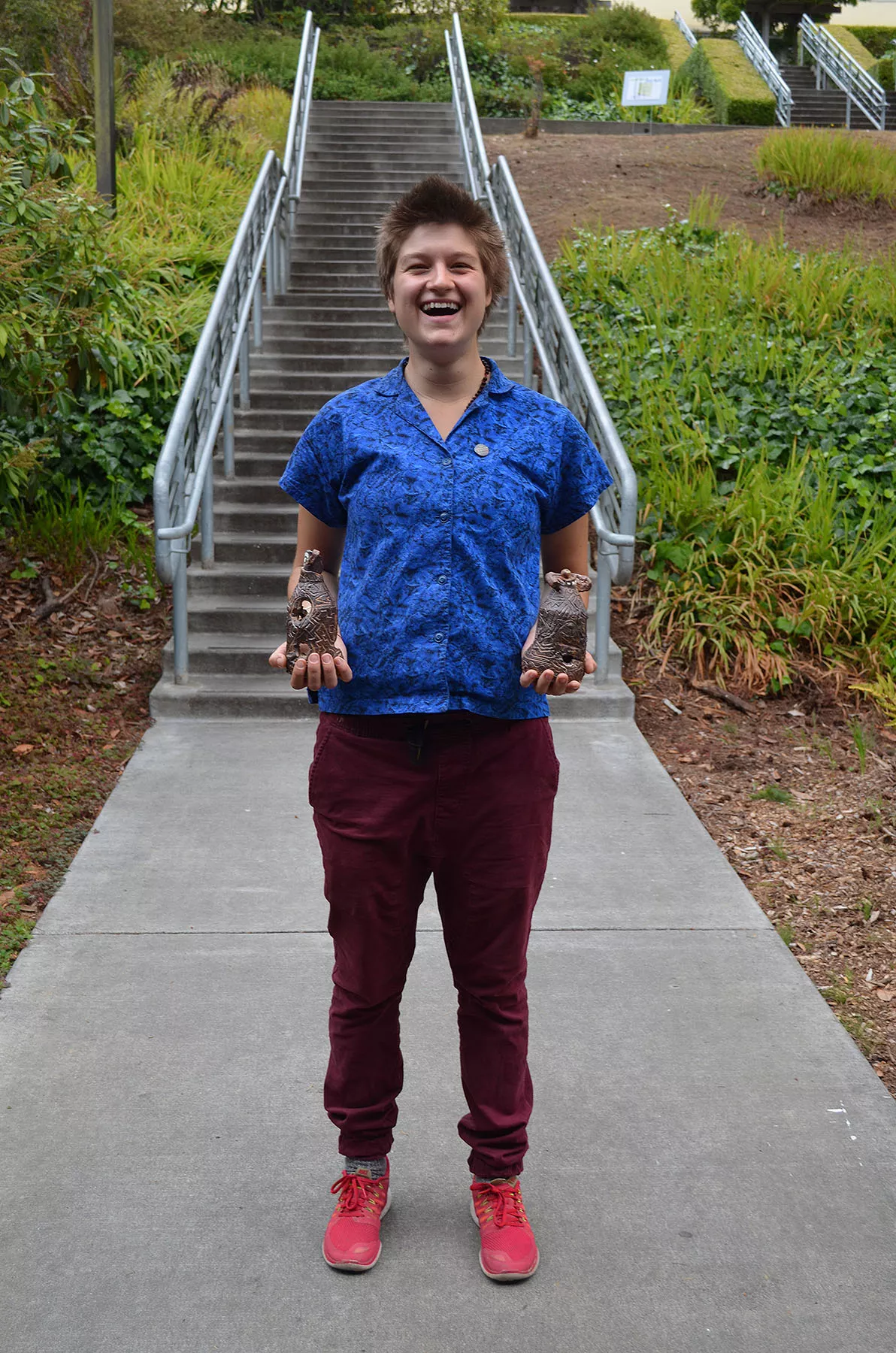 Photo by Sharon Ruchte
Maria Rechsteiner is a studio art student from Salt Lake City, Utah. She loves the "room for self-expression" here in HumCo. The "super senior" is super indeed in bright thrift store finds. Her own sculptures make pretty good accessories, too.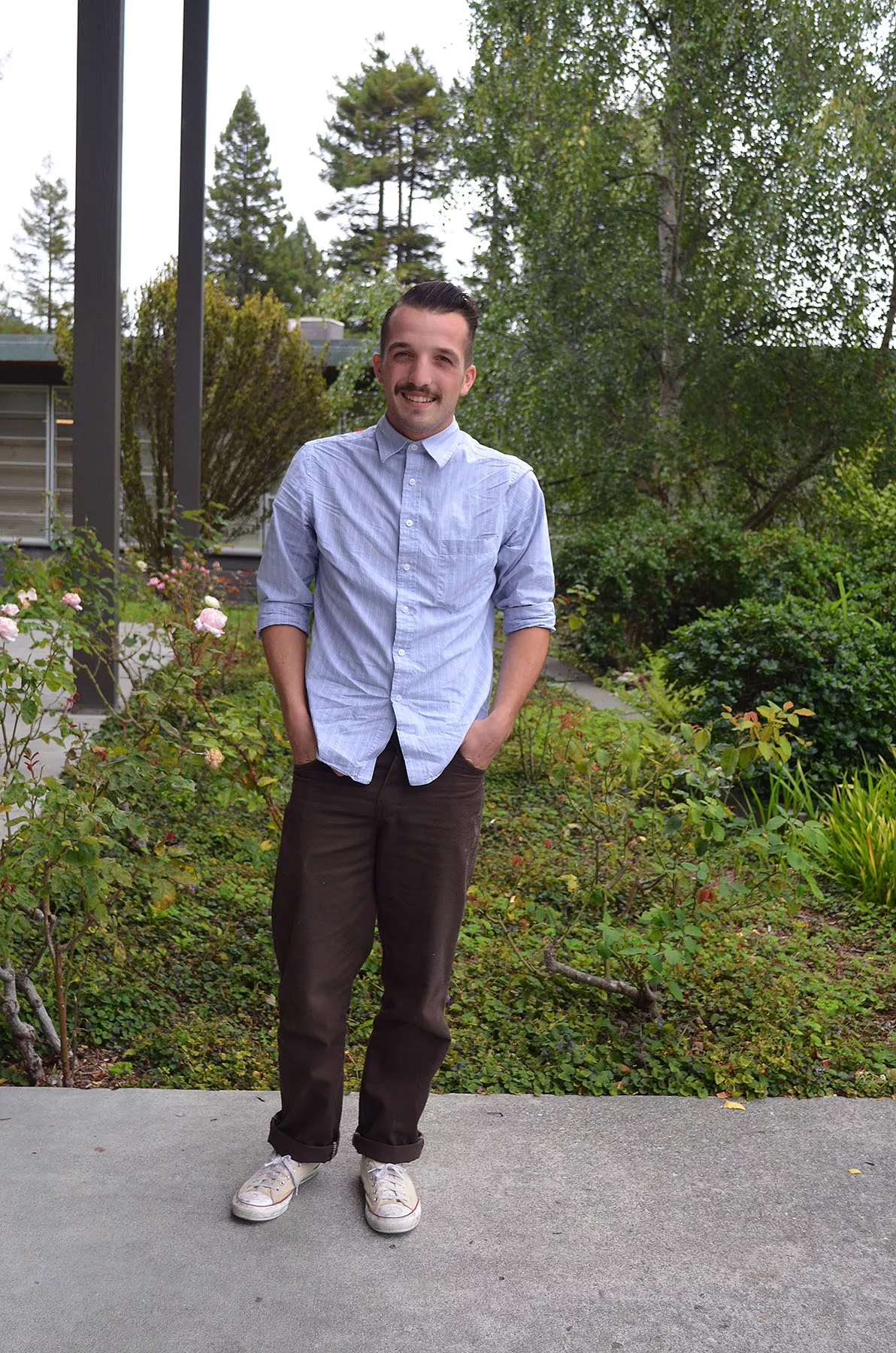 Photo by Sharon Ruchte
David Ball, a San Diego senior studying art education feels a little freer to express himself here, as he does in this sharp, blue button-up and Converse sneakers.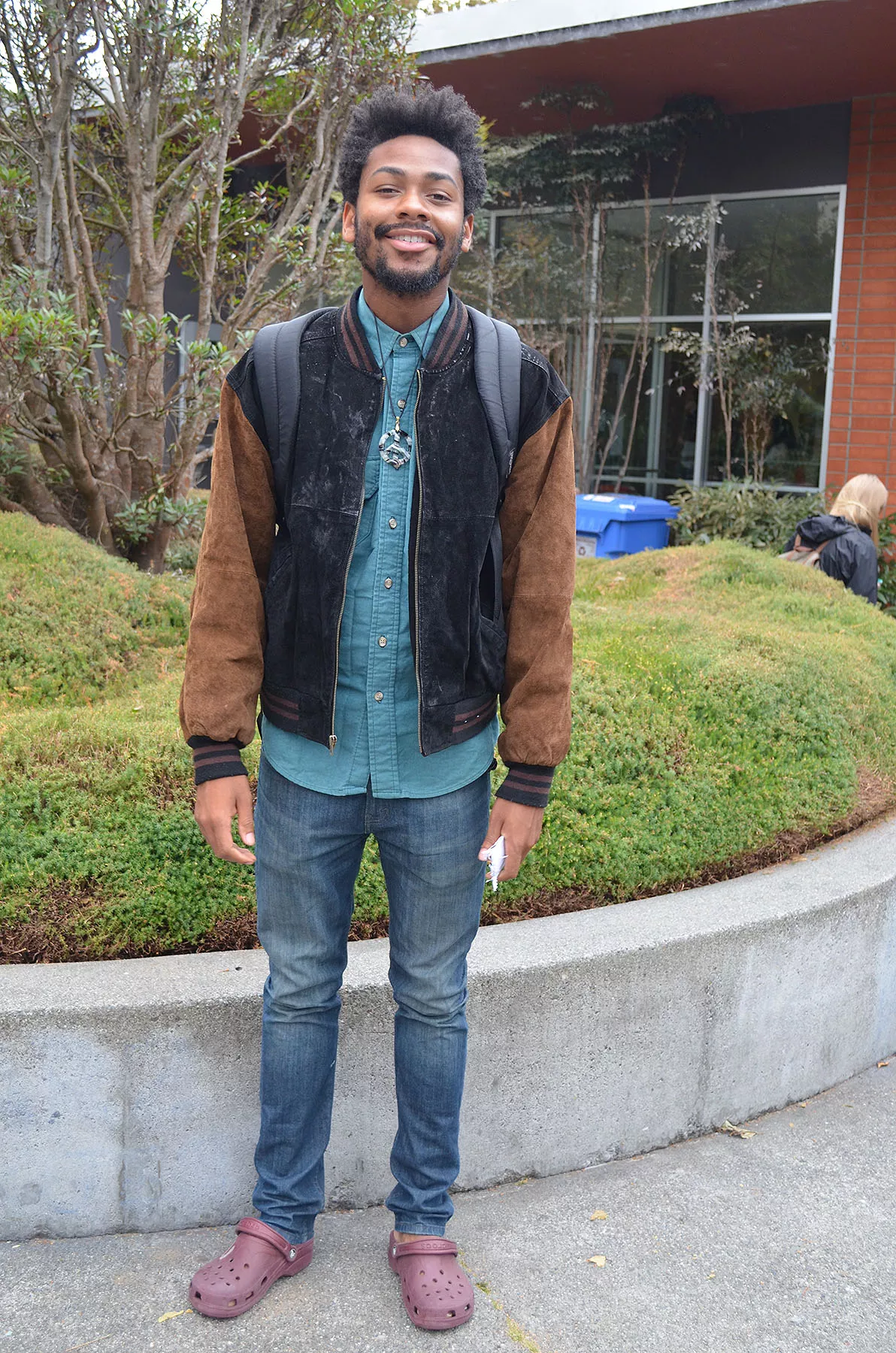 Photo by Sharon Ruchte
Aaron Green, a junior originally from the Bay area, is enjoying Humboldt after a few years in the hustle and bustle of New York for a couple of years. He's studying biology, but making history as the first man to pull off Crocs.