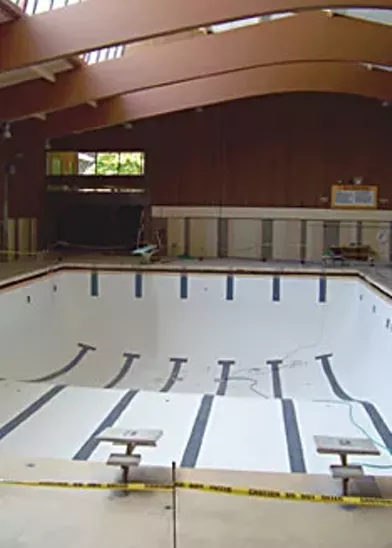 13 slides
Monday, 6:30 a.m.: Swimming instructor Jan Carroll sits on a table at one end of the 25-yard, six-lane Eureka High School pool going over paperwork. She's been here half an hour already, shepherding swimmers in her Eureka Adult School class as they do their laps. Light filters through the swampy bank of windows on one side of the building. Each lane has one or two swimmers: Their kicking legs and swooshing arms make a rushing creek sound underscored by an odd, rhythmic thumping made by one swimmer with a foot that hits the water at a hard angle. Shhhhh — thunk! — shhhhh — thunk! — shhhhh — thunk! Overhead, in the echoey recesses of the shabby, peeling-paint ceiling, a fan whines like a trapped puppy, Arrarp! Arrarp! Arrarp!
At first this soundscape seems funny. Then poignant. And, finally, hypnotic.
Jack Kemp hoists himself from the pool. He learned to swim in this very spot 35 years ago. He came back to it in 2006, and now starts three of his weekdays here.
"Now that I know it's closing, I wish I'd started sooner," he says, getting out. "It's a great way to start the day."
In the span of a few months, two of the four main, large public-access pools in the Eureka-Arcata area, where most of the county population lives, have shut down — the College of the Redwoods pool unexpectedly because of a major leak, and Humboldt State University's prematurely before its replacement was finished. Hardest of all, a third pool, the venerable one at Eureka High School, has been targeted for closure — perhaps permanently — in August because of state-driven budget cuts.
The HSU and CR pool closures have caused increased traffic at the Eureka pool and the Arcata Community Pool, as well as at pools in privately run health clubs like Scotia's Body Works (which leases it from Pacific Lumber Company, and in the future will lease the facility from Scotia School which is buying it), Eureka's Cal Courts and Arcata's HealthSPORT.
Not good for a place like this: an ocean pounding to the west, a half dozen rivers dashing through the mountains to the east, lagoons pooling at their intersections. A sprawling bay. Creeks and lakes not far off. The closure of one community access pool, let alone two or three, could cause ripples that mar the future: Some kid might not learn to swim and drown because of it. An instructor might lose work. A coach might leave for a job elsewhere. A disabled person might miss out on the awkwardness-vanishing magic of water. An adult with an injury might quit exercising, suffer pain, get laid off, grow fat. Many could simply miss their daily meditation.
Bleak. But, a partial rainbow arcs over this (excuse the expression) pool of tears: three new pools! True, two will be at private health clubs, with the attendant membership dues, initiation fees and high drop-in rates. And the third, at Humboldt State University, though shaping up to be a beauty with some unique instructional features, has a potentially annoying design quirk according to exacting critics.
This is a state-of-the-pools report.
Now it's 7 a.m.,this Monday in June at the Eureka High pool, and David Machuga has finished his hour workout. Time to get to his job. Since April the powerfully built 35-year-old has been swimming at this pool three days a week for therapy. He hurt his back last November laying sheet metal.
"It was amazing," he says. "Within one day I slept better at night. I woke up in the morning and I could get out of bed easily. I was really surprised how much it helped and how quickly I felt better. And I haven't had any troubles with my back since I started swimming. Except when they were closed for a couple of days, doing some remodeling — that was all it took where I was again waking up with back pain and soreness and feeling stiff."
After August Machuga may have to stop swimming. "The possibility, realistically, of me being able to go somewhere in Arcata isn't that good. With my work schedule, the only open window I have is in the early morning. And the really nice thing I like about the Eureka pool is there are no membership fees, no monthly dues. I paid $70 for four months, which is really reasonable."
Doug Baker finishes his laps. "What we're fighting here is old age, diabetes and obesity," says the middle-aged Baker, who's been swimming here four years.
Dolores Guffy, splashing out to shiver on the deck, says the first time she swam here she made it through just three lengths. "I thought I was going to die!" she says. She can do over 120 lengths now.
Junie Speier, 84, arrives to swim her customary 50 lengths (three-quarters of a mile) doing various strokes.
"This is the gal who takes a cold shower and brings a bottle of hot water to pour on her head afterward!" shouts Guffy when she sees Speier. Renovation on the adjoining gymnasium interfered with a gas line and now the showers have no heat. Ina Harris, 85, just arriving, also does the cold shower thing. Harris and Speier became fast friends one morning at the College of the Redwoods pool after they discovered they'd both been swimming at 6:30 in the morning there since 1988. When the C.R. pool closed in March, they came to the Eureka High pool.
People have been learning to swim and be lifeguards, to teach swimming, compete and stay fit in Eureka High's pool since 1950, when it was built — not counting the seven years the pool was closed in the last decade because of a leak and financial problems. (A nearly $400,000 injection from the Arkley family saved it that time. It and its adjoining gym also survived a demolition attempt — historic preservationists cried foul.) Now it will close again, perhaps forever. On May 8, the Eureka City Schools Board of Trustees voted to close the pool as part of a mandatory $3.5 million cut from the district's 2008-2009 budget. The pool was one of the smaller cuts — $60,000 — amid a slew of other painful projected cuts including 17 teachers, four administrators, a school closure, and numerous other staff and facilities reductions.
The pool was going to be closed June 13, but the board agreed to keep it open until mid-August so the City of Eureka's recreation department could hold its summer aquatics classes there as it does every year, which hundreds of kids attend.
The closure also will end a unique feature of Eureka High's P.E. curriculum: mandatory swim class.
On a day not long before school is out, Superintendent Gregg Haulk sits at his desk inside the Eureka City Schools office near Redwood Acres. He has doodled an elaborate, colorful, slightly nautical design all over his desk calendar. Haulk, who swam competitively as a kid in Huntington Beach and was a lifeguard in Shasta, says his board's decision to close the pool, like the other cuts, wasn't made blithely.
"We had seven or eight meetings, we did hours and hours of research to look at ways to save money," he says. "But the Eureka City schools suffer from two big problems: The governor is cutting education spending, and we have declining enrollment."
Maybe a grant can be found to keep the pool open, Haulk says. "But our big worry would be if there was some major mechanical breakdown."
Board member Judy Anderson says she had no difficulty deciding to close the aging pool. Over the phone, she mentions a report on the pool that a consultant with Aquatic Design Group made in April 2007. "In a nutshell, he was amazed that we were even able to operate this pool," she says.
The report noted the poor ventilation, the need for an updated main pool drain system, poor deck drainage, inadequate lighting, roof dry rot, insufficient filtration and other age-related issues that could cost a total of $1.6 million to fix. The report also noted that the pool itself is sound, the water quality surprisingly "excellent" and the facility well-maintained.
On a late spring afternoon, sunlight pours through skylights to warmly bathe the high wood beams of the College of the Redwoods' pretty natatorium before diffusing into a pale spotlight on the sad stage below: A swoop of empty pool, black stripes flowing across white expanse, dry from six feet down to 13 feet. A band of yellow caution tape encases the perimeter. It feels like an empty courtroom, echoes of some vague crime still hovering in the air, waiting for the jury to come back with its verdict. Nearby, the shallow, warm-water pool lies full, but unused.
The pools were closed March 11 upon orders of the North Coast Regional Water Quality Control Board, after the college notified the board that the big 240,000-gallon pool was leaking 12,000 gallons of chlorinated water a day into the ground — and had, in fact, been leaking since 2005, with the volume doubling over time.
Now the college awaits a feasibility and needs-assessment report from its consultant, Aquatic Design Group of Carlsbad.
Tim Flanagan stands beside the empty pool. Flanagan was recently promoted to director of facilities and planning. He's been here 18 years, and it was he who had to march out into the pool area and inform students and teachers that classes were over because the next day they would begin to drain the pool.
"We didn't have the choice," Flanagan says. "I'd have liked to keep it open till the end of the semester."
One hundred and forty students — 96 taking swimming for a P.E. requirement and 44 in the adaptive learning classes for disabled people — had to scramble for a way to finish their courses. Some of Jan Carroll's disabled students were able to transfer from the shallow pool to dry-land gym work. Students who needed the credits were allowed to finish in another sport. The 100-member Redwood Swim Club went to the Eureka High pool. Thirty to 40 recreational swimmers likewise had to find another pool. The Tri-Kids Triathlon, held every year at C.R., became a duathlon. The summer aquatics program, with its American Red Cross learn-to-swim classes, was canceled.
The pool will be closed until at least next spring. It'll be up to the board to decide, ultimately, what to do once it has read the consultant's report, Flanagan says.
This leak is a bit of an embarrassment for the college. In 2005, the pool was shut down because of a leak. Voters approved a $1 million bond, and $67,000 of it went to fixing the leak and another $67,000 toward fiberglassing both pools. The rest of the 36-year-old facility got a facelift, including ADA-compliance updates.
"We had contacted a consultant, and he told us how to do dye testing — that's how we found the leak," says Flanagan, who at that time was maintenance supervisor. Only one leak was detected, in the main drain line. "So, we replaced that line. Then we resurfaced it. Shortly after that, we noticed it leaking after we filled it in. But we had classes going by then, so we just kind of monitored it at that point. We had hoped to deal with it on our own terms."
Perhaps, say critics, if their contractor had torn up the deck, too, the new leak might have been discovered and dealt with right away.
In an office nearby, head football coach Dave Banducci sits amid photos of students playing football and basketball. A two-year All-American swimmer at Bakersfield College and a one-year All-American swimmer at Humboldt State, Banducci was hired in 1974 to coach C.R.'s swim team and teach aquatics.
"In 1978, the program was dropped because of Prop. 13 and a lack of students interested in competitive swimming," Banducci says.
The 45-foot by 75-foot pool is the best in the area, he says. "It's well-ventilated. It's spacious and doesn't look like a big box with sweat on the windows. It has big gutters so water can flow off quick, so it's a good competitive pool. And it's deep."
Construction dust is flying inside the glamorous natatorium on the HSU campus, part of the new $45 million physical education building. Big fans propped about the deck pull the dust clouds toward a massive wall of windows facing west, several of which can be slid open to let in the fresh air seemingly being manufactured on the spot by a thicket of trees nearby. Between the wall of glass, numerous skylights and the leafy view, this new pool surely will be the most aesthetic in the county.
"Our design team has created an indoor space that feels like the outside," says Traci Ferdolage, the project manager, who's walking around the unfinished facility in a hardhat this sunny Wednesday morning, pointing out the features — including an adjoining basketball stadium.
But some people have been grumbling, anyway. They say the pool, while a standard 25 yards and six spacious, 7-foot lanes, won't be competition-worthy because it has no gutters. Gutters dampen wave action by dispersing sloshed water. The new pool has what's called a scupper system, in which water exits the pool through regularly spaced rectangular openings in the sides. Motel pools have such systems, not competition pools, snipe critics. Ferdolage says the complaints are driving her crazy.
"We're not going to have a tsunami in there," she says, exasperatedly.
The set-up was what the university could afford, she adds. Gutters would have cost $500,000 — $300,000 for the gutter system and $200,000 to beef up the pilings under the pool to support it.
Besides, HSU dropped its swim team program in the 1990s — for budget and other reasons. The new pool will house the Kinesiology and Recreation Administration Department, which has courses especially relevant to this area, says Ferdolage.
"We have a well-regarded scientific diving program," she says. "We're right on the coast, and it relates to our oceanography major."
The pool has a steep drop off, from 5 feet to 13 feet. And, there's a "wet classroom" just off the pool deck. It's designed with drains in the floor and will have a table and chairs that can get wet. Scuba diving students, for example, can roll out of the pool, drop their gear on the deck, and go into the classroom for additional instruction or, perhaps, to watch a video. The pool also will be available for public drop-in lap swimming, kayak roll sessions and more.
It's scheduled to be plastered June 23, filled, then open by early July. "But no promises," says Ferdolage.
The old natatorium — a murky place, especially now that it's encased in plastic, will be demolished — which is why, says Ferdolage, it had to be closed earlier than expected. There is asbestos to remove and other preparations to make for the demolition, and that required feats of scheduling.
It's a Wednesday evening in June at the Arcata Community Pool, and the place is packed. In the far four lanes of the six-lane pool, the Humboldt Swim Club's Gold/Senior swimmers — the elite — hop to the commands of head coach Cameron Mull.
"Step up!" he shouts, as the swimmers climb onto the starting blocks. "Freestyle. Let's go no breath on this, no breath on this. Take your mark. Go! Tempo. Keep that head still. Step up. Take your mark. Go! All right: 25-sprint freestyle. Hips, legs, head still. Step up. Take your mark. Go!"
In the other two lanes: a big man who's been doing his laps faithfully, gracefully every day since he started a couple of months ago, and a woman in a swim cap. In one of the shallower side pools toddlers take fumbling jumps from the edge into their parent's arms, and in the other older kids learn to swim from an instructor. Later, the side pools will be filled with kayakers practicing their rolls.
Out in the lobby sits a stack of the Humboldt Swim Club's June 2008 newsletter. Amid news of a swim-a-thon and a beach clean-up day are little messages of distress. "Temporary Practice Schedule," says one headline, followed by, "All practices at Arcata Community Pool until the new HSU pool opens."
Another headline, "Taking A Leave From The Team," announces: "Due to the shortage of pool time we are not currently accepting new members. If you leave the team and choose to return we can not guarantee that there will be space and you may be placed on a waiting list."
There is, however, a sparkly bright bit of news in there, too: "NEWS FLASH: Ashley Vrieze, a former HSC member, just qualified for the Olympic Trials in the 100 meter backstroke in a time of 1:03.41!"
It's that last bit that HSC Head Coach Cameron Mull, who himself qualified twice for the Olympic trials, in 2000 and 2004, likes to focus on. Vrieze learned from a coach before his time, but he'd like to produce winners, too. But losing months of pool time has meant cramming all of his kids into four lanes and limited hours at the Arcata Community Pool, at a time when his team is growing in membership.
Mull moved here two years ago to take the head coach job. "I worked really hard to build up the Humboldt Swim Club," he says, in between shouting drills to his swimmers. "There were 85 members when I got here, and now we have 140. We need more pool space, not less."
Normally, his team divides its practice groups between the HSU pool and the ACP, which is run by the nonprofit University Center (also associated with HSU).
Even that's not Mull's ideal. He'd prefer a 50-meter pool with deep gutters.
"Our swim club has been talking about getting support funding to build a pool," Mull says. "It's real expensive, but other clubs have done it."
There are new pools being built in the county, besides HSU's. McKinleyville High School wrestling coach Virgil Moorehead, chairman of the Big Lagoon Rancheria, has been planning for years to build a new health club and pool in McKinleyville. Now it's happening. McKinleyville Community Services District General Manager Tom Marking got the plans a couple of weeks ago. And, the county planning commission has approved the project, says Mark Gaxiola, owner of Matson & Vallerga Architects, which is designing the health club.
The project could break ground by August.
"It'll have an indoor/outdoor pool — like at the Best Western," he says. "It'll be 25 yards long, with six lanes. And there'll be a 12-foot jacuzzi."
HealthSPORT, meanwhile, is planning to build a new club in Eureka, on Myrtle Avenue, with a pool similar to the one at its Arcata site.
But nobody has plans to build what a lot of local swimmers want: a nice, big, preferably 50-meter public pool.
"We need a municipal pool where kids can be taught," says Junie Speier. "It's probably the one sport where, if you learn it, it can save your life or somebody else's."
Speier was part of a group that pushed for Eureka to build a 50-meter pool back in the 1960s and '70s. It failed.
"That's pie-in-the-sky stuff," says Banducci. "Yeah, it'd be great. But I see a 50-meter pool right now sitting down at Yuba College, empty. Because they can't afford it. We do not have the numbers of people to support it."
But maybe a 25-yard municipal pool could work. Banducci and others say a model that has been successful elsewhere has been a pool jointly owned by a school and a city.
Eureka City Councilman Mike Jones, who learned to swim at Eureka High School (and whose son is the pool maintenance man), recently asked city staff for some figures on what it would take for the city to take over the pool. But he doesn't sound hopeful, explaining the situation over the phone. And he doubts the city could afford to build a new pool much as he wishes it could.
"You can't have a town without a swimming pool," Jones says. "But we're sitting here looking at five-bucks-a-gallon gas and kids' enrollment dropping. I don't see people coughing up bonds for a swimming pool. Although I think the best thing would be that people would see the light and open up their wallets."