It was shortly after noon on April 7, 2010 and Eureka's Problem Oriented Policing team was staking out room 103 at the Comfort Inn, a mustard-colored hotel on South Broadway with rooms that go for about $80 a night. The officers had been part of a task force that spent the prior afternoon canvassing Eureka looking for a bank robbery suspect — Ezra Keith Williams, a brash 26-year-old who goes by "EZ" and stands a slim 5 feet, 9 inches tall with brown hair, green eyes and a nasty heroin habit. They knocked on doors, questioned Williams' associates and leaned on their network of informants.
Earlier that day at about 7 a.m., detective Ron Harpham thought he'd caught a break. It was a call from a confidential informant who reported that Williams — a known heroin user who was "always broke" — was flashing money and had holed up with his girlfriend in the Comfort Inn. Within about 30 minutes, Harpham had instructed the POP team to "sit on" the hotel to make sure nobody matching Williams' description left the property while the detective put a search warrant application before a Humboldt County judge. The judge authorized the search shortly before 11 a.m. and Harpham went down to the Comfort Inn and got a key to room 103 from the manager.
By 12:30 p.m., officers had staged outside the door and Harpham turned on his digital voice recorder before knocking loudly. Moments later, officers flooded in to find the room empty. On a small wooden desk against one of the room's walls, detective Todd Wilcox noticed a note, written in all caps on a Comfort Inn notepad: "MISSED ME PIGS!! CATCH ME IF YA CAN!! EZ$." Harpham couldn't help but chuckle.
"I've got 28 years in and I've never seen that," Harpham says. "It was unique."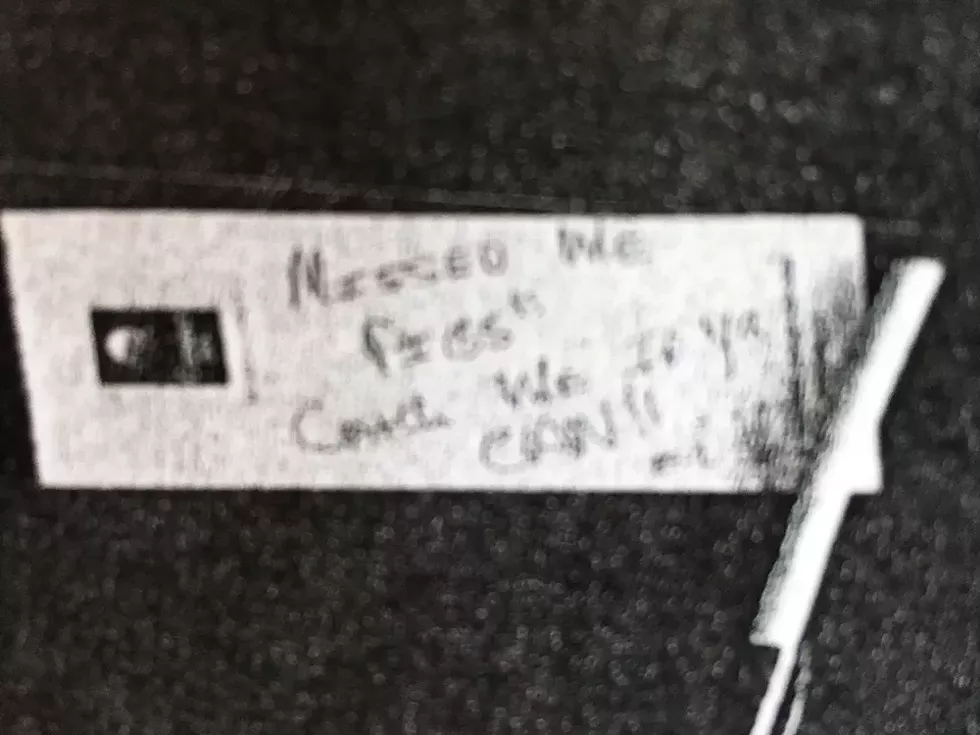 Submitted
The note, written on a Comfort Inn notepad: "MISSED ME PIGS!! CATCH ME IF YA CAN!! EZ$."
So what happened? Was Williams tipped or did he orchestrate the confidential informant's early morning call in an elaborate effort to prank the police?
"Who knows with Ezra," Harpham says, seeming equally at peace with both possibilities.
Either way, Harpham and EPD proved up for Williams' challenge. Twice.
Last month, Superior Court Judge Christopher Wilson sentenced the 34-year-old Williams to serve 51 years to life in state prison for a trio of armed robberies committed in late 2016 and early 2017, capping the story of Humboldt County's self-proclaimed notorious outlaw, a man responsible for the armed "take-over" robberies of three banks and two other businesses. As evidenced through hundreds of pages of court records and police reports reviewed by the Journal, as well as a host of interviews, Williams' is the story of a boy who grew up largely on his own in the Mattole Valley while his father did a prison bid for burglary. It's a story about the heroin epidemic strangling Humboldt County and a dope-sick young man needing $150 a day to maintain his addiction. And it's a story about a series of capers and the detective who doggedly worked the case until he got his man.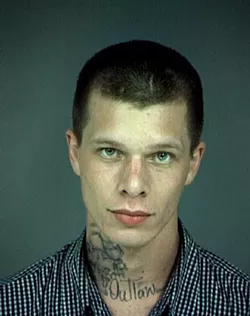 Submitted
Ezra Keith Williams
Harpham was in EPD's Criminal Investigations Division shortly after 9:30 a.m. on March 25, 2010 — two days after Williams' 26th birthday — when a call came over the police scanner: The Radio Shack on Myrtle Avenue had just been robbed at gunpoint.
Harpham's father Murl Harpham policed Eureka for 56 years before retiring in 2014, filling in as chief on four separate occasions, including one in which he infamously — and prophetically, in the eyes of some — said drugs were turning the community into a "hellhole." One might say Ron Harpham grew up at EPD. Now with the better part of three decades on the force, Ron Harpham has a reputation as a no-nonsense, hard-nosed detective. More than one local police officer has mused that if they were ever to wind up chalked off at a homicide scene, they hoped Harpham would catch the case.
About 15 minutes after the robbery call came in, Harpham arrived at Radio Shack and learned that two clerks had been in the store when a white male, appearing to be in his mid 20s, wearing jeans, a hooded camouflage rain jacket, a baseball hat and a blue bandana pulled over his face came in with a chrome handgun. He handed a brown paper bag to the clerk and told him to empty the register into it. The clerk put $481 into the bag and handed it back to the robber, who took the money and left. Another witness said she was returning to work at the neighboring Dollar Tree from a break that morning when she saw a young white male adult, a bit on the shorter side, take off a camouflage jacket and a baseball hat before getting into a silver early-2000s model Ford Mustang. The guy seemed to be in a hurry, which made him stand out, she told Harpham.
The clerks said the suspect hadn't been wearing gloves, so the detective inspected the place for potential finger and palm prints. He found some partials and ended up collecting four prints and swabbing the door for potential DNA evidence. Later that week he sent the DNA swab off to the Department of Justice's crime lab for testing, asking analysts to compare the results against the FBI database. He admitted he didn't "have any leads" in the case.
Illustration by Dave Orchard
About a week later, on the afternoon of April 6, the Bank of America in Henderson Center got hit. Witnesses Harpham interviewed were consistent on the basics: At about 2 p.m., a white male adult in baggy clothing entered the bank with his face covered, either by the collar of his t-shirt or some kind of ascot or scarf. Gun in hand, he ordered customers to the ground and told the clerks to empty their registers. He appeared nervous, taking almost $6,000 from the first clerk but fleeing before gathering cash from the other two, who were waiting with bills in hand. When it came to describing the suspect, all agreed he was on the shorter side — maybe 5 foot 6 or 5 foot 7 — but they described the color of his eyes, hair and clothes differently. Some said his gun was gray, others black. An employee of a uniform store next door reported that she saw a young man in baggy clothing loitering outside the bank suspiciously just before the robbery. Harpham showed her a still image of the suspect pulled from an ATM surveillance camera. "No," the woman said, it wasn't the guy she'd seen.
Back at EPD headquarters that afternoon, Harpham started reviewing surveillance still photos the bank had sent over. Officer Joshua Siipola walked by and looked at Harpham's computer. "That looks like Ezra Williams," Siipola said, sending Harpham scrambling to pull Williams' old case files. He didn't have to stretch far.
Williams had been arrested a few weeks earlier, on March 17, 2010. An officer on patrol had seen him driving a red 1995 Ford Mustang with a blue bandana hanging from the rear-view mirror, which constituted a vehicle code infraction. Officer Justin Braud pulled the Mustang over and later reported that Williams and his passenger Lee Adams acted twitchy and nervous, and Williams didn't have registration or proof of insurance paperwork. When Braud ordered them out of the car, a hollowed out ball point pen with heroin residue on it fell from the passenger door as Adams got out of the vehicle. In his report, Braud explained that he suspected the pen had been used like a straw to inhale heroin smoke, a method of ingestion known as "chasing the dragon."
In a subsequent search of the car, Braud found 12.5 grams of heroin, mostly bundled in .2 gram increments, as well as four hypodermic syringes and a soup spoon with burn marks and heroin residue on it. Braud then questioned Williams.
"Everything in the car was mine," Williams said, later explaining he had been a heroin addict on and off for the past six years. He told the officer he'd paid $600 for the heroin in the car but denied it was intended for sale. As a part of the investigation, Braud seized Williams' cell phone — a flip-top LG cell phone on an AT&T plan. When Braud searched it, he found text messages — like, "Hey bro I need 80 and I got work in like 45 minutes and I got wheels, can you help me out?" — that he believed were evidence of organizing drug sales. That afternoon, the phone rang and Braud answered it: "A male voice said, 'Hey EZ, it's Israel, can I get another gram?'" Braud played along for a bit then told Israel he was talking to the police.
"The subject accused me of lying, but then hung up when I insisted it wasn't a joke," Braud wrote in his report.
The case file came with Williams' jail booking photograph, which Harpham used to put together photo lineups. A team of detectives went back to Bank of America to see if their three witnesses to the bank robbery could identify Williams. They all did. Harpham had his suspect. Now he just had to find him.
Williams was born March 23, 1984, in Concord, California, the youngest of four children and only son born to Eugene Ward Williams and Jutta Mann. While Williams was still an infant, his dad was sentenced to serve 16 years in state prison for multiple first degree burglary charges, according to a probation report, leaving Williams to be primarily raised by his mother. The family lived in the Bay Area until moving to the Mattole Valley in Southern Humboldt when Williams was 7 or 8.
Gail Dube, a longtime teacher in Southern Humboldt whose daughter also grew up around Williams, says he was a smart kid who seemed adept at getting along with other children.
"They liked him," she says. "But he didn't have the structure and discipline to be able to develop his skills, even though his older sisters — and one in particular — really tried to provide guidance for him."
Some told the Journal Williams appeared to live largely alone in a trailer as a child, and Dube indicated she'd heard similar stories.
"He had a hard life and had to take care of himself since he was quite young, and, in the end, it's sad because he had a lot of potential," she says.
Williams started smoking marijuana when he was 8, drinking at 10 and did "a lot of psychedelics" as a teenager. He tried cocaine at the age of 16 and started "heavy use" of methamphetamines at 19. He told his probation officer he first smoked heroin when he was 18 and started injecting the stuff a few years later, eventually doing as much as 3 grams a day. Williams said he got into trouble for growing and selling marijuana while in high school, which ultimately led him to drop out in the 11th grade.
According to a probation report, Williams acknowledged that drugs "ruined his life." He went into a residential rehab program when he was 18 but only stayed about two weeks before leaving the program "to get high."
"He said he has thought about obtaining drug treatment many times throughout his life but always said he would 'do it tomorrow,'" states the probation report.
In November of 2006, Williams' girlfriend gave birth to their son and Williams moved to Sacramento to be with his new family. He stayed for a few years and stayed clean, "but when he returned to Humboldt County, he quickly relapsed," according to a probation report.
Williams has a number of arrests on his record — cannabis possession when he was 20, petty theft the following year, petty theft with a prior seven months later — but most seem to be indicative of someone struggling with addiction, not things that would foreshadow a quick escalation in criminal conduct.
It's hard to pinpoint what may have spurred Williams to pick up a gun and start robbing businesses. It's possible he was simply desperate after his March 17, 2010 arrest on possession with intent charges left him broke — without $600 worth of heroin and the $120 he'd had in his pocket at the time — and in need of a way to feed his addiction before he became dope sick, and was suffering the crippling symptoms of withdrawl. It's also possible something else was at play, as Williams was reportedly distraught over news that his good childhood friend, David Sequoia, had been shot dead by Eureka police on March 18, 2010.
When police searched Williams' Mustang while building an armed robbery case against him, they found a suitcase in the trunk. Tucked neatly inside were two editions of the Times-Standard. One had a front page story about the Radio Shack robbery, the other a story about Sequoia's death. The papers were dated just a week apart.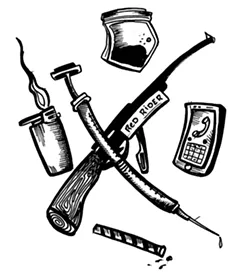 Illustration by Dave Orchard
In the days after Williams slipped through officers' grasp at the Comfort Inn, Harpham continued working the case.
Someone, meanwhile, continued sticking up local businesses.
A pair of gas stations on Broadway, Madsen Realty and even the Minor Theater in Arcata were all robbed at gunpoint in the two weeks after Williams held up Radio Shack. At about 2 a.m. on April 8, 2010, a young unmasked white male entered Sal's Off Broadway and tied up a female employee at gunpoint in front of witnesses before making off with an undisclosed amount of cash. Witnesses identified the perpetrator as Williams. When the Safeway store on Harris was robbed four days later, police again identified Williams as the perpetrator, making it a total of seven armed robberies he was suspected of committing in a span of about 14 days.
Eureka police and the sheriff's office issued press releases with Williams' picture and the Times-Standard ran front page stories documenting the search, even noting that then private citizen and current First District Humboldt County Supervisor Rex Bohn pledged a $1,000 reward for information leading to Williams' arrest. In the public eye, Williams was living up to the word tattooed across the right side of his neck: "outlaw."
The investigation took a turn April 13 when EPD arrested Williams' good friend Jamie Jeffrey on a possession charge. Harpham had been trying to use two known cell phone numbers of Williams' to track his movements but was having little luck. When Jeffrey was arrested, the detective pored through his phone and saw one number with a 415 area code repeatedly.
At 4:40 p.m. on the day of Jeffrey's arrest, Harpham called the number. A man answered and identified himself as "EZ" but quickly hung up when Harpham said he was a Eureka police detective looking to get in touch with Williams. Harpham then reached out to the U.S. Marshall's Office asking it to pull subscriber information for the number. He learned the phone had been purchased at about 2 p.m. on April 8 in Ukiah and was able to track its movements from there to Richmond, to Sacramento, then Vallejo. It was in Santa Rosa when Harpham called. Then it shut off. The phone turned on again briefly at around 10 a.m. the following morning at the U.S.-Mexico border in Chula Vista.
On April 16, 2010, at about 2 p.m., Harpham called the number again. Williams answered. Harpham recorded the call and, as Williams disputed his involvement in robberies of the gas stations, Sal's Off Broadway and Safeway, Harpham heard people speaking Spanish in the background.
"I will be honest with you," Williams told the detective, "I may have been involved in one or two, as I'm sure you know. It is ludicrous to say I was the man behind all seven of them. ... I am not going to admit guilt but I may have done one, maybe two. It was because I was strung out on heroin. I needed money. You know that stuff completely screws you up in the head. I realize I really did fuck up this time and I probably won't get away from doing some time."
Harpham kept the conversation going, saying he noticed a different "method of operation" between the robberies of Radio Shack and Bank of America compared to Sal's Off Broadway and a home invasion in Loleta.
"You weren't punching people, pushing people, tying them up and doing berserker shit, right? That wasn't your style," the detective offered.
"No. Exactly," Williams responded.
Harpham said he noticed while watching surveillance footage that, once everyone was cooperative, Williams didn't even aim his gun at anyone and instead kept it pointing toward the ground.
"Yeah," Williams answered. "My thing is I do not get off on hurting people. I've never done any shit like that before."
Before they got off the call, Harpham asked Williams if he "had a problem" with being named as the suspect in the robberies of Radio Shack and Bank of America.
"No," Williams said. "I can see me as the suspect on those. Yeah, those two. Any more I would have a problem with."
About a week later, on April 21, 2010, Williams was arrested at the border trying to enter the United States in a 1967 Volkswagen he'd purchased for $2,500. (Williams would later tell his father and girlfriend that he'd bought the car for a job he'd gotten in Tijuana and was entering the United States as a "task related to his employment" not realizing border patrol would check him for warrants in the system. He said he'd planned to live in Mexico for 10 to 15 years until things blew over.)
On April 28, a day after he was transported to the Humboldt County jail, Williams was taken to the Eureka Police Department for an interview. Harpham arranged for Williams to have an in-person visit with his father, girlfriend and 3-year-old son first, realizing it would likely be their last chance to be in a room together for some years. Harpham advised Williams the visit would be recorded.
Harpham sat in a viewing room and watched as Williams' girlfriend and father urged him to ask for a lawyer and refuse to answer anything when it came time to be questioned. He disregarded their advice and talked to Harpham.
The detective started by discussing Williams' alibis for the robberies that occurred after Bank of America, and Williams detailed how he'd left town and flitted around the Bay Area and Sacramento until getting Harpham's call, which "spooked" him and spurred him to jump a Greyhound to San Ysidro, buying a ticket under the name "Eddie Vasquez." Harpham then asked about Bank of America.
"Well, I heard you got pictures of me out front the day the robbery happened because I was in Henderson Center that day," Williams said.
"There's more," Harpham pressed.
"There is?" Williams asked, playing dumb.
Harpham then urged Williams "not to take the conversation" to a place where Williams was going to lie to him, that he "either needed to talk to me about the details of the robbery or not at all."
Williams requested a lawyer.
About six months later, Williams would plead guilty to both robberies — both strikes under California's three strikes law — in a deal that sent him to prison for seven years and three months. Harpham says he was consulted on the disposition.
"I remember saying, 'I don't care how much jail or prison time he gets — I want strikes," Harpham says, adding that he knew Williams would ultimately be released from custody and, when that happened, the detective wanted to make sure Williams knew he was out of second chances.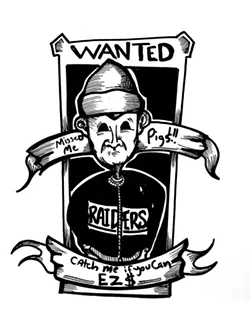 Illustration by Dave Orchard
In late September of 2016, Williams was released from state prison and it appears that one of the first things he did was visit his 10-year-old son, who was living with his mother in the Bay Area. Pictures posted to social media show the boy beaming and one commenter notes she's never seen him look so happy.
But according to his probation report, Williams had already committed a crucial error. As he was being released from state custody, he'd met with a parole agent who talked to him about post-release alcohol and other drug services. "No, I'm good," Williams replied. When he set up a Facebook account a month later he listed his occupation as "Hustlin."
Months later, when Harpham pulled Williams' phone records, he'd find that as soon as Williams activated his phone in early November of 2016, the bulk of his messages had to do with "buying and selling drugs, being dope sick and desperate, and owing people money."
"After more than six years in prison, he goes dirty right away," Harpham says.
On Dec. 23, 2016, Harpham caught an unusual robbery case. Two men had taken over Umpqua Bank. They stormed in brandishing black handguns and ordered everyone to the ground, instructing the tellers to empty their registers. The more typical bank robbery in Humboldt County is a covert affair — with someone approaching a single teller and passing a threatening note. Most don't know the establishment has been robbed until it's over. "Take-over" robberies, on the other hand, are rare. In fact, the detective said he didn't think he'd seen one since Williams hurriedly robbed the Bank of America almost seven years earlier.
In this case, the two suspects wore masks and gloves and worked in concert, yelling, "This is a robbery. No ink, no marked bills, no buttons and no silent alarms." They made sure they got cash from multiple tellers — totaling more than $11,000 — before fleeing eastbound through the parking lot.
On Jan. 12, the Subway on Myrtle Avenue was hit and the robbery followed a similar pattern. Two masked men barged in. One covered the employees as the other emptied the register before forcing an employee at gunpoint to open a change safe in the back.
The case caught a lucky break when an employee of Big 5 Sporting Goods commented on a social media post about the Subway robbery, saying he'd sold "two sketchy looking" guys a realistic looking Colt Defender BB gun about 30 minutes before the robbery. Deputies pulled the surveillance video of the sale from the sports store and shared it with Harpham.
"I saw the video and went, 'That's Ezra,'" Harpham recalls, adding that it didn't take long to then identify the other man as Rocky Keene, one of Williams' good friends.
About a week later, Williams and Keene struck again, this time holding up Tri-Counties Bank on F Street in Eureka shortly after 4 p.m. on Jan. 20, 2017. The robbery followed the same pattern, with Williams holding everyone at gunpoint as Keene had tellers empty $5,400 into a plastic bag.
As Harpham was building a case, analyzing surveillance video and trying to gather enough probable cause for search warrants, the investigation took an unexpected turn Feb. 1, 2017, when officer Ben Omey contacted Williams while he was waiting in his car by Jefferson Community Center. Williams was on parole, so Omey decided to search him and his vehicle. Omey called Harpham down to the scene.
"I wasn't ready (to get a warrant) but I was getting close," Harpham says. "We'd started putting surveillance on his trailer where he was staying down by Bear River."
When the detective arrived on scene, Omey told him he'd found a small gun safe in the back of Williams' car.
"(Williams) told me there was only checks in there but when I shook it, it went thunk-thunk-thunk," Harpham recalls.
The officers broke into the safe. Inside, they found a Colt Defender model BB gun, the same kind sold at Big 5. Harpham knew he had his man and he told Williams as much.
"He was denying it all the way, saying, 'Why are you doing this to me, Harpham? You're a piece of shit, Harpham," the detective recalls. "I had him twice. I don't think he likes me too well."
Harpham says he told Williams he could match the BB gun to the one used at Tri-County Bank, and that he had video footage that would connect Williams and Keene to the robberies of Subway and Umpqua, too. He looked at Williams and told him that even the plaid shirt he was wearing right then also matched the shirt one of the perpetrators was wearing in the Umpqua bank robbery.
"I'm going to book you on them, Ezra" Harpham remembers saying, adding that he was unprepared for what happened next. "He's standing there looking at me and I'm looking at him. Then he just closed his eyes and rolled forward and fell into the door and onto the ground and faked a seizure."
Harpham says he knows a real seizure when he sees one and this wasn't it, but nonetheless officers took Williams to a hospital where a doctor confirmed he had not, in fact, had a seizure. From the hospital, officers took Williams to jail. On the way, he defecated in his pants and smeared feces all over that plaid shirt.
Asked if that was a symptom of heroin withdrawal, Harpham says no.
"He did that to make me have to deal with this foul piece of evidence," the detective says. "He was not happy about getting arrested because he knew he was a two-striker and that if I had the goods on him, he'd be doing a lot more time than he did last time."
In April, after deliberating for just 45 minutes, a jury decided Harpham did have the goods, convicting Williams of three counts of armed robbery. Five months later, Judge Wilson handed down the sentence of 51 years to life in prison, musing that it is perhaps an "indictment of our prison system" that Williams fell almost immediately into old habits after being released from an almost seven-year incarceration.
Toward the end of last month, Williams' ex-girlfriend posted what appeared to be one of those anniversary reminders Facebook offers its users. This one was reminding her that it had been two years since she posted those photos of Williams, freshly released from prison, looking bright eyed and healthy, with his beaming son. "This just makes me so sad, enough said," she wrote, adding a teardrop emoji.
Unsurprisingly, Harpham takes a far less emotional and sentimental view of Williams' cases. The only thing really unique about them, he says, is that the same detective "had him twice." But this is how the system is supposed to work, he says. Police can't proactively deter every crime, he says, so when one is committed, it's incumbent upon detectives to build the strongest cases possible to put people away for as long as possible to provide a deterrent to everyone else.
In a 14-month span stretching from 2016 into 2017, Eureka saw more than 30 armed business robberies. EPD solved close to 90 percent of them, he said, and things have been pretty quiet since. Williams' case is a part of that, he says: "Now, people can say, you saw what happened to Ezra."
Harpham said detective work isn't like it used to be. Now with everyone connected to cell phones, social media accounts and whatever else, detectives can pinpoint suspects' movements and track their communications. Then, once they're in custody, you can monitor their phone calls and read their letters.
"You end up knowing a guy pretty well," Harpham says.
So what happened to Ezra Williams? Why the sudden shift from petty thefts to armed robberies?
"The popular trend is to blame everything people do on heroin addiction or to minimize what people do because they're addicts," Harpham says. "The thing is, there are a ton of addicts out there and they're not robbing banks."
The detective recalls interviewing Williams after his second arrest and asking him, why didn't he just start growing cannabis or something? Williams looked at him expressionless. "I'm not a farmer," he said. To Harpham, the implication was clear.
"Ezra's a bank robber," he says. "It's his M.O. When Ezra gets tight, he robs. That's clear. It's not guesswork. That's what he does. And I don't have to tell him, 'You shouldn't rob banks.'"
Thadeus Greenson is the Journal's news editor. Reach him at 442-1400, extension 321, or thad@northcoastjournal.com. Follow him on Twitter @thadeusgreenson.