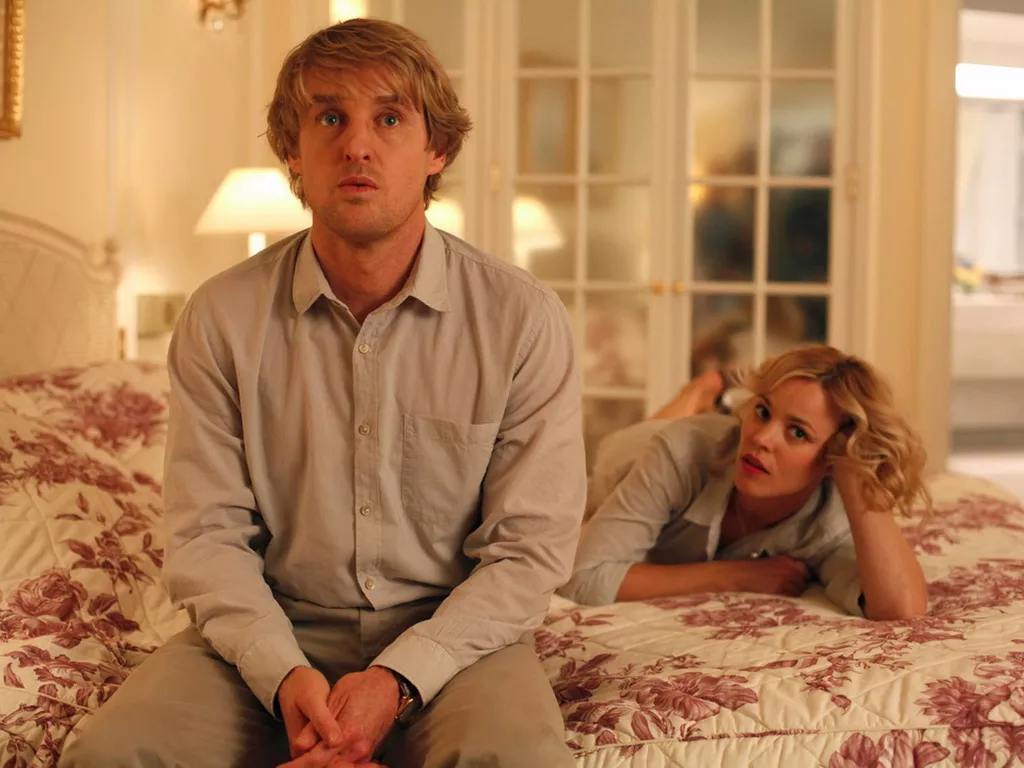 Reviews
MIDNIGHT IN PARIS. I'm in love with Woody Allen again. A committed devotee, I felt betrayed and abandoned by You Will Meet a Tall Dark Stranger last year. I'm happy to report, though, that the makeup sex provided by Midnight in Paris really is the best. Allen's latest is completely captivating, entertaining and seductive.
The film's premise is simple yet it yields a plot of lovely conceits and some complexity. After a loving series of stills of Paris, the viewer is introduced to a group of Americans in the city for business. Tagging along is Gil Pender (Owen Wilson, perfectly embodying the Woody Allen character) who, alone in the group, loves Paris and wants to settle there. A successful Hollywood screen writer, Gil aspires to be a "real" writer and has written a novel about the owner of a nostalgia shop.
His fiancée Inez (played with great bitchy brio by Rachel McAdams) along with her parents are consistently condescending to both the French and to Gil, but Gil finds an unusual refuge. Trying to get back to his hotel after getting a little drunk at a tedious party, he gets lost and ends up sitting on some steps. As bells toll midnight, a Twenties-model car stops and invites him along, magically, to 1920s Paris.
As it turns out, '20s Paris is Gil's "golden age" and it fulfills all of his nostalgic fantasies. He meets Hemingway (Corey Stoll), Dali (Adrien Brody), Gertrude Stein (Kathy Bates), who agrees to read his novel, and a host of other artists and writers. But, in particular, he meets Adriana (the wonderful and as always pitch-perfect Marion Cotillard), a sensual woman who has systematically worked her way through all the artists but who finds Gil naïve and refreshing. Gil, discontent with Inez, falls hard and imagines a beautiful romantic life with Adrianna in his golden age.
But that would be too easy and, as it turns out, Adrianna has her own golden age -- the "Belle Époque" of 1890s Paris. Ultimately, though, it is a shared enthusiasm for Cole Porter (played by Yves Heck) with young shop owner Gabrielle (a charming Léa Seydoux) that points Gil to his actual golden age.
As usual in an Allen film, the acting is uniformly excellent, with Wilson being the biggest surprise for me. And look for French First Lady Carla Bruni as a museum guide.
Midnight in Paris made me fall in love with movies all over again. With a nod to the Beach Boys, I'm led to say, "I wish they all could be Woody Allen films." Gil's golden age may not have panned out, but his golden city did. I can certainly relate to that. PG-13. 94m. At the Broadway.
SUPER 8. Nostalgia seems to be the watchword for local film openings this past weekend. As Midnight in Paris is Woody Allen's paean to a city and an era, so Super 8 looks back to its own golden age, the 1970s depicted in films of Steven Spielberg, who produced this film. As writer/director J.J. Abrams says in a recent Entertainment Weekly interview (June 17), "[T]he movie began as nothing other than an opportunity to visit that time in my life and Steven's life that was so important."
Set in 1979 in a small Ohio town, Super 8 opens as 13-year-old Joe Lamb's (Joel Courtney) mother is killed in a factory accident, leaving his father Jackson (Kyle Chandler, Friday Night Lights), a deputy on the town's police force, to raise his son.
Four months later, Joe and his friends, including Alice (Elle Fanning), are making a super-8 zombie film to enter into a competition when they accidentally witness, and film, a train wreck deliberately caused by a pickup truck driving onto the tracks. This sets in motion the primary narrative involving the Air Force, biology teacher Dr. Woodward (Glynn Turman), family drama, strange electric phenomena, kidnappings and a mysterious monster that may be causing the mayhem, all of which interferes with the movie the kids are trying to make.
In the end, the question is, will the kids be able to save the town despite governmental and parental interference while having a little romance on the side? Super 8 is a reasonably entertaining film, particularly if you were an early Spielberg fan. But it should have heeded its own advice. Early on, one of the young filmmakers observes that a film needs a plot, not just individual scenes. Super 8 could have used a more compelling plot. Still, it's good to see a major producer and director taking a chance on young, unknown actors. And, showing the completed super-8 film during the end credits was clever and funny. Too bad most of the audience missed it. PG-13. 112m. At the Broadway, Mill Creek, Minor and Fortuna.
-- Charlie Myers
Previews
GREEN LANTERN. Next year we get the superhero Big Three: Batman (Christopher Nolan's The Dark Knight Rises), The Amazing Spiderman (with Andrew Garfield replacing Tobey Maguire) and Superman (Man of Steel from 300 director Zack Snyder) -- plus The Avengers, a superhero all-star team. This year we must make do with slightly above average heroes like The Green Hornet, Thor and now Green Lantern. Ryan Reynolds stars as Hal Jordan, a test pilot who's given a magical ring (to rule them all?) by a violet-skinned, crash-landed alien. Yup, that old chestnut. 105m. Rated PG-13 for intense sequences of sci-fi action and violence. Opening Friday in 3D at the Broadway and Fortuna and in good old 2D at the Broadway, Minor, Mill Creek and Fortuna.
MR. POPPER'S PENGUINS. Based (loosely, it seems) on the 1938 children's book, this family film stars Jim Carrey as a daft, single-minded businessman who learns how to get down from, yes, emperor penguins (March of the Penguins, Happy Feet, Surf's Up ... is this meme played out yet?). See, it's funny because they look like they're wearing tuxedos, just like Mr. Popper! 95m. Rated PG for mild rude humor and some language. Opening Friday at the Broadway, Mill Creek and Fortuna.
The NBA playoffs are over, which means more movies at The Arcata Theatre Lounge. Friday at 8 p.m. the handsome movie house hosts director Wes Anderson's droll 2007 comedy THE DARJEELING LIMITED, starring Owen Wilson, Adrian Brody and Jason Schwartzman as three dysfunctional brothers who bond -- and scrap -- on a train ride through India. Gorgeous cinematography. Rated R. 8 p.m. On Sunday, Father's Day, you can take Dad to see Steven Spielberg's dinosaurs in JURRASIC PARK. Rated PG-13. 6 p.m. And, ooh, look! Monday there's penguins! Surfing penguins! In celebration of International Surf Day, Humboldt Surfrider presents SURF'S UP (2007), a computer-animated mockumentary that mimics the style of classic surf docs like The Endless Summer. This PG-rated film is free for all ages, but donations benefit Humboldt Surfrider. Doors at 6:30 p.m., movie at 7. Finally, next Wednesday is another SCI-FI PINT AND PIZZA NIGHT, this time featuring Italian sword-and-sandle epics HERCULES AGAINST THE MOON MEN (1964) and THE GIANT OF MARATHON (1959).
-- Ryan Burns
Continuing
BRIDESMAIDS. A lovelorn maid-of-honor navigates her way through wedding weirdness with hilarious results. Rated R. 125m. At the Broadway, Garberville, Mill Creek and Fortuna.
THE HANGOVER 2. Like the first one, but more Thai. Rated R. 102m. At the Broadway, Mill Creek and Fortuna.
JUDY MOODY AND THE NOT BUMMER SUMMER. Eponymous third-grader's school break is, to quote the poster, "supermegatotally thrilladelic." We'll take her word (?) for it. Rated PG. At the Broadway and Mill Creek.
KUNG FU PANDA 2. Jack Black voices the adorable and dangerous Po. Again! Rated PG. 90m. At the Broadway, Fortuna and Mill Creek.
PIRATES OF THE CARIBBEAN: ON STRANGER TIDES. Disney plants another money tree. Rated PG-13. 137m. At the Broadway, Fortuna and Mill Creek.
WATER FOR ELEPHANTS. Reese Witherspoon and Robert Pattinson fall in love because of their compassion for a special circus elephant. Rated PG-13. 121m. At the Garberville.
X-MEN: FIRST CLASS. The origin story: Mutants trigger, then resolve, the Cuban missile crisis. Who knew? Rated PG-13. 132m. At the Broadway, Mill Creek, Minor and Fortuna.