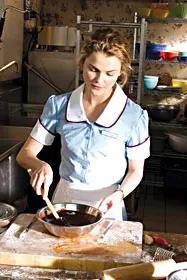 PREVIEWS
Based on my experience with Fantastic Four, I found nothing particularly fantastic about the four. Nonetheless, opening Friday, June 15, is Fantastic Four: Rise of the Silver Surfer , which brings back director Tim Story and the same quartet of actors as Mr. Fantastic (Ioan Gruffudd), Sue Storm (Jessica Alba — so beautiful, such a bad actor), Johnny Storm (Chris Evans) and The Thing (Michael Chiklis, who just survived the penultimate season of The Shield). Dr. Doom (Julian McMahon, taking a break from nipping and tucking) is also back, but added to the mix is a doom-saying, intergalactic surfer known as The Silver Surfer. I can feel the spray (or is that ions?) already. Rated PG for scenes of action violence, some mild language and innuendo. 102 m. At the Broadway and Mill Creek.
Sixteen-year-old Emma Roberts (daughter of Eric, which makes her Julia's niece) updates (I hope) Nancy Drew , a character from the popular books that were first published beginning in 1930 when roadsters and rumble seats reigned. In this film, written and directed by Andrew Fleming, Nancy goes on a business trip to L.A. with her father (Tate Donovan, Jimmy Cooper on the lamentably dead series The O.C.), where Nancy investigates the murder of a movie star. I bet she figures everything out. Rated PG for mild violence, thematic elements and brief language. 109 m. At The Movies, Mill Creek and The Fortuna.
Finally, The Valet (La Doublure) is a French farce about a philandering billionaire businessman who tries to convince his wife that the beautiful super-model Elena (Alice Taglioni) is not his lover, which she is. His strategy? He convinces a passing valet to move in with Elena and pretend to be a couple. Why don't I ever walk by a rich guy at the right moment? Written and directed by Francis Veber, the film stars the excellent Daniel Auteuil (Caché) as the straying businessman. Rated PG-13 for sexual content and language. 95 m. At the Minor.
REVIEWS
OCEAN'S THIRTEEN : Ocean's Thirteen is complete fluff that, however, has a lot more enjoyable moments than Twelve. I should begin by saying that the viewer will probably have a lot more fun with this film if she/he doesn't try to figure out all the plot minutiae. In fact, I'm convinced that director Steven Soderbergh has, to a small degree, used the Twin Peaks strategy in this film without stretching it out interminably, as David Lynch did in that series. That is to say, many of the short scenes in the film have more to do with the interchanges between the actors than they do with plot advancement. It is only in the longer scenes, many of them accompanied by nice tracking shots, that the plot takes center stage. It's not that the film doesn't have a plot. Danny Ocean (George Clooney) has come to Las Vegas to avenge his former mentor Reuben Tishkoff (Elliot Gould), who has been betrayed in a casino business deal by Willie Bank (Al Pacino). In fact, Reuben is so upset that someone who once shook Frank Sinatra's hand could betray him that he has what we professionals call a myocardial infarction. So Danny O and the gang set out to get Reuben's money back and wreak havoc upon Willie's spanking new casino as well. Along the way, a factory in Mexico, sets of diamonds that Willie has won with past casinos, an "impregnable" computer system and the seduction of Willie's executive director Abigail Sponder (Ellen Barkin) are thrown into the mix. But who cares? The primary fun in this film is the interchanges between smooth-as-silk actors, who clearly enjoy working with each other, particularly those between Brad Pitt (as Rusty Ryan) and Clooney, who only need to speak in fragments as they already know each other's thoughts. And, as in Ocean's Eleven, the payoff is skillfully handled and a lot of fun to watch unfolding, particularly when Soderbergh is able to put one over on the viewer. Sadly, though, I thought Barkin was totally wasted in the film. The seduction scene between her and Matt Damon (as Linus Caldwell, complete with a fake nose) was vaguely reminiscent of the fumbling, and much funnier, one in The Big Easy (where Barkin's character tells Dennis Quaid's, "I've never been very good at this."), but overall her character is virtually extraneous. Al Pacino seems to have settled into an uninventive sameness, but that works all right here. Soderbergh makes good use of editing to move along the narrative, the in-jokes are funny and the film works well on its own terms. I'm sorry about Barkin, but my heart's been broken before; I'll just have to rent Siesta or Sea of Love. Rated PG-13 for brief sensuality. 132 m. At the Broadway, Mill Creek, the Minor and the Fortuna.
WAITRESS : I have to admit that from the beginning of this beguiling film, when I discovered that the pig of a husband was named Earl, I had trouble getting the Dixie Chicks song "Goodbye Earl" out of my head. But that is my problem, because, as this film shows, in real life, as opposed to country song lyrics about revenge, the solution to personal difficulties lies within yourself rather than external saviors. Writer/director Adrienne Shelly's final film may be on a small scale, but it seems note-perfect in depicting its particular slice-of-life. The story revolves around Jenna (Keri Russell, the title character in Felicity; MI:III), a pie-baking waitress who not only is in a truly awful marriage (to Earl, played to the sleazy hilt by Jeremy Sisto from Six Feet Under) but also finds herself unhappily pregnant after sleeping with Earl while drunk. Jenna's one dream is to get away from Earl, and to that end she is saving little bits of money. But she is unable to confide her innermost feelings to her two co-workers, Dawn (portrayed as comically mousy by director Shelly) and Becky (a take-charge performance by Cheryl Hines from Curb Your Enthusiasm), who, at any rate, have their own problems. Salvation of sorts seems to come at the hands of fumbling but very handsome young obstetrician Dr. Pomatter (Nathan Fillion), a new arrival in town, that Jenna goes to for her pregnancy test. Finding no joy in her marriage or prospective motherhood, Jenna embarks on an affair with the married doctor and seems to have found someone she can pour out her heart to. But Jenna's inner self is revealed primarily in voice-over, an often-clumsy film choice that is nicely justified here by having Jenna write letters to her unborn child. In the end, though, appropriately, Jenna must deal with her situation on her own for the most part. Shelly has also fleshed out all of the secondary characters in this film, including the outwardly irascible caf?© patron Old Joe (Andy Griffith) that the other two waitresses avoid and the taskmaster diner owner/cook Cal (Lew Temple), even while she keeps the focus on Jenna. A lot of the film's wry humor is contained in the names of the pies that Jenna makes, such as "Earl Murders Me Because I'm Having An Affair Pie" ("You smash blackberries and raspberries into a chocolate crust.") The film, which is very effectively edited and very well acted, has a sly satiric style along with its focus on serious issues; in fact, the film's style lifts the story into the realm of fable without slighting the very real obstacles that Jenna and the other characters must deal with in their lives. Although Jenna ultimately works out her course on her own, she does get an unexpected boost from Old Joe, which just shows that even in "real life," justice is sometimes served. Only 40, Adrienne Shelly died much too young and much too senselessly, but if she has to have a legacy, Waitress will serve that sad purpose well. Recommended. Rated PG-13 for sexual content, language and thematic elements. 117 m. At the Broadway.
CONTINUING
28 WEEKS LATER . Assuming they've stamped out a nasty virus, health officials give Brits the go-ahead to re-inhabit London. Big mistake. Rated R. 109 m. At the Broadway.
AWAY FROM HER . A man comes to terms with his wife's (J. Christie) Alzheimer's disease. Based on A. Munro story, directed by S. Polley. At the Broadway.
AVENUE MONTAIGNE . Country naif moves to Paris, takes job at café, inspires world-weary city-dwellers with her doe-eyed charm. At The Movies.
HOSTEL 2 . They kill your brain first. At the Broadway, Mill Creek and the Fortuna.
KNOCKED UP . In J. Apatow's latest comedy of manners, no-account schlub makes gorgeous TV star pregnant. They marry. At The Movies, the Minor and Mill Creek.
MR. BROOKS. K . Costner is a serial killer; W. Hurt is his imaginary friend; Demi Moore is the hot cop who pursues them. They all live in Portland. At the Broadway.
THE NAMESAKE . The son of Indian immigrants struggles to find his identity in NYC. Directed by Mira Nair (Monsoon Wedding). Based on the book by Jhumpa Lahiri. Rated PG-13. 132 m. At the Broadway.
PIRATES OF THE CARIBBEAN: AT WORLD'S END . The action moves to Singapore where Davy Jones (Nighy) and Capt. Jack (Depp) continue their battle, with the profession of piracy in danger of extinction. Rated PG-13. 178 m. At the Broadway, Mill Creek and the Fortuna.
SHREK THE THIRD . When the lovable ogre is crowned King he tries to find someone more suitable for the role. Voices by M. Myers, C. Diaz, E. Murphy, A. Banderas. Rated PG. 102 m. At The Movies, Mill Creek and the Fortuna.
SPIDER-MAN 3 . The web-slinger (T. Maguire) tussles with baddies and wrestles internal demons. Rated PG-13. 150 m. At the Broadway.
SURF'S UP . Penguins surf, kids delight. Animated blockbuster. At The Movies, Mill Creek and the Fortuna.