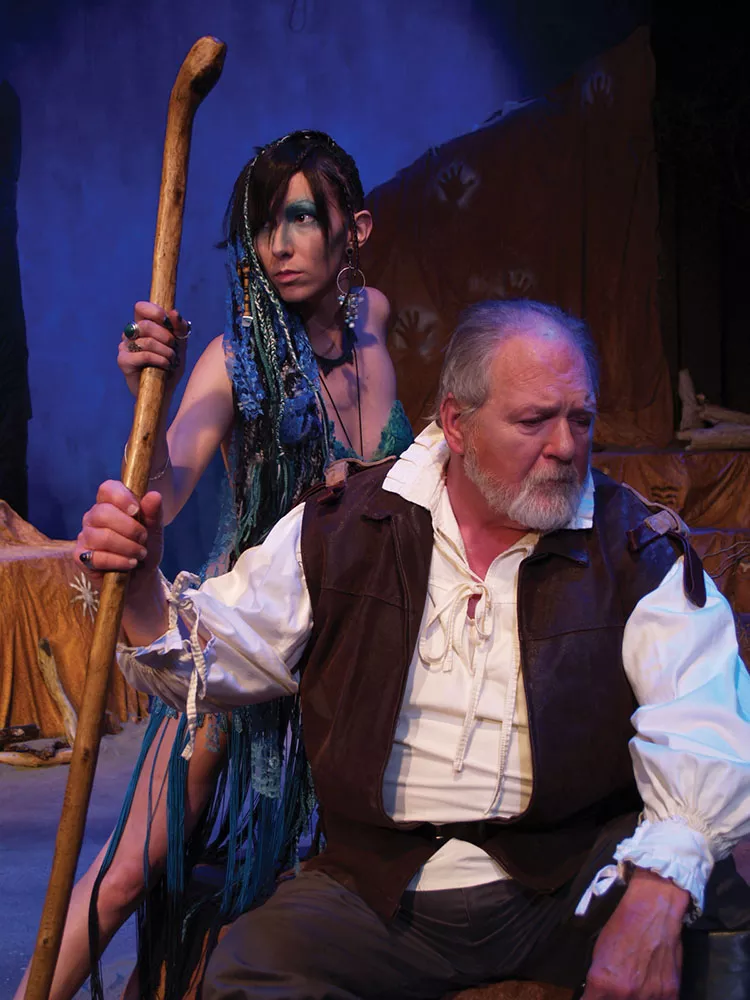 Photo courtesy of NCRT
Chyna Leigh is Ariel and Scott Malcolm is Prospero in The Tempest.
The Tempest is Shakespeare's last play and in some ways a summation. For one thing it's a kind of anthology of clips from his greatest hits: there's the royal treachery of his histories, a romance in a pastoral setting, a philosophical protagonist, spectacle, magic, music and a couple of clowns.
It's rare if not singular that Shakespeare doesn't base the story on an existing text. Out of numerous sources from reality and literature, his alchemy creates a myth. In it, Prospero uses his learning to command the magic of an uncharted island through the powerful spirit called Ariel, while defending his daughter Miranda against the animalistic man called Caliban. This myth has fed countless other stories and supplied metaphors for many discussions through the years, just as this play itself has been interpreted and presented on stage in many different ways.
As directed by David Hamilton, the production of The Tempest now on stage at North Coast Repertory Theatre in Eureka retains the vague Shakespearian period and imposes nothing significant on the text except perhaps the final image. It's a thoughtful production but a clear and entertaining one, very accessible to those who've never seen the play while providing novel nuance for those who have.
It begins with a shipwreck caused by Prospero's magic that deposits Italian nobles and their retinue on this island, including men who are part of Prospero's past as the deposed duke of Milan. They wander to their fates on Calder Johnson's earthy brown set that is scattered with magical symbols.
Scott Malcolm is a Prospero both sad and angry, with a heaviness about him. Kate Haley is an appealing Miranda, easy to imagine with Bobby Bennett's believable Ferdinand as star-struck lovers. Kenneth Wigley is a convincing Caliban, constricted, tormented and rebellious.
In this production Ariel is always accompanied by a retinue of undulating nymphs (Eva Brena, Caitlin Volz, Alyssa Rempel, Caitlin Wik and Tenn J. Wilson) and seems a creature more of earth and sea than the usual depiction of Ariel as a spirit of air and fire. This makes her more kin to Caliban than opposite. In any case, Chyna Leigh makes an arresting Ariel, with strong voice and gravity-defying costume. Her first song is magical, one of the evening's highlights.
Brian Walker as the jester Trinculo and Tyler Egerer as Stephano were funny and skillful in the physical comedy of their two key scenes. They seem so clownish, however, that their conspiracy with Caliban to murder Prospero never seems credible, though Prospero takes it seriously. Ken Klima, Bob Service, Scott Osborn, Pam Service and Annajane Murphy clearly portray the different aspects of the beached nobles, including the ignoble.
The diction was crisp and the acting energetic for the first act on opening night, though clarity tended to fade in the second act and several key scenes seemed obscured. Though this is Shakespeare's shortest play, it played for nearly three hours.
The shipwreck and Prospero's magic show for the newly engaged Miranda and Ferdinand were films by Malcolm DeSoto. They worked technically and cinematically, but seemed to drain some energy from the stage. There was some neat stage magic I won't give away.
Hamilton's direction did not focus on the themes of colonialism that some productions do, but they're in the play and don't need emphasizing. The earthy emphasis suggests but doesn't insist on an environmental message, as the island itself suggests the tradition of utopian tales.The biggest addition I detected was at the end, when instead of breaking his magical staff (as he promised), Prospero hands it to Caliban. Caliban is the only character whose fate is not stipulated in the text. All in all, it's a considered, skillful production.
The excellent costumes are by Patricia Hamilton, sound design by Gabriel Groom, makeup by Chyna Leigh. Nathan Emmons was the Shakespeare speech coach. Other actors not already named include Gabriel Butler-Smith and Jeremy Webb. The Tempest plays weekends at NCRT through April 20. I have more thoughts on this play at http://stagematters.blogspot.com.
Also of note: Pam Service, who plays Gonzalo, wrote an interesting piece for the Tri-City Weekly on the experience of participating in the production. NCRT has reliably ensured there would be at least one annual North Coast Shakespeare production, but this year there are at least two more to come. Dell'Arte's summer show will be The Comedy of Errors, and a revived Shakespeare in the Park in Arcata will produce As You Like It and a contemporary play. Auditions for the park productions are on April 6 and 7. More information at www.playsinthepark.org.
We sadly note the passing of Sue Bigelow Marsh, a playwright who provided a venue for new work at her Plays in Progress/World Premiere Theatre in Eureka. Especially in the late 1990s it was an exciting place. With its demise as well as HSU cutbacks, a home for new work is conspicuously missing from the North Coast theatrical ecology.
Coming up: Ferndale Rep opens the musical Hello Dolly on April 19, Redwood Curtain opens the comedy Skin Deep on April 25, and HSU opens the drama Proof, also on April 25.