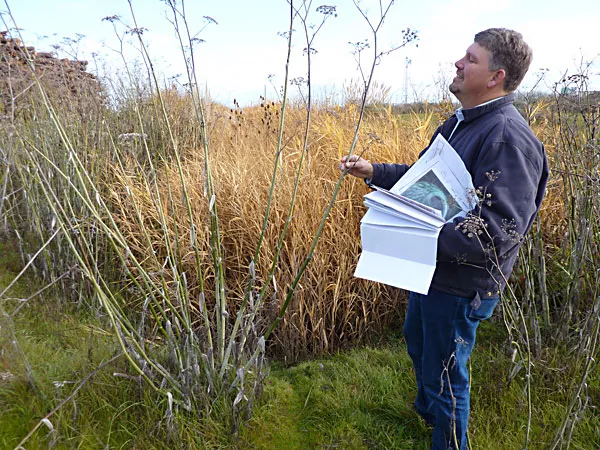 Security National VP of Real Estate and Development, Randy Gans, walks the Balloon Track with environmental documents in hand. Photo by Ryan Burns
In theory, the latest round of governmental wrangling over Eureka's Balloon Track property has nothing to do with Marina Center, the proposed mixed-use, Home Depot-anchored development slated for the site, nor is it per se about Rob Arkley, the millionaire financier behind project applicant CUE VI. In theory, all we're talking about at this point is how best to clean up the 43-acre former railyard, the soil of which contains nasty stuff like arsenic, mercury and hydrocarbon solvents. In practice, of course, that theory holds no water: Like it or not, there's simply no separating any aspect of this controversial project from the passionate opinions about (and of) Humboldt County's most divisive figure.
Today in San Francisco, the California Coastal Commission will decide whether to hear appeals of the coastal development permit granted last month by the Eureka City Council. Said permit allows for what the developer calls "phase one" cleanup of the property, including removal and disposal of contaminated soils from five identified locations, the creation of an 11-acre wetland preserve and grading to prevent runoff into Clark Slough and Humboldt Bay.
At a press conference held Monday at Eureka City Hall, Mayor Virginia Bass and Councilman Jeff Leonard, who were joined by council members Mike Jones and Frank Jager, publicly expressed their desire to be heard at today's Coastal Commission meeting. (Leonard, Jones, City Manager David Tyson and City Planner Sidnie Olson planned to make the trip south on the city's dime.) What they'll say, if given the opportunity, is that they believe the appeals are baseless, that their decision to grant the permit was soundly based on facts, and that this phase is merely the first of many steps toward a final cleanup plan. What they might not say is that they're convinced the appellants' motives lie in their deep dislike of you-know-who.
"If it was Mike Thompson proposing this project, most of these people opposing it would be bending over backwards trying to help him out," Jager told the Journal at Monday's press conference. "But because it's somebody else, they're fighting it every which way they can. That's exactly the root of the whole problem here." Jager was noticeably irked. "Disgusting," he said.
Randy Gans, vice president of real estate and development for Arkley-owned Security National, agrees that opposition is politically driven. Walking around the Balloon Track property Tuesday morning, Gans pointed derisively to spots that have been identified as wetlands -- some of them little more than gravelly fissures in the property's rugged, weed- and rubbish-strewn terrain.
"I think it's about stopping the project," Gans said of the Coastal Commission staff recommendation to hear the appeals. "That's it. Stopping a project that's not even before them yet. I mean, there's no other reason to object to this cleanup. I think that's really unfortunate. And shallow."
Three appeals were filed -- one by Humboldt County Planning Commissioner Ralph Faust, another by a trio of local environment groups including Humboldt Baykeeper, the Environmental Protection Information Center (EPIC) and the Northcoast Environmental Center, and the third by a pair of coastal commissioners. Among the numerous arguments contained in the 27-page appeals document, the appellants contend that the city lacked the factual and legal support required to justify the permit, and that allowing work to proceed before full characterization of the site is completed could damage Clark Slough and Humboldt Bay. City officials, they say, misconstrued the tentative approval of the North Coast Regional Water Quality Control Board as a wholehearted endorsement of the phase one cleanup plan, when, in fact, numerous (perhaps superior) alternatives exist.
Baykeeper Executive Director Pete Nichols said the City Council should have seen this coming. "We informed the city during public comment that the coastal development permit was inadequate," he said. "It should have been no surprise to them that we appealed it to the Coastal Commission."
As for the argument that opponents care only about stopping Marina Center, Nichols turned it around, saying Leonard, Bass and Jager, et al., are not advocating cleanup so much as Marina Center.
Standing against a window at City Hall Monday, environmental activist Mel McKinney suggested another motive. "This is political theater," he said, "and it's very simple to figure out." The press conference was simple grandstanding, McKinney argued. Leonard has announced his intention to challenge incumbent (and Coastal Commission Chair) Bonnie Neely for her county supervisorial seat next year, and rumors abound that Bass may also throw her hat into the ring. By publicly supporting (or at least appearing to support) the popular Marina Center proposal, Leonard and Bass set themselves in contrast to Neely, who is seen as an obstructionist.
In Wednesday's Times-Standard, Councilman and longtime Arkley adversary Larry Glass echoed McKinney's assessment, calling the event a "political stunt" designed to launch their respective campaigns.
The council hand-delivered a letter to Bonnie Neely, outlining for the Coastal Commission their main points. (Leonard caused a stir when he brought the letter before the council for approval at a recent council meeting without first placing it on the agenda. "Totally my fault," he told the Journal apologetically Monday.)
Jager said his gut feeling is that the commission will hear the appeal and schedule a de novo hearing to consider refusing the development permit. In what, on this issue, has been a rare instance of common ground, Nichols agreed.