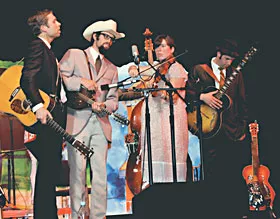 Lila Nelson was asking for requests on her KHUM radio show "Meet Me in the Morning." Mine was for anything from the new album she'd been talking about earlier, Good Night Darling , by Huckleberry Flint. She picked the opening track on the disc, "Carpenter," a mellow number about building a home penned by guitarist Dustin Taylor that sounds quite different from the Huck Flint you might be familiar with. Aside from some subdued banjo picking woven in with guitar, a touch of fiddle and a couple of Dobro licks, it's more a singer/songwriter number than the gospel-tinged bluegrass you've heard in the past. Don't worry, that harmonious old-timey sound resurfaces on the album's second track, "Ballad of Sweet Annabelle," a lovely song by Dobro player Kevin Porter about fiddler Marybeth Taylor 's 2-year-old daughter.
Just to clear something up, Marybeth (who also has a six-week-old boy, Isaac) is not married to Dustin, as some might assume. She's his sister-in-law. Her husband, Dustin's brother Garrett, did the artwork for the album. He's currently studying art in San Francisco, which explains why the band hasn't been playing as many local shows of late.
The album as a whole is a fine piece of work, shot through with clean picking and clear strong vocals. There's one cover: a version of Bob Dylan's "Wagon Wheels" borrowed from Old Crow Medicine Show (which I'm told is one of their most requested tunes), a couple more songs written by Dustin, a lullaby by Marybeth and a half dozen traditionals, including the band's version of the old minstrel show number, "Dixie." All good, all clear, clean and strong as a mountain stream. Pick up your copy at the Huckleberry Flint CD release party at Muddy's Hot Cup Friday night, or maybe at the Jambalaya Saturday, where Huck Flint opens for The Be Good Tanyas.
Wait a minute. The Be Good Tanyas are playing at the Jam? Well, if this is the first you've heard about it, you're out of luck. It's way sold out. If you must see the Tanyas, you could catch them down at the Kate Wolf Memorial Folk Festival at Black Oak Ranch on Sunday (just before Dave Alvin ). Also playing Kate Wolf (Friday and Saturday) and at the Jambalaya (Sunday), that raw old-timey trio from Santa Cruz, The Devil Makes Three . Fair warning: This is another that'll sell out.
It's a long twangy weekend at the Jam with a Friday show featuring Portland alt. county from The Clampitt Family (with members of Clampitt, Gaddis and Buck and The Shiftless Rounders) plus Power of County , who are about to hit the road with Hank Williams III . Things keep rolling at the Jam through Monday when there's another monthly Humboldt Blues Assoc. blues jam, which this time out also serves as a going away party for guitar slinger Clint Warner — moving to Seattle.
More twang? The annual fundraiser for Heart of the Redwoods Community Hospice Saturday at SoHum Community Park in Garberville has Old Dog , Way Out West and Rooster McClintock .
Rooster McC. is also part of the multi-band lineup for the all day Full Moon Hoedown Saturday at Six Rivers with Martin Murry, Moses Lincoln Johnson , Kemo Sabe , The Groovy Rednecks and those masters of the murder ballad, The Pine Box Boys .
Friday night at Six Rivers catch local jammers Papa Bear with special guest Ruben Diaz on guitar.
Cher-Ae Heights Casino offers a blast from the blues rock past on Saturday with the legendary Foghat . If you know our Brit blues history, you'll remember that the original Foghat formed in 1970 with guitarist "Lonesome" Dave Peverett, bassist Tony Stevens and drummer Roger Earl, all from Savoy Brown, plus slide guitarist Rod Price. Both Savoy Brown and Foghat specialized in a hard jammy take on Chicago-style blues.
Roger Earl , the only Foghat member from the early days still standing, says he got into the blues when he was a teenager. "The blues, especially the Chicago blues, when it got electrified by Muddy Waters and John Lee Hooker, just seemed so vibrant to me as a kid," he said in a call from the New York houseboat he currently calls home. "I couldn't understand half the words, I didn't quite get the innuendos — I was too young — but the music was real, just very passionate. And when I came over here [in the '60s] and saw some of the guys who played it, I just found an affinity for it. It wasn't my fault I was born white and on the wrong side of the big pond. loved the blues. And I still do to this day. 'It moves me,' as Muddy might say."

Foghat's first big hit was Muddy's "I Just Want to Make Love To You," a number that shows up on the band's brand new double-disc, Foghat Live II , along with those less-bluesy classic rock staples, "Fool For the City" and the ubiquitous "Slow Ride." Expect those and more when Foghat rocks Trinidad this weekend.
Where did blues-rock go after the '70s? Eventually it evolved into heavy metal, which begat all manner of heaviness including the darkness of San Francisco stoner rockers like Floating Goat and Bottom , who play Saturday at the Alibi. Their S.F. neighbors Giant Squid add cello to create a prog-metal mix. G. Squid shares a Sunday bill at the Alibi with Whitehorse , a psyche/doom metal band from the land down under (as in Australia).
I don't know all the details, but it looks like Saturday's show at Out of the Sun, the embattled all ages venue in Fortuna, will be the last ever. So says Dez of Humboldt Metal, who's bringing in Red Bluff grindcore band Slaughterbox from Red Bluff and associated side project Voluntary Manslaughter to share the final bill with a new local death metal band, Sadistic Hallucinations , who may well have a hard time finding another place to roar. As Dez notes, the show starts and ends early (it goes from 7-10 p.m.). "Don't forget to thank Tina and John for a killer few years of live music! They will be greatly missed!"
Tahoe-based rock/Americana/jamband Blue Turtle Seduction is coming to town for a show Tuesday, July 3, at Mazzotti's with special guests Steve Watts and Kevin Kotaka . BTS is also playing the next day for Arcata's 4th of July Jubilee on the Plaza, closing an all-day show that includes Joanne Rand (just after 11 a.m.) Moo Got-2 (at 12:45) The Steve Watts Band (2:15) and Ishi Dube and Massagana (3:45).
More reggae? Ishi and Massagana also play that night at Mazzotti's, opening for the classic Jamaican vocal group, The Itals . And let's not forget the show Friday, June 29, at the Arcata Community Center with The Wailers ... you know, the band that backed Bob. Aston "Family Man" Barrett is still laying down those wicked basslines, and that's the essence, the heartbeat of roots reggae. Not sure who else remains from the old days, but you can be certain it will be irie.
Well, I forgot to tune in live, but I caught the national debut of our local kids, Steel Toed Slippers on The CBS Early Show 's "Living Room... Live!" Battle of the Bands by finding the CBS webpage and watching on the Net. The Living Room hosts, Adam and the Egos, are totally lame stereotypes of 20-something rockers (are they supposed to be a band?) with the kinda gay guy, the slacker/Spicoli type dude (with a puka choker) and the hipster with cornrows ("Word") each supposedly choosing a band. STS was first up, laying down "infectious grooves" with the girls harmonizing sweetly. The competition: an emo-ish guitar trio from Minnesota, who may have been chosen because someone's sister accidentally ended up in the vid by emerging from a door in the background, and a loud "alternative rock" band from Jersey who shouted and jumped around in a garage. Needless to say STS got my vote. The band finds out Thursday morning who won this week's Idol -esque online poll. You can offer your own congrats and/or consolations when STS plays at Mosgo's Saturday, June 30. I think they'll win, but even if they don't, they had a million plus people watch them play, and that's something.