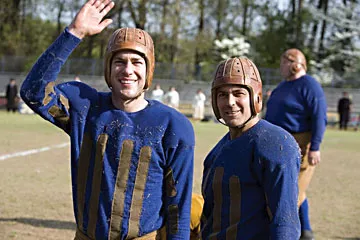 Opening
COUNTERFEITERS.Biggest counterfeit money scam of all time goes down during the last years of WWII in the Sachsenhausen concentration camp. Rated R. 98 m. At the Minor.
DON GIOVANNI.San Francisco Opera performs Mozart classic in pure Digital Cinema. Second of four SF Opera Cinemacasts, runs April 12-13 at Fortuna.
MISS PETTIGREW LIVES FOR A DAY.Pettigrew, a former London governess, is swept into American high society when she pursues a career in entertainment. Rated PG-13. 92 m. At the Broadway.
PROM NIGHT.Tragedy revisits Donna when prom night turns deadly, and she knows the one man to blame. Rated PG-13. At the Broadway, Mill Creek and Fortuna.
STOP LOSS.Decorated Iraq war hero returns home to the states only to be called back to the war against his will. Rated R. 113 m. At the Broadway.
STREET KINGS.Veteran LAPD vice detective seeks to clear his name by finding his partner's killer. Rated R. 109 m. At the Broadway and Mill Creek.
TAXI TO THE DARKSIDE.Inquiry into death of Afghani man exposes link between the tragic incidents in Bagram and U.S. government policies. Rated R. At the Minor.
Reviews
Leatherheads.Every few years there's another attempt to replicate the classic romantic comedies of the '30s and '40s — the snappy banter, fast-paced slapstick and most particularly the strong roles written for women represent a high-water mark for screen comedy. The latest film to attempt to recreate screwball comedy's heyday is Leatherheads, about the rough-and-tumble early days of professional football, directed by and starring George Clooney.
In 1925, Dodge Connolly (Clooney) is the star player of the Duluth Bulldogs, a failing team that has one last chance to remain solvent — recruiting a college football hero, Carter Rutherford (John Krasinski of The Office). Rutherford, the prototypical All-American Boy, also has a reputation as a World War I hero, apparently having forced a whole platoon of Germans to surrender to him single-handed. Enter Lexie Littleton (Renée Zellweger), a tough- talking reporter for the Chicago Tribune, who's doing a profile on Rutherford, and finds his war record isn't all it's cracked up to be.
The film does hit a lot of the right comic notes and is often amusing, but it's rarely laugh-out-loud funny. The romantic part of the film is in many ways its least convincing aspect. There's a pinched, pursed quality to Zellweger's performance, and there's not a whole lot of chemistry between her and the male leads. Both Clooney and Krasinski have fun with their roles, and Clooney displays a knowing self-deprecation in regards to his age, which is a running joke throughout the film. He also has the rare gift of comic timing, and has the ability to seem both loose and precise.
As is usual in this kind of film, the scene-stealers are the character actors. Jonathan Pryce does well as a greedily unctuous sports agent, as does Steven Root as the team's soused press agent.
The period details are mostly accurate, though one scene has a barroom diva singing the Gershwin standard "The Man I Love" several years before its popularity. That said, the jaunty soundtrack by Randy Newman adds much to the flavor of the film (he also has a cameo as a speakeasy pianist). Much of the comedy comes from the decrepit state of the early game of football, which in those days was a poor cousin to baseball in both prestige and respect. As the climactic slapstick scenes of the big game unfolded, I couldn't help but compare it to the Marx Brothers brilliant take on a similar ball antic game in Horse Feathers. Leatherheads is a nice try, but it doesn't even come close to that kind of comic insanity. At the Broadway, Fortuna and Mill Creek.
The Ruins.On vacation in Cancun, two American couples are invited by a German tourist to venture into the jungle to explore the ruins of an obscure Mayan temple, an archaeological dig where his brother has gone missing. The Mayans in the nearby village try to discourage the group from heading to the hidden temple, but their warnings are ignored. Eventually they are trapped on the ruins by gun- and-arrow-toting Mayans who won't let them leave, and they discover the corpses of those who came before them covered in vines and flowers.
Scott Smith's adaptation of his own novel does create a feeling of dread and paranoia throughout, despite the stupidity of some of the main characters and the gory, yet predictable way they are dispatched person by person. It's literally creepy, and the way the man-eating plant thing infesting the ruins is presented creates a palpable sense of claustrophobia. The atmosphere of the film is spoiled by the presence of four vapid narcissistic characters (at one point Jeff, the group's de facto leader, says "Four Americans don't just disappear!" and his sense of entitled exceptionalism make you wish he'd be the oversize Venus flytrap's next dish). You could do worse if you're in need of a trashy horror fix, but near the end I started to root for the plant. At the Broadway, The Minor, Fortuna and Mill Creek.
Funny Games.Michael Haneke's shot-for-shot American remake of his 1997 Austrian film has some pretensions to being a commentary on the way violence is portrayed in films. It's pretty much the same film remade with English speaking actors.
As the film begins, George (Tim Roth), his wife Anne (Naomi Watts), their son Georgie (Devon Gearhart) and their dog Lucky are driving to their lake house playing a game of guessing which classical piece is being played in their SUV's CD player. Their next-door neighbor helps launch the family's sailboat on the lake, accompanied by a young man, Paul (Michael Pitt). Soon after, another young man, Peter (Brady Corbet), arrives to borrow eggs from Anne. The two men impose themselves into the family's house, eventually bludgeoning the dog to death with George's golf club and damaging Anne's cell phone in the process. A frustrated Anne demands that the men leave, asking her husband to throw them out. After a bit of confusion, George tries to force Paul and Peter out of the house. Paul then smashes George's leg with the golf club and the two men take the family hostage and force them to beg for their lives and bet whether they'll be alive by morning.
Breaking the fourth wall, Paul makes arch comments to the camera on violence as entertainment, but despite Haneke's intended implication of the audience in enjoying this presentation, he's the one who displays a tied up Naomi Watts for the viewers' enjoyment. Any deeper reason for the two men's sadistic actions is glibly dismissed by the characters themselves, who offer no reason other than kicks for what they're doing. Michael Pitt's moony blue-eyed stare is evocatively psychotic, and the actors all do a fair job with the material. It's not the acting that's the problem with the film.
Haneke has claimed that his original version of the film was a commentary on American violence, but his hand is very heavy (blood spatters on a NASCAR race on TV at one point ... very subtle). The postmodern tricks of editing can't cover up the fact that his is an exploitation film posing as an art film. Its pretension makes it all the more obnoxious. At least the old fashioned practitioners of drive in grindhouse didn't claim they did it for art. At the Minor. Ends Thurs., April 10.
Continuing
21.Group of brilliant students and unorthodox math prof take on big casinos and win their way into racy Vegas lifestyles. Rated PG-13. At Mill Creek and the Broadway.
10,000 B.C.Cavemen on epic battle quest. Rated PG-13. 109 m. At the Broadway.
THE BANK JOB.Smart British caper flick, with layers of intrigue. Rated R. 110 m. At The Movies.
BE KIND REWIND.A man whose brain becomes magnetized destroys every tape in his friend's video store; the men set out to remake lost films. 101 m. Rated PG-13. At the Broadway.
BUCKET LIST.A corporate billionaire and a working class mechanic, who have developed a strong bond while sharing a hospital room, embark on the road trip of a lifetime. Rated PG-13. 97 m. At The Movies.
COLLEGE ROAD TRIP.Girls-only road trip turns into nightmare adventure when one girl's police chief father tags along for the ride. Rated G. 86 m. At The Movies.
DRILLBIT TAYLOR.Dorky teens hire former soldier of fortune as bodyguard, only to find he has his own agenda. 102 m. Rated PG-13. At The Movies.
HORTON HEARS A WHO.Mocked do-gooding elephant attempts to rescue a microscopic civilization. Rated G. 87 m. At the Broadway, Mill Creek and Fortuna.
NEVER BACK DOWN. Teen joins underground "fight club." Rated PG-13. 114 m. At The Movies.
NIM'S ISLAND.Author's literary creation inspires young girl's fantasy island; author and girl unite to conquer Nim's Island. Rated PG. 94 m. At the Broadway, Fortuna and Mill Creek.
OTHER BOLEYN GIRL.Beautiful Boleyn sisters, driven by family's blind ambition, compete for King Henry VIII's love. Rated PG-13. At Mill Creek.
SHUTTER.Newlyweds investigate scary images in set of photos and learn some mysteries are better left unsolved. Rated PG-13. 85 m. At The Movies.
SPIDERWICK CHRONICLES.The Grace family moves into the Spiderwick estate, the home of a dead ancestor, and discovers the evil creatures that already reside there. Rated PG. 96 m. At The Movies.
SUPERHERO MOVIE.Spoof movie takes aim at biggest superhero blockbusters of our time. Rated PG-13. 85 m. At Mill Creek, the Broadway and Fortuna.
VANTAGE POINT.Chaos ensues when the U.S. president is assassinated in Spain. Rated PG-13. 90 m. At The Movies.