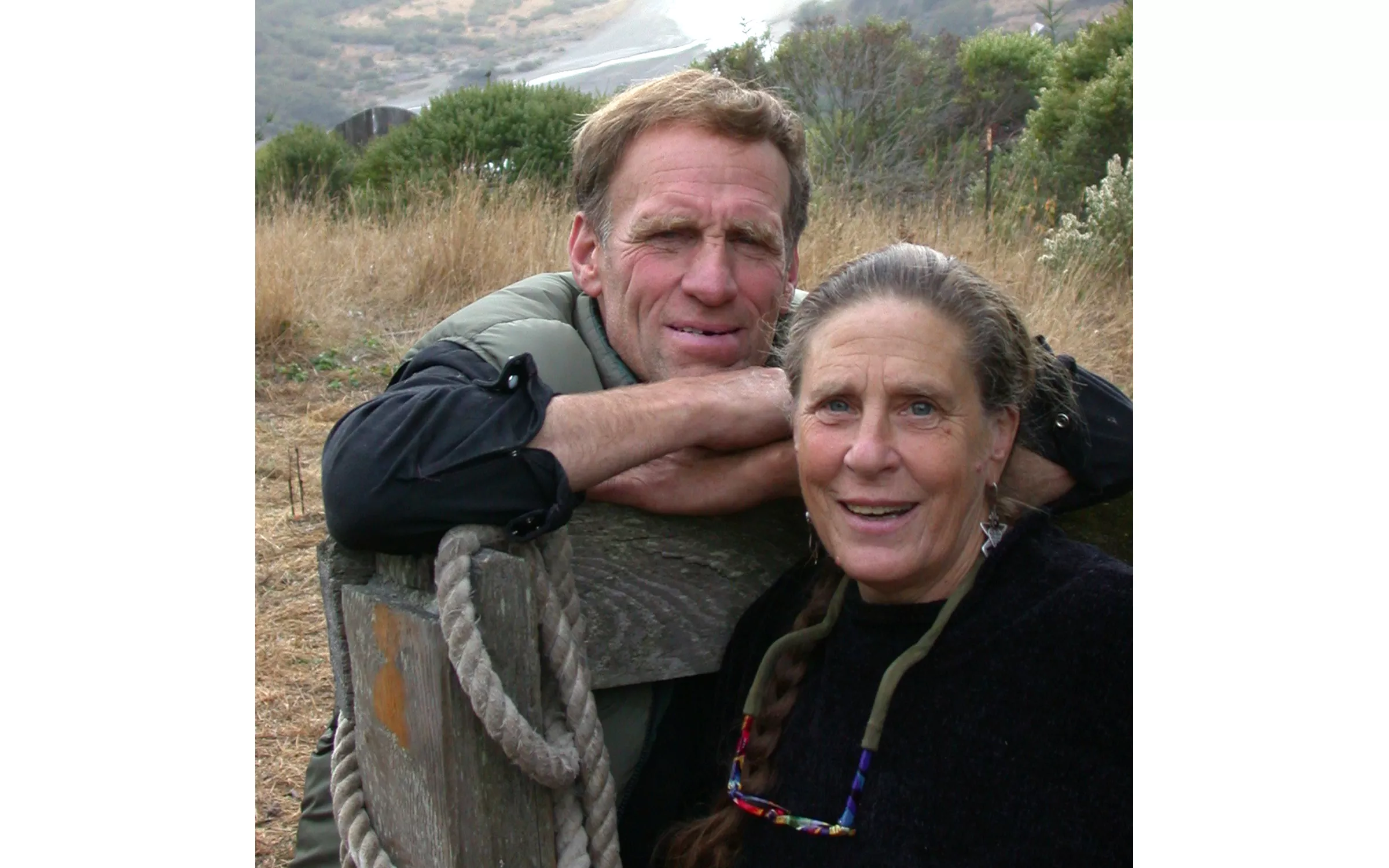 photo by Bob Doran
Prize of Hope recipients David Simpson and Jane Lapiner at home in Petrolia
The Prize of Hope, a kind of international lifetime achievement award for live theatre as a popular and accessible art form, will be presented at Dell'Arte this Saturday as part of the annual Mad River Festival. Given annually by Denmark's Institute for Popular Theatre in partnership with Dell'Arte, its presentation alternates between the two hosts. Not only is the presentation here this year, but the prize is being given to a local Lost Coast ensemble called Human Nature, and its founders, David Simpson and Jane Lapiner.
Known for environmentally oriented shows Queen Salmon, The Wolf at the Door and What's Funny About Climate Change, Human Nature will perform an excerpt from its work in progress, Two Old Birds or Tripping on the Tipping Point, as part of the presentation program and dinner on Saturday, June 26, beginning at 4 p.m.
The new show, as their previous one, centers on the complex cacophony of issues called climate change. So among the ironies for Simpson and Lapiner is their home base in Petrolia. "Yes, it's named after petroleum, because this was the first place in California that oil was discovered," David Simpson said. "Fortunately it petered out quickly."
Burning up jet fuel to research climate change and its attendant politics from the Arctic to recent conferences in Copenhagen and Bolivia is a more accustomed irony for the activists, since the warming is global. Plus the gasoline to tour their show, which uses comedy to expose the deadly folly of fossil fuel dependence.
If the overwhelming consensus of climate scientists is right, the outcomes are likely to shake if not dissolve human civilization and life on Earth as we know it, so comedy may seem a counterintuitive approach. But Simpson and Lapiner outline several of its functions, confirmed by their experience with audiences.
Satirical humor that they describe as "not light but not nasty" can expose faulty facts as well as dubious motives. But when people are involved, there's generally plenty of pomposity and delusion on all sides of the issue. So they've gone after enviros, too. The comedy "gets people to laugh at themselves," Lapiner said. That's particularly useful when a major barrier to confronting this complicated and immensely consequential problem is the mental and emotional freeze-up of denial.
Getting people to lower their defenses often paid off in post-performance discussions at universities and other venues, which could last for an hour more. "Sometimes a few would stay, often maybe a hundred," Simpson said. Climate scientists were happy to participate. "We got into some really good discussions, and not just with the converted. There were opponents who took the risk of saying what they felt."
Human Nature (which includes their daughter, Joyful) toured their first climate change show over four years, at a time when the agenda was confronting ignorance and denial. The new show is aimed at "provoking action."
In their travels they've seen the dramatic difference between the most intense present effects on the world's poorer peoples versus the dithering lassitude of rich nations.
Stopping fossil fuel pollution and instituting a clean energy society are necessary steps to head off runaway climate collapse in the far future. But nothing will prevent serious effects already underway that will shape the nearer future.
So besides helping to shake loose the will to act, comedy can help with the coping. "Climate change is real," Simpson said. "It's best to know what's coming. Comedy is a tool for helping with the transition."
"We have to change, but it doesn't have to be dreary," said Lapiner. Change can be an adventure, with joy and fun as well as challenge and grim necessity.
David Simpson was a comic actor and Jane Lapiner a dancer when they met in the San Francisco Mime Troupe of the late '60s. Comedy comes naturally but it also has a definite intent. "Hope is a commodity we need now," said Simpson. "A lot of people know what's ahead -- it's very daunting. So part of our mission is to promote hope."
They are currently getting Two Old Birds or Tripping on the Tipping Point in shape for the fall. The excerpt they'll perform Saturday involves Adam and Eve evicted from their consumerist Eden into the real world. "It gets bawdy, I fear," said Simpson, though he didn't sound too regretful.
Coming Up:
Dell'Arte celebrates its host city's centennial with its production of Blue Lake: The Opera to start off the Mad River Festival on Thursday (June 24). Set in 1910, when Blue Lake really had an opera house, this sounds like a collision of comic opera and the usual Dell'Arte summer silliness. It's performed at 8 p.m. out back in the Rooney Amphitheatre, Thursdays through Saturdays this weekend and next. They promise no chickens will be harmed.
The festival continues with "a poetically comic new circus show" from Italy called Kinke, July 9-11 in the Carlo Theatre. Los Payasos Mendigos Rise Again!, the resurrection of the locally beloved clown ensemble runs in the Amphitheatre, July 15-18 with five shows. Red Light in Blue Lake, the adults-only cabaret, has its one-night engorgement on July 2.