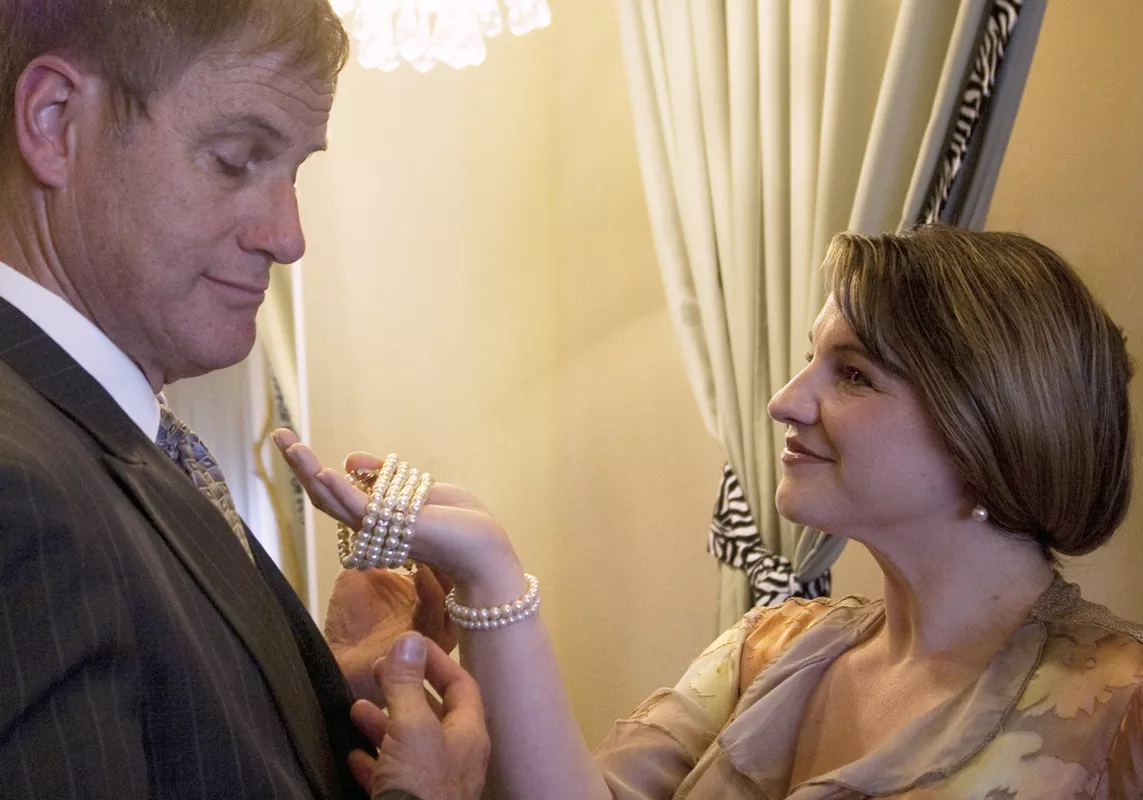 courtesy of HLOC
Cindy Cress is Muriel, being conned by Bill Ryder as Lawrence on HLOC's Dirty Rotten Scoundrels
The sunny Riviera is a real place. In fact, there are two (not counting the hotel in Vegas or the club in Manhattan): the beaches and casinos of the French Riviera and the Italian Riviera.
But there is also the unreal Riviera, bordered in time by the 1920s of F. Scott Fitzgerald and the 1950s of caper films with Henry Mancini scores. Its heart is in the 1930s and '40s, in stories about rich American women out for European thrills they expect to be expensive. That's the timeless Riviera of Dirty Rotten Scoundrels, now on the Van Duzer Theatre stage at HSU, in a bright and winning Humboldt Light Opera Company production.
This show even has the feel of that era's classic Hollywood musicals. As in those movies, its plot is mostly a pretext: Lawrence Jameson (played by Bill Ryder) is a mature con man masquerading as a dispossessed king of some obscure principality. He meets Freddy (Casey Vaughn), a young and unpolished upstart, and eventually takes Freddy on as his apprentice. They combine to get Lawrence out of an awkward situation with an oil heiress from Oklahoma (played by Shaelan Salas-Rich), but become rivals in both love and larceny when the sweet young American soap queen, Christine Colgate (Hannah Mullen-Jones) arrives. Complications and comeuppances ensue.
The story of Dirty Rotten Scoundrels comes from the 1988 film of the same name starring Michael Caine and Steve Martin (which in turn was very similar to a 1964 film with David Niven and Marlon Brando). It's a pretext for fun, much of which comes from the witty book for this 2004 musical by Jeffrey Lane, and the equally witty lyrics by David Yazbek, who also wrote the music. It all could still stumble, if not for the brilliance and buoyancy of this production.
The wit comes in wordplay, both conventional ("Money?" "Her people are in oil." "Crude?" "Well, she is a little pushy.") and inexplicable. (Addressing a letter to a German doctor, Christine asks Freddy, "Do you think I should use an umlaut?" "No, you smell great.") And if those don't get you, there's more jokes ahead, including some that are cruder than oil. Language as much as theme is the reason for the not-younger-than-11 age advisory.
There's lyrical wit as well, and while the music isn't especially memorable, it includes some witty parodies, as in the sudden Oklahoma production number, or a 1980s bombastic musical love song, which had the audiences laughing from the first florid note. I also detect some sneaky homage in the splashy "Great Big Stuff" to Steve Martin's own silly hit, "King Tut."
Ryder plays Lawrence as a confidence man with a wary eye on his age. Vaughn's Freddy is an enthusiastic all-American boy whose breezy vulgarity is more appealing than obnoxious. As Christine, Mullen-Jones deftly plays the sweet awkwardness that captivates the boys. (Her entrance seems a brief parody of Groucho's in Duck Soup.) Their sunny sincerity may seem ironic, but it places them in the Hollywood musical tradition.
Also like those musicals there are stars of subplots, like the wonderful Cindy Cress and Jim Buschmann, whose minor characters blossom into sympathetic and unlikely lovers. In her few scenes Salas-Rich is a skillful skyrocket, but even the cast that fills out the production numbers (including stars of other HLOC shows like Molly Severdia, James Gadd and Fiona Ryder) all contribute to the flowing energy, delightful surprises and winsome appeal.
So does the dancing (choreographed by Lela Annotto-Pemberton, Ciara Cheli-Colando and Salas-Rich), including one ensemble number done in striking red and black costumes by Jennifer Trustem that especially reminded me of a Gene Kelly film. But for all this Hollywood spirit, it's the use of the stage that vitalizes the evening. Dominated by a simple but mesmerizing starry sky, Jayson Mohatt's set and lighting eloquently suggest the fantasy context as they serve the action, while creating assemblages that are elegant in themselves.
The singing is of course excellent and the lyrics and dialogue always audible. The staging is efficient and yet full of fun. That all the elements work together at such a high level is just one of the achievements of director Carol McWhorter Ryder. Justin Sousa conducts the admirable 15-piece orchestra. Severdia and John Chernoff are the musical directors, and Megan Johnson does hair and makeup.
I was completely beguiled by this show, and as Lawrence says, "Fun is not to be taken lightly." Dirty Rotten Scoundrels plays the Van Duzer Theatre weekends through Aug. 20.
In theme and mood, Steven Sondheim's Sweeney Todd, the Demon Barber of Fleet Street is the direct opposite of Dirty Rotten Scoundrels. It is dark where the HLOC show is light. Its ironies are bitter rather than playful. Yet the current production at Ferndale Repertory Theatre (which I saw on Sunday) is also first-rate in every aspect, with star performances (by Craig Benson and Elisabeth Harrington) and a solid supporting cast. I'll have a review next week. Sweeney Todd continues weekends through Aug. 28.