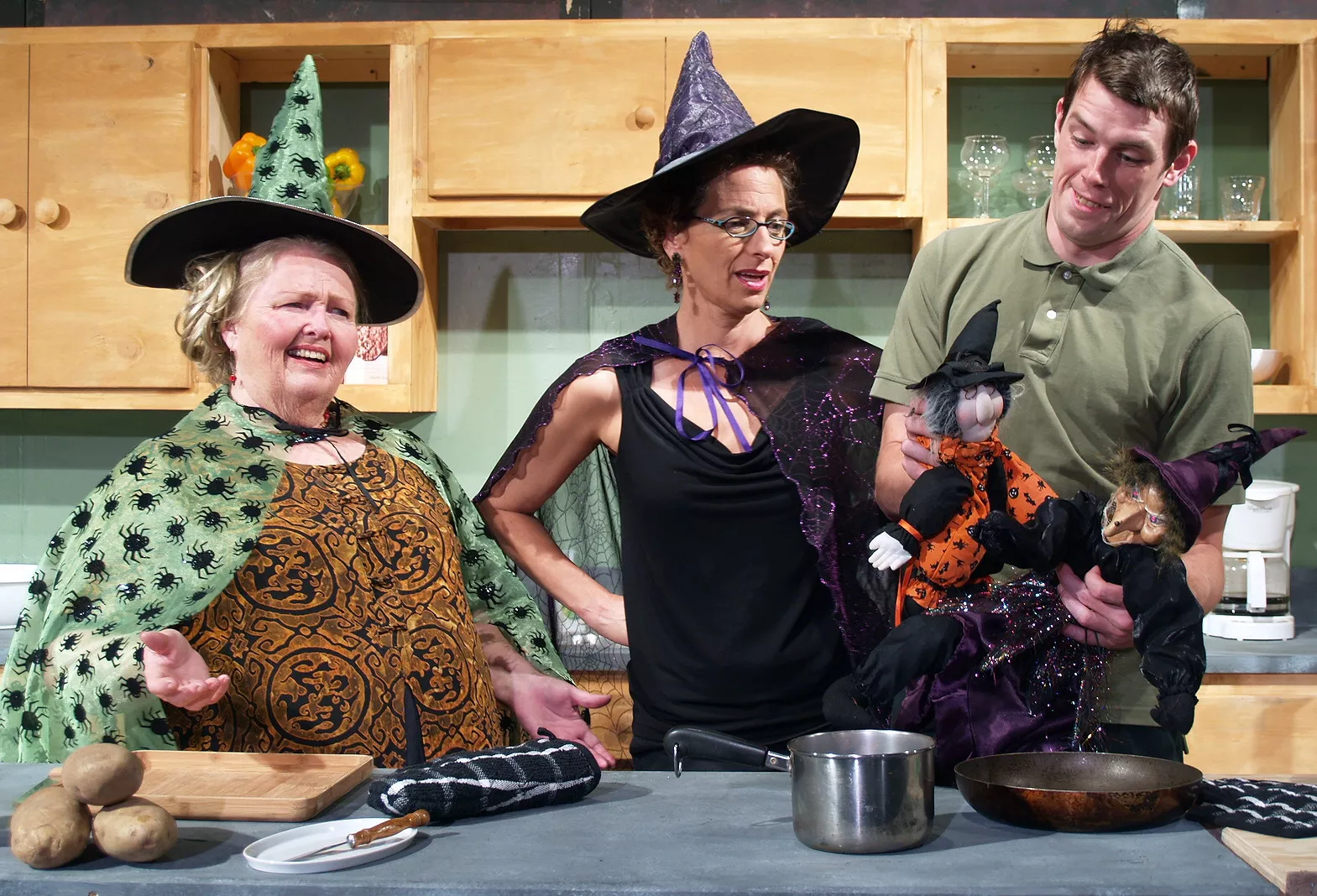 courtesy of NCRT
Laura Rose as Dolly, Kathleen Marshall as Isobel, Daniel Kennedy as Stephen in NCRT's The Kitchen Witches
Back before widespread air conditioning, people left the cities for the cooler countryside in summer. So when the Connecticut town of Westport saw its population increase by half in the summer months, a couple of entrepreneurial members of the Theatre Guild found a big old barn where they could produce shows and enticed New York actors as well as audiences to join them.
This venture that began in the 1930s (described in the admirable An American Theatre by Richard Somerset-Ward) became the template for rustic summer playhouses all over America. Eventually a kind of summer style developed favoring light comedies, especially as vehicles for available or local stars.
That's the context that places The Kitchen Witches, now on stage at North Coast Repertory Theatre in Eureka, in the best possible light. In this contemporary comedy by Caroline Smith, Dolly Biddle (played by Laura Rose) is careening through her last show as a Russian baker on a cable access channel, complete with faux accent. Her son Stephen (Daniel Kennedy) is its awkward producer/director. When the show is invaded by Dolly's erstwhile best friend and now worst enemy and cooking show rival, Isobel Lomax (Kathleen Marshall), the insults fly.
It seems like a disastrous finale, but the unseen boss of the station sees its entertainment potential as a crass combination of Jerry Springer and Julia Child (or maybe it was Martha Stewart). So the two women find themselves yoked together as co-hosts of The Kitchen Witches. The more they fight and reveal, the more popular they become. The plot exposes their history and the source of their conflict, which involved their respective relationships with the late Larry Biddle, who Dolly married but who died in Isobel's bed. Stephen turns out to be implicated in ways you can probably guess.
The script apparently calls for local references to be sprinkled in for comic effect, and a lot of energy is devoted to as much audience participation as this production can manage. I saw the show with a non-opening night audience, and they mostly seemed to enjoy it. They also played their part as a cheerfully manipulated TV studio audience with alarming alacrity.
Laura Rose and Kathleen Marshall charmed the audience with their performances, and worked them hard. Daniel Kennedy gained their sympathy. The show's production values are faultless. But only by the loosest of summer comedy standards can this play compete.
Cooking and the kitchen environment have inspired numerous classic comedy moments, from vaudeville to I Love Lucy and beyond. But there are only a few timid and perfunctory attempts at physical humor in this show. The verbal humor is trite and tasteless, although fans of toilet jokes and first grade-level puns (you know, why did the moron throw the clock out the window?) may get a few chuckles. I didn't find an ounce of actual wit. And does having one character refer to a sight gag as offensive somehow excuse a joke that depends entirely on racism?
That neither of the cooks ever assembles a credible dish (except perhaps for a deeply symbolic sandwich) suggests the play's fidgety construction. While there are ample opportunities for the characters to fight and upstage each other (including George Szabo as the mostly silent "Rob, the Camera Guy"), the actual plot is awkward and predictable. This is less a play than a recipe for one. The way the interpersonal story is told has the combination of tawdriness, sentimentality and mundane cliché that might well qualify it for Jerry Springer.
Summer comedies may not be meant to be experienced with ordinary expectations, but by the standards of other comedies I've seen staged on the North Coast this summer and recent summers past, this one doesn't measure up. Of course, people don't necessarily go to all the plays, and again, when I saw it the audience seemed to have a good time (except I assume for the few who left at intermission).
The Kitchen Witches is directed by Carol Escobar. Scenic design is by Daniel Lawrence, lighting by Calder Johnson, costumes by Wanda Stapp, sound and music by Howard Lang. It continues weekends at North Coast Repertory Theatre through Aug. 20.
Coming Up: Two musicals open Friday (Aug. 5). At the newly renovated Van Duzer Theatre at HSU, Humboldt Light Opera Company presents the musical version of Dirty Rotten Scoundrels. The Ferndale Repertory Theatre opens the Stephen Sondheim and Hugh Wheeler musical, Sweeney Todd, the Demon Barber of Fleet Street. There's more about these two shows and other August stage news in this month's Muse, tucked into this issue.