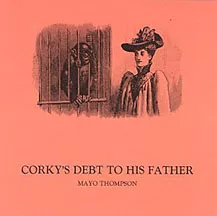 'Corky's Debt to his Father' by Mayo Thompson
Album by Mayo Thompson.

Drag City.
Mayo Thompson's Corky's Debt to his Fatherwas first released in 1970, though it was so out of step with other albums of its time its age hardly shows today. The folks at Drag City (who are hell bent on chronicling the seemingly endless navigations of Thompson's four-decade musical career) have finally brought one of the great head-scratching avant-pop albums of the '70s back into print (again). This new vinyl edition marks the fourth issue of the album, which has drifted in and out of print for the past 37 years, this time with a heavy old-school cardboard sleeve and a bonus 7-inch. Corky's Debt is a particularly difficult record to write about as its brilliance is not the kind of thing that's glaringly obvious or even striking on initial contact, glowing with the same off-kilter pop essence as the treacherous seas navigated by other '60s crackpot pop-luminaries like Syd Barrett. The difference here is that Thompson approaches things as an artist (of the highest brow) and not a tormented acid casualty, although by no means do his pretensions outweigh his intentions.
Thompson is perhaps best known as the leader and continuous frontman for the ever-shifting musical collective known as The Red Krayola, which began at the dawn of the psychedelic era as part of the same Texas scene that birthed The 13th Floor Elevators. Corky's Debt marks Thompson's first solo effort after The Red Krayola's two records for International Artists turned what was then known as rock 'n' roll completely inside-out. Aeons ahead of their time, the Krayola approach was conceptual, abstract and even Cagian. Other rock bands in the '60s merely dabbled in the avant garde — The Beatles, The Velvets, The Mothers, etc. — they put it at the forefront, with concepts often taking precedence over songs, resulting in a particular kind of rock deconstruction that would not be fully realized until the post-punk era.
Part of the brilliance of Corky's Debt is that it takes this deconstruction, shoots it through with mature early '70s singer-songwriterisms (perhaps Thompson finally heard Dylan?) and uses it to build rather than destroy. After all, this is an album of proper, well-produced songs, and though it doesn't brim over with wide-eyed pre-punk energy like the early Krayola albums, it instead settles into kind of damaged beauty that is far more personal and revealing. Thompson's approach on Corky's Debt comes off something like the musical equivalent of Marcel Duchamp attempting to paint like Norman Rockwell, as if an otherwise oblivious Dada wordsmith walked into the wrong recording studio, guitar in hand, and accidentally cut a record with Jerry Jeff Walker's backup band, minds blowing left and right as the tape rolled.
That's not to say that the contrast between Thompson and his surroundings is stark — it's almost as if he's able to blend in and stand out at the same time, exhibiting a form of uneasiness that is strangely comfortable. Thompson's earnestness is far beyond his actual ability to sing: In this sound world, a missed note merely reminds us of a real world that is imperfect, and Thompson misses them in every song. If anything, the record stands as proof that even the most self-indulgent brand of whimsical nonsense lyricism can be shaped into genuine introspection, beautifully thrashing about in the often all-too-empty space where content is eclipsed by context. To this day, the album still stands not only as a well-aged folk-pop album, but also as an immovable piece of conceptual art.