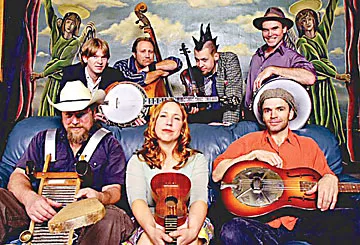 The Asylum Street Spankers
The Asylum Street Spankers' van was in Arizona heading west when I rang Christina Marrs, the band's saw player (and vocalist, tenor guitarist, banjo and uke player) on her cell.
We started off talking about Asylum Street, a thoroughfare in the Spankers' hometown Austin, Texas. "It's the street that goes by the asylum," said Christina. "They call it the state hospital now, and they call Asylum St. Guadalupe or The Drag. But if you look at an old map of Austin you see the asylum way out on the outskirts of town and one little road that goes out to it. Now of course, it's quite central."
In the beginning, 14 years ago, Christina and Wammo, the band's other lead vocalist and washboard player, would busk on Asylum St. and play in Austin clubs with a 10-piece acoustic jug band.
"When we started out we did a lot more covers, old country blues, jug band tunes, that kind of thing," said Christina. "Original songs started getting added to the repertoire, but we still do old tunes along with our own. Our records tend to be mostly original, but the live shows include older stuff and even more recent stuff that isn't ours."
Among the original tunes is a send-up of the song "Tie a Yellow Ribbon," updated as "Stick Magnetic Ribbons on Your SUV." According to Christina the topical song written a few years ago has fallen from the repertoire, as the gung-ho stickers seem to have disappeared of late. "And as far as the Spankers being political, it only happens when the opportunity arises to be humorous about it, to have fun with it and make fun of the situation — that's really the only time we're ever going to get very political. With our crowd and our demographic, it's just preaching to the choir."

What is their crowd and demographic? "Oh, I'd say the average age is probably about 35, but that spans a lot. We like to say we have both kinds of blue hair at our shows."
The common thread of that crowd is probably a sense of humor. So what could be more appropriate than seeing the Spankers on Tuesday, April Fool's Day? That's when the band's Left Coast tour hits Humboldt Brews.
As Eureka prepares to batten down the hatches for Jazz Fest weekend and the onslaught of blue-haired dancing Dixielanders and zoot-suited youngsters (and everything in between), the rest of the county goes on with business as usual.

Jazz may be in the air, but the Red Fox is reggae central with the classic Jamaican trioThe Itals on Friday. Last I heard, Keith Porter was the last original Ital still carrying the torch forward, his daughter Kada among those singing harmony. Saturday the Fox has Neil Fraser, aka Mad Professor, the crazy (like a fox) British dub master. The Prof typically travels with a suitcase full of electronic gadgets and a stack of DATs — that's all he needs to rock the party. Sunday it's Midwestern reggae with Jah Roots led by an irie cat who calls himself Ras Josh. Humboldt's own Jah Sun takes the mic as a special guest.
Meanwhile in Arcata, Humboldt Brews offers a solid weekend starting with Berkeley neo-Afrobeat band Albino!on Thursday. Friday it's something jazzy: Mike Kapitan's Miles Davis tribute Miles Ahead.
Saturday HumBrews brings in The Easy, a reggae-ish rock band from Maui that includes former Humboldt local Jeff Thorpe, who once played bass with the funky Doctor Jiveslice and The Bump Foundation. Jeff wrote describing The Easy as "a unique Hawaiian rock and roll musical experience fronted by an amazing ukulele playing singer-songwriter." He also noted that the opening act is an all-star mash-up of Bump Foundation and Moo-Got-2, dubbed Bumping the Moo.

Sunday at HumBrews it's Giant Panda Guerilla Dub Squad, a band from Rochester, N.Y., with a killer name, playing something they call "North American international body music," which is to say reggae/Afrobeat/jamband/dub. They're pretty damn good judging from the tunes posted on MySpace (playing as I type).
UKEsperience, Humboldt's finest (and only) ukulele jamband, has returned from the 2008 Waikoloa Ukulele Festival in Hawaii, home of all things uke. Check out their tans Saturday at Six Rivers, where they play with special guest Nick Russo.
Remember in last week's Hum I mentioned that Colorado "insurgent bluegrass" band Victor Barnes was opening for Great American Taxi? Victor Barnes is back (or still here) to headline a show Thursday at Jambalaya with Steel Toed Slippers opening and DJ Chico spinning between.
The latest in the endless stream of Portland imports comes to the Jam Friday. The Quick and Easy Boys is an unusual country/rock/funk power trio mixing Hendrix licks with Hank Williams twang and Meters-style funk. Very cool. Bonus: local psychedelic-folk treasure Joanne Rand opens with Robert Franklin on guitar.
The Yay Area meets Humboldt at the Mateel Friday night with one of the founders of the Hyphy Movement, E-40, sharing the stage with homegrown acts including Potluck, Cool Nutz, Da Grindaz and DJ Itchie Fingaz.
Ready to dance? The Bay Area Balkan band Brass Menazeriplays for folkdancers Saturday at Redwood Raks, the newly named space in the Old Arcata Creamery Building. At the same time at Freshwater Grange, it's an"Old Time Country Dance"with music byThe Country Pretenders and The Bayside Quartet with Katie Belknap on piano, Jim Cornwell on guitar and mandolin, and Judy HagemanandBrooks Otis on fiddles. (Bayside Q also plays next Saturday at the Graves for Arts Alive!)
Friends of salmon and wild rivers take note: The quasi-Celtic Druid Sisters Tea Party plays a benefit for the valiant efforts of the Friends of the Eel RiverSaturdayat Mazzotti's.
Tech Williams of "Do Som Bout It" Productions, takes the party outdoors on Sunday afternoon bringing something called "The Brigade" (a hip hop crew?) to Eureka's Carson Park, "right in the smack middle of town between the one ways; y'all know were it's at," as Tech puts it. He also notes, somewhat poetically, "If it rain, this will not go down, so pray for sun, so we can have fun."
The local hard rock crowd gathers Sunday evening at the Boiler Room to remember Matt Evans, drummer for Cycle of Violence, who died in February at the age of 26. The Social Ills, Anslinger, The Baby Arms and No Cigar offer heartfelt loudness for the occasion.
You might recall a show back in February with local "instrumetalists" 33 1/3 playing to raise cash to offset legal fees in a copyright infringement lawsuit that has Eugene doom metal trio Middian locked in battle with members of a Milwaukee-based metal band called Midian. While the suit drags on, the Oregonian band is resolute, declaring on their MySpace that "the underground metal community's love has simply been overwhelming. With your help and support, Middian will stand triumphant against this truly evil attack on our persons and families." Show your support Sunday when 33 1/3 and Middian play at the Alibi.
The insider show for next week is definitely the Two Part Beast gig Monday, March 31, at the Accident Gallery. Two Part Beast is fronted by Imaad Wassif, a Lou Barlow associate who was in alaska! and The New Folk Implosion, and also served as touring guitarist for the Yeah Yeah Yeahs. Imaad and 2-Part have a new album out, Strange Hexes, described by booking agent Michelle (of Panache) as "heavy-psyche-folk-rock with eastern modal influence." The Broken Hearts and Monster Women provide local support for Monday's show.
The talk of the town this Monday was the upcoming Willie Nelson gig in SoHum set for August 31, the Sunday of Labor Day weekend. People Productions has Benbow Lake State Park reserved for the date, and that's how it's listed on Willie's website, but the preferred plan is to use Dimmick Ranch, the new home of Reggae, provided the Planning Commission signs off on an expanded permit. Since Tom Dimmick and People Productions are still locked in a legal battle with the Mateel over the lease for the site, and the Mateel folks are making waves with the Planning Comm., the ranch idea is by no means a done deal. But it is certain that the show will happen one place or the other. And no, I don't know when tickets will go on sale.
I'm sure this will come as bad news to Glenn Maxon of Redwood Coast Music Festivals. Monday morning we were talking about his decision to move the date for Blues by the Bay from mid-July to Labor Day weekend, in part to pull in the just returning HSU crowd, but also to put the two-day fest on a three-day weekend, one where Glenn saw no local competition. He's got British blues legend John Mayall as Sunday's headliner. Will Willie steal the boomer crowd? I guess we'll see.