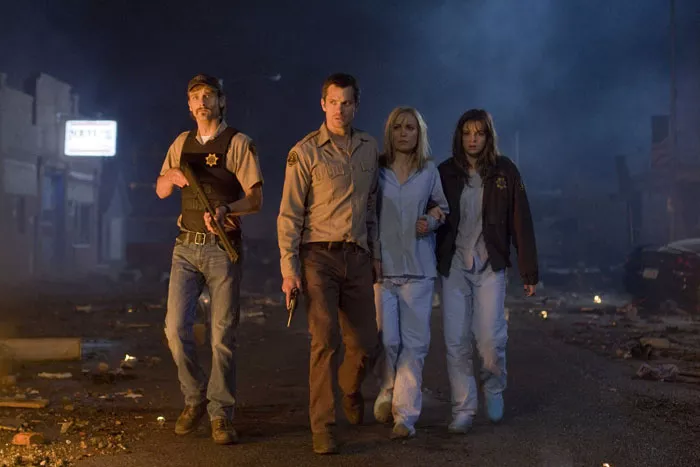 Previews
Just in time for the Oscar ceremony, Precious, based on the 1996 novel Push by Sapphire, concerns a pregnant Harlem teen (Gabourey Sidibe) living with her abusive mother (Mo'Nique) who finds respite in a literacy workshop. The film garnered four major nominations: Picture, Actress, Supporting Actress and Director (Lee Daniels). Rated R for child abuse including sexual assault, and pervasive language. 110m. At the Broadway.
Johnny Depp goes crazy again in Tim Burton's Alice in Wonderland. In this "re-imagining," Alice (Mia Wasikowska) is 19 and follows the White Rabbit (Anne Hathaway) back to Wonderland, a place that needs her even if she no longer remembers her past visit. Depp is the Mad Hatter and Helena Bonham Carter is the Red Queen. Rated PG for fantasy action/violence involving scary images and situations, and for a smoking caterpillar. 108m. At the Broadway, Fortuna  (3-D and 2-D) and Mill Creek.
Brooklyn's Finest is a crime thriller that follows three police officers at different stages of their careers: Richard Gere plays a cop on the verge of retirement, Don Cheadle is an officer dangerously undercover and Ethan Hawke a family man tempted to steal confiscated drug money. Co-starring Wesley Snipes as a drug dealer. Rated R for bloody violence throughout, strong sexuality, nudity, drug content and pervasive language. 140m. At the Broadway.
Films at the Arcata Theater Lounge this week include the bottled water documentary Tapped on Thursday, Mar. 4 at 7 p.m., the '80s skate flicks The Search For Animal Chin (1987) and Thrashin' (1986) on Friday, Mar. 5 at 7 p.m., Mario Van Peebles' look at the status of black men in America, Fair Game? on Saturday, Mar. 6 at 1 p.m. and the sci-fi "classics" Destination Moon (1950) and Rocketship X-M (1950) on Wednesday, Mar. 10 at 6 p.m.
Also this week, HSU and CR present the 12th Annual Latino Film Festival at the Minor in Arcata. Films include El Compadre Mendoza (Tuesday, Mar. 9), ¡Vámonos con Pancho Villa! (Wednesday, Mar. 10) and El Principio (Thursday, Mar. 11).
Reviews
THE CRAZIES: Having copped out on disgruntled Kevin Smith's black/white buddy film, fresh ideas for which were quickly exhausted back in the '80s, I gave induced rural mental illness a try instead. Alas, poor Iowa! I can only be thankful that I completed my graduate degrees at UI some time ago, because at the end of The Crazies, a remake of the 1973 George Romero film, Cedar Rapids is looking to be in real trouble, and that's just a stone's throw from Iowa City.
Although director Breck Eisner and writers Scott Kosar and Ray Wright maintain the premise of the original -- a plane carrying a bio-weapon crashes, releasing a toxin in a town's drinking water -- the present version seems only fitfully reminiscent of the Romero touch. While crazies do pop up regularly, bearing implements such as a pitchfork (this is Iowa, after all), the film is more in the conspiracy/survival mode.
Set in a small Iowa farming community called Ogden Marsh the survival through-line is provided by David Dutton (Timothy Olyphant) and his pregnant wife, Judy (Radha Mitchell), he being the town sheriff and she a doctor.
Trouble arises almost immediately. The sheriff and his deputy, Russell (Joe Anderson), are watching a high school baseball game when a resident appears in the outfield carrying a shotgun. David kills the clearly disturbed man, but other outbreaks of irrational behavior soon occur, the best of which involves the town coroner and his runaway surgical saw that quickly hones in on a delicate body part.
But when David discovers that all communication in or out has been cut off, he knows the town is in real trouble. It seems the military has initiated a containment protocol, and all us jaded viewers know what that means. At this point, the film becomes an escape thriller. Despite the military's attempt to round up all the residents for "treatment," some escape.
A small band that includes David, Judy and Russell dodge or kill various crazies while trying to avoid the military and find some way out of the perimeter established by the soldiers. By this time the town and its environs look like a mini-apocalypse, a mode that seems to be popular these days in film. There is a sort of sunrise at the end, but it's not so rosy.
I expected a much sleazier film going in, but The Crazies plays it straight. Perhaps a little more sleaze might have juiced up the film a bit. It seems a little too respectable and much too predictable. Still, I'm convinced I made the correct viewing decision. Now, maybe if Bruce Willis had played David, everything would have been less polite. Rated R for bloody violence and language. 101m. At the Broadway and Mill Creek.
THE LAST STATION: Leo Tolstoy's life seems well documented. As a novelist, his wife and brother served as models for several of his major characters, and he kept journals that detailed his version of his own life. His wife Sofiya wrote journals about their life together and, as clearly indicated in Jay Parini's 1990 novel The Last Station: A Novel of Tolstoy's Last Year, as well as the recent film adaptation of the novel, detailed journals were also produced by Tolstoy's private secretary Valentin Bulgakov, disciple Vladimir Chertkov and his physician Dr. Dushan Makovitsky.
Obviously, then, any writer has a lot of material at his/her disposal for a book about the great Russian writer. Parini's novel centers primarily on the conflict between Sofiya and Chertkov as they struggle for influence over the 82-year-old Tolstoy.
The specific site of the conflict is Tolstoy's will. Not unreasonably, Sofiya wants to inherit the rights to her husband's works. Chertkov, as the head of a Tolstoy foundation, wants the rights to benefit all of mankind, a position seemingly in accord with Tolstoy's own views on privilege and private ownership.
As the story opens, Bulgakov (James McAvoy) is applying to be Tolstoy's personal secretary. Chertkov (Paul Giamatti), who is under house arrest, seizes on the opportunity to plant a spy in Tolstoy's estate. Bulgakov first visits the commune near Tolstoy's house, a sort of ramshackle collection of acolytes who live in a dormitory and perform everyday menial tasks in an egalitarian fashion. Except for the comely Masha (Kerry Condon), the commune seems a dreary place where devotion to Tolstoy's ideas is barely examined.
More interesting is Tolstoy's household, where Sofiya (Helen Mirren) is in daily conflict with her husband (Christopher Plummer) and her daughter Sasha (Anne-Marie Duff) who, as we discover, favors Chertkov. Bulgakov is quickly drawn into the war, and much of his character has to do with being torn between loyalty to Tolstoy himself and to his understanding of Tolstoy's philosophy that may be better represented by Chertkov and Sasha.
However, the film seems to come down clearly on Sofiya's side -- perhaps too much so. To be fair, this conclusion may partly be due to my negative reaction to Giamatti's performance. Giamatti has become a one-note actor. Here, he is constantly twirling his mustache like a villain out of a 19th century melodrama, and he brings no subtlety whatever to his depiction of Tolstoy's acolyte. There is also something faintly ridiculous about Plummer's Tolstoy, but I can accept that as an artistic choice. It is Mirren's strong performance that drives the film, though, along with the sensitive portrayal of Bulgakov by McAvoy.
I couldn't help think that the main tragedy of Tolstoy's life, as depicted here, is that he found no peace even at the end, the result both of family discord and the fact he had become an icon well before his death. The film does a fine job of depicting this condition, particularly as its reflected in the character of Bulgakov.
Tolstoy does leave his estate to find solace, but too late. He sickens and dies at a railway station while paparazzi, devotees and Sofiya herself wait outside for the daily dose of information. Despite my caveats above, this is a very good film. Rated R for a scene of sexuality/nudity. 112m. At the Minor.
Continuing
AVATAR. Military forces attempt to control and exploit a region and its people, which they know little about (In 3D). Rated PG-13. 162m. At the Broadway, Fortuna (3D) and Mill Creek.
THE BLIND SIDE. A homeless African-American youth is taken in by a well-to-do white family, which helps him realize his football potential. Rated PG-13. 126m. At the Broadway.
THE BOOK OF ELI. Denzel Washington possesses the one thing that will save civilization. Rated R. 118m. At the Broadway and Garberville.
COP OUT. Bruce Willis and Tracy Morgan play NYPD partners in search of a stolen baseball card. Directed by Kevin Smith. Rated R. 107m. At the Broadway, Fortuna and Mill Creek.
CRAZY HEART. Jeff "The Dude" Bridges guns for Oscar gold by playing a washed-up country singer. Rated R. 112m. At the Minor and the Broadway.
DEAR JOHN. Through the years, a soldier stays in touch with his love interest through a continuous stream of love letters. Rated PG-13. 108m. At the Broadway and Mill Creek.
PERCY JACKSON AND THE LIGHTNING THIEF. The gods of Mount Olympus have walked out of Percy's Greek mythology texts and into reality. And they aren't happy. Rated PG. 120m. At the Broadway, Fortuna and Mill Creek.
SHUTTER ISLAND. Two U.S. marshals investigate the disappearance of a criminally insane murderer on a remote island. Directed by Martin Scorsese. Rated R. 138m. At the Broadway, the Minor and Mill Creek.
VALENTINE'S DAY. An all-star cast led by Julia Roberts populates this romantc-comedy/savvy studio marketing decision. Feel the love, Rated PG-13. 125m. At the Broadway and Mill Creek.
THE WOLFMAN. Benicio Del Toro has a bad hair day. Rated R. 102m. At the Broadway, Fortuna and Mill Creek.
YOUTH IN REVOLT. Micheal Cera stars as a teen who tries to overhaul his boring personality in an attempt to impress a girl. Rated R. 90m. At Garberville.