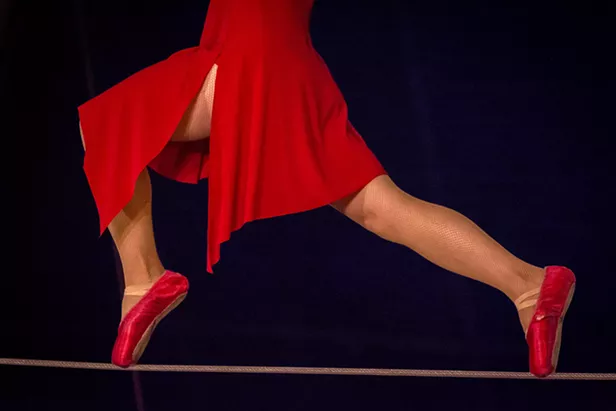 Mark Larson
Airele Ebacher moves to "on point" to increase the degree of difficulty of her tightwire dance.
Mark Larson
Shem Biggie, a member of the Apprentice Program for the circus, performs on aerial rope.
Mark Larson
The big finale: a double trapeze act by the Daring Jones Duo.
Mark Larson
Circus of the Elements performers Loreta Flemingaite (left) of McKinleyville, and Chakeeta Marie Garabedian of Trinidad, burn it up with late night fire dancing at Elemental: An Outdoor Pageant Spectacle .
Mark Larson
After the circus, a puppet parade, including this pick octopus, ambles down the street to music.
Mark Larson
A dragon puppet roars through the Elemental pageant.
Mark Larson
The festival shakes on with belly dancing following the parade.