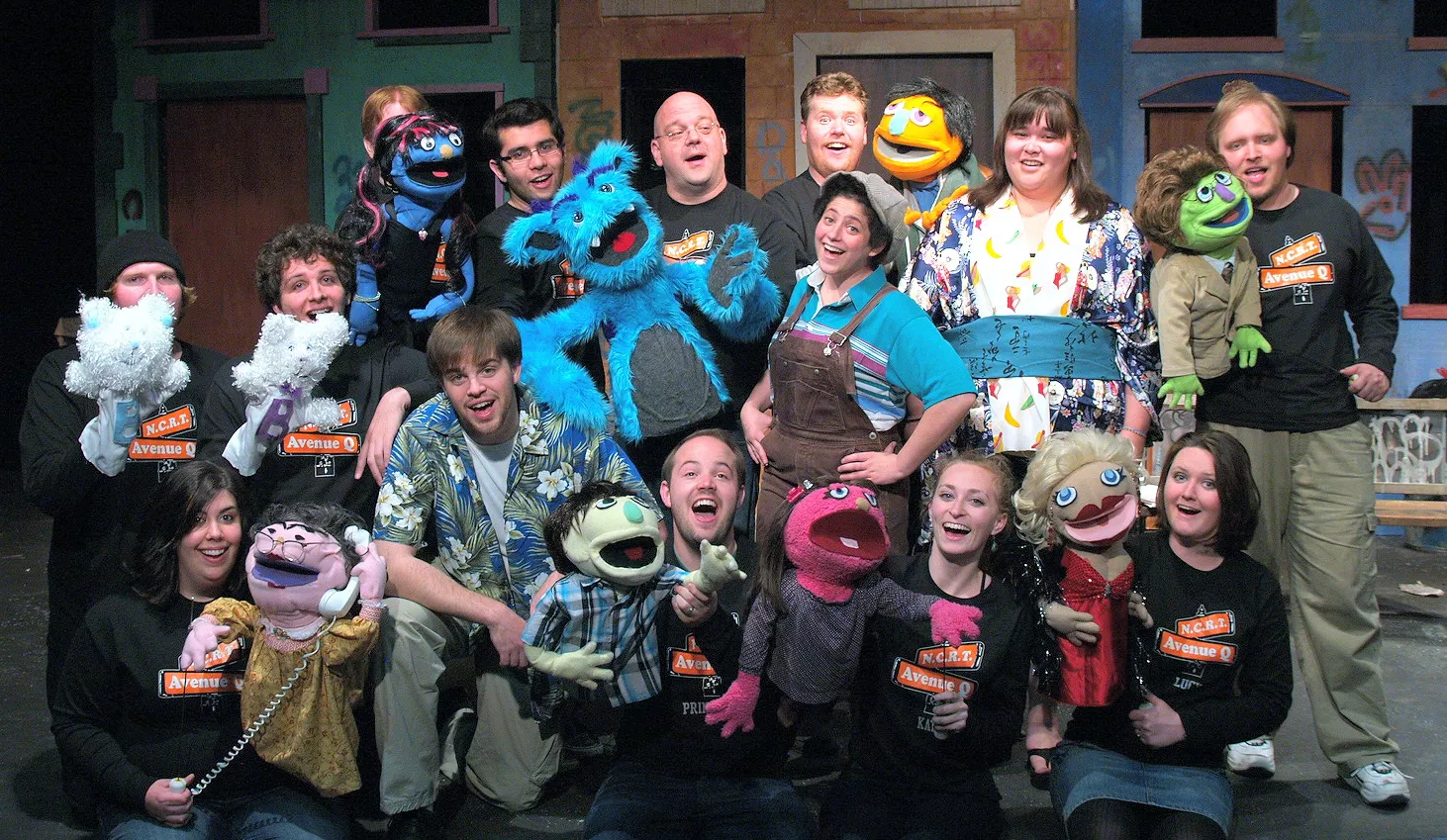 courtesy of NCRT
The Cast of Avenue Q
Avenue Q, a much-praised 2003 musical that's still running in Manhattan, is currently onstage at North Coast Repertory Theatre in Eureka with a superior production. The individual singing and acting is flawless. The group singing, thanks to musical director Molly Severdia, is excellent. Kudos as well to director, costume, video and puppet designer Rae Robison, to Calder Johnson's set, and to Jennifer Trustem and Megan Johnson for the construction of the elaborate puppets. The packed opening night house (which appeared to be younger on average than the usual audience) cheered and laughed frequently.
The story is set on Avenue Q in New York City, a version of Sesame Street, but populated largely by former college students in their early 20s who can't find good jobs, purpose or partners. Some of them are puppets, and some of those look suspiciously like familiar Muppet characters. Principal roles are played by Alex Moore, Keili Simmons Marble, Luke Sikora, Tina Toomata, Clayton Cook, Evan Needham, Lindsay G. Reiss, Dmitry Tokarsky and Megan Johnson, with supporting roles played by JuanCarlos Contreras, Tyler Elwell, Shea King, Reen Kay Savage and Sara Parsons Scibetta.
The orchestrations and arrangements by Stephen Oremus, and the orchestra of Laura Welch, Jonathan Webster, Michael Lewis, Riley McFarland and Amber Grimes supported unobtrusively and well.
Avenue Q is a High Concept musical, and the concept is this: filthy muppets. Muppets who curse, proclaim "politically incorrect" sentiments and have sex on stage. The simple pop music and lyrics (by Robert Lopez and Jeff Marx) also mimic the Sesame Street style, though more in the direction of South Park. Despite being in their 20s, few of the good-hearted sit-comical characters seem much beyond a pre-school level of maturity. How funny you find this depends on whether it seems funny to you at all, or whether it seems funny to you for more than two hours.
Some potential audience members might be offended by the language and the goings-on. I wasn't. (There is a sanitized version for high schools. This isn't it.) The insistently saccharine music and obvious lyrics did eventually threaten my sanity, but Andrew Lloyd Webber fans may find them bracing. The book by Jeff Whitty is a whit witty, a fast-paced mashup of the corny with almost-in-your-face aggressiveness, but without the integrity of a fable.
Beyond the joke of the concept, its function is forming the story into something like "Revenge of the Sesame Street Generation." Because apparently, adult life is not actually like Sesame Street. Who would have guessed?
The themes that may resonate with generations of college graduates are there in the song titles: "What Do You Do with a B.A. in English?" "It Sucks to Be Me," "Purpose." The identity crisis of a gay character in New York seems a bit historical now, but otherwise the referents remain ruefully relevant. (Portions of the previous sentence were brought to you by the letter "R.")
The sense of dislocation after college, of not seeing a path to a place in society commensurate with your dreams, and the resulting pain and confusion, are real, repeated and important. But there is a line between satirizing and trivializing. Even given the illusions we may all absorb from popular culture, you might wonder what anybody is actually learning or teaching in college if graduates are as devoid of inner resources as these characters.
They muddle winsomely through romantic, identity and vocational problems, with the obligatory crisis at the first act curtain, and a quickly contrived happy ending. And a message in a final song, the wisdom of which by then may seem as cynically sentimental as much of what preceded it. The actual irony might be that much of Sesame Street itself is funnier, smarter, more sophisticated and more musical than the raw material of this show.
Again, the actors make these characters likeable, the puppets are cute, and the show zips along. Some --probably many -- may find Avenue Q to be a delightfully ironic and insightful musical cartoon, which in its own perversely silly way is daringly realistic. Nothing wrong with that. Others may find it to be funny, charming or perceptive here and there, but so carelessly cynical and manipulative, so confidently, numbingly and soul-crushingly shallow that despite (or because of) such talent and heartfelt effort, the cumulative effect over hours is alienating and depressing. I am one -- maybe the only one -- of those others.
Avenue Q plays at NCRT on Fridays and Saturdays through June 23, with Sunday matinees on June 3, 10, 17, and a Thursday evening performance on June 21. "This production contains adult language," not to mention "adult situations" involving puppets.
Coming Up:
Humboldt Light Opera Company presents selections from five musicals in the second annual KidCo Revuesical on Saturday, June 2 at 7 p.m. in the Van Duzer Theatre at HSU. Students range from age 3 to graduating high school seniors. KidCo is directed by Cindy Cress, and its Production Workshop is directed by Carol Ryder and James Gadd, with choreography by Melissa Trauth. More information: 445-4310, or email kidco@hloc.org.