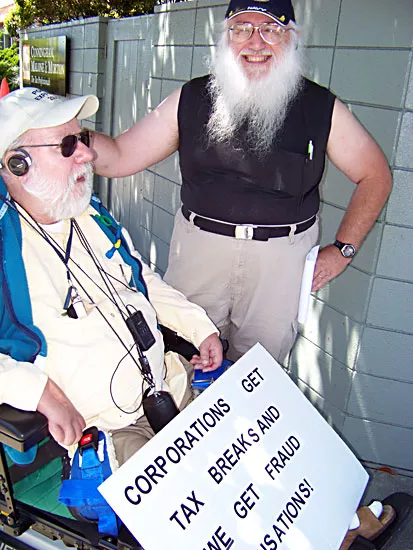 TR Wilson and his caregiver, Bert Reid. Photo by Heidi Walters
Eight protesters spread out along the sidewalk outside of state Sen. Pat Wiggins' and state Assembleymember Wes Chesbro's shared Eureka digs on E Street last week, holding signs that stated pretty clear displeasure with the legislators' recent budget cut votes and the Governor's subsequent line-item vetoes. Among other things, the lawmakers' actions cut millions from the In-Home Supportive Services (IHSS) Program and -- apparently most repugnant to the protesters -- approved of measures to nab suspected fraudsters in the program.
"Our health, our homes, our lives are now budget cuts!" said one sign. "Sacramento to people with disabilities: Drop dead or leave," said another. And there was this one, about the reforms: "Unannounced home visits are Gestapo tactics!"
The nearly $2 billion IHSS program serves more than 400,000 people statewide and employs close to the same number. The Governor has stated that IHSS loses as much as 25 percent of its money to fraud -- a figure that's been heavily disputed.
The reforms call for fingerprinting of both caregivers and recipients, background checks on caregivers (to be paid for by the caregivers, who often make minimum wage) and unannounced home visits. They also ban the use of post office boxes for receiving IHSS checks, and require hiring ranks of state fraud investigators.
Glenn Reed, with the nonprofit advocacy group Tri-County Independent Living (which helped organize the protest), said the reforms and cuts stink in light of the legislature giving corporations $2 billion in tax breaks.
"If you're going to fingerprint minimum-wage care providers -- members of the community -- let's fingerprint and do criminal background checks and unannounced visits on some elected officials and on recipients of the tax breaks," he said.
Yet even if the magnitude of the fraud has been exaggerated by the budget-hole motivated Governor, that doesn't mean there isn't any.
TR Wilson, who sat in the shade in his wheelchair at the protest, actually didn't seem opposed to the notion of fraud-busting -- despite the big sign someone had propped on his feet that said "Corporations get tax breaks and we get fraud accusations!" (Wilson said he didn't actually know what his sign said.)
"There definitely is some fraud," he said. "And it's because there was no checks on the workers. I've had workers arrested in my living room because of drugs and stuff. Another guy took my rent money and kept it, didn't pay my rent. Definitely I am for workers getting background checks and being fingerprinted. But for recipients it doesn't make sense."
Wilson's caregiver, Bert Reid, agreed something needs to be done. "In the past 10 years, he [Wilson] has gone through 15 to 18 caregivers. And they'd be in the other room, doing drugs and having sex. So, yeah, we need to weed them out. But fingerprints and background checks won't necessarily catch that kind of thing. We need another method."
Wilson adamantly opposes the voted-in cuts to services. He won't be affected, he said, by the IHSS reductions -- although some of his other services have been reduced -- because the severity of his disabilities allows him nearly the highest level of assistance. But he's worried, he said, about people who will lose services -- those requiring the least assistance, who employ an IHSS worker, for instance, to help with shopping, cooking and cleaning. People like Vivian Deniston's 26-year-old disabled daughter, perhaps, for whom Deniston cares. She receives IHSS pay to do so, and fears her daughter's services might be cut now. Kelly Card, likewise, fears her 16-year-old autistic and severely disabled son, Sam, whom she cares for, may be cut out of the IHSS program now.
"I can't have a full-time job because of his needs," Card said. "But I would have to get one. Who would take care of him then?"
As the protesters faced the busy post-lunch traffic on E Street, Andy Bird -- local spokesman for Chesbro -- came out of the building with his bicycle to run an errand.
"We agree with them," he said about the protesters. "Assemblyman Chesbro is very opposed to the Governor's attempts to make these line-item vetoes. He feels that is beyond the Governor's legal authority."
This week, Heather Muller, public education officer for the Humboldt County Department of Health and Human Services, said at least 399 of the county's 1,787 current IHSS recipients could be completely cut off. And all will be affected by the fraud reforms.
Kathy Young, Humboldt's social services branch director, added that the Governor has grossly overstated the amount of fraud.
"We show just a 2 percent referral rate [among the total recipients] for suspected [fraud] cases," Young said. "Only a quarter of those are actually substantiated. And very few are successfully prosecuted."
The problem with the reforms is they still place the onus on the IHSS recipient, Young said. Already, recipients are in charge of hiring, training and firing their caregivers.
"And it's a challenge because, to be in IHSS, you're an individual who has difficulty taking care of yourself," said Young. "Yet the state expects you to enforce state regulations."
The original intent of IHSS was, in fact, to give recipients this latitude to hire the provider of their choosing, explained Muller. But therein lies the trouble, as well, she said. And the current reform measures don't deal with that.
"It feels like a lot of spin," Young said of the reforms. "We know that there are going to be increased costs for both the recipients and the providers. And to the county: There will be a number of new administrative duties ... that don't necessarily prevent fraud."